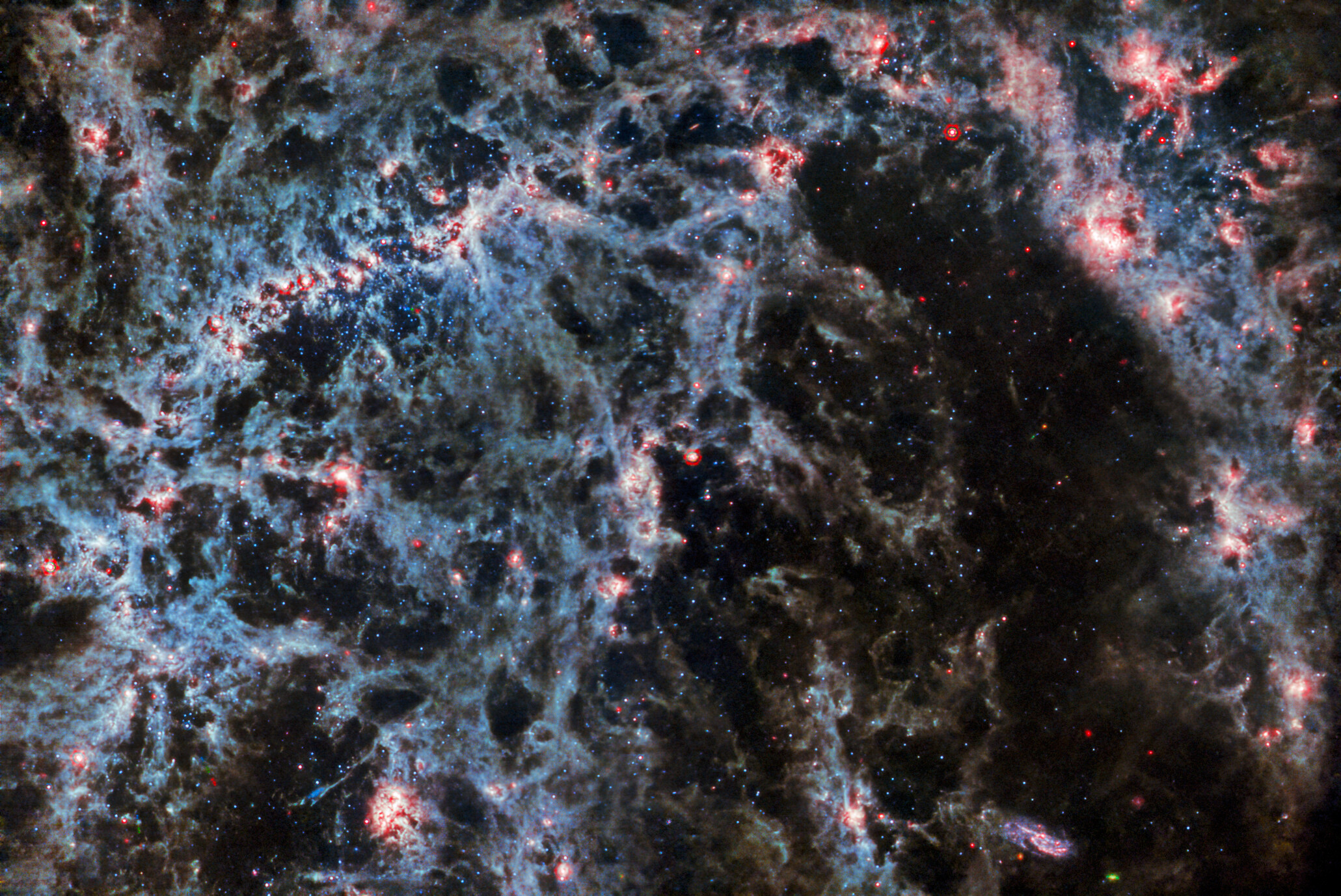 Webb's mid-infrared image of barred spiral galaxy NGC 5068, located around 17 million light-years from Earth in the constellation Virgo. (Photo Credit: NASA)
WASHINGTON, July 06, 2023 (GLOBE NEWSWIRE) -- As NASA's James Webb Space Telescope (Webb) nears its one-year anniversary of providing incredible imagery showcasing the origins of our universe, pioneering and sustaining a new era in astronomy is no small task.
Engineers at Northrop Grumman – in partnership with NASA and the Space Telescope Science Institute (STScI) – perform maintenance support for Webb using testbeds that simulate the observatory on the ground. These testbeds are used to develop and test products (such as flight software updates) that will be used on the observatory or to help investigate different behaviors. This ensures the observatory continues to operate optimally throughout its lifespan.
"Today, the team is powering Webb's discoveries and expanding humankind's understanding of the universe, by keeping the observatory safe and healthy," said Robby Swoish, program manager, James Webb Space Telescope operations and maintenance, Northrop Grumman. "Our top priority is Webb's continued mission success as it scans the cosmos with optimal precision."
Looking at Trends
Northrop Grumman's engineers who developed and designed the groundbreaking observatory assist with the analysis of engineering data received from Webb. Using their historical knowledge of the observatory and engineering expertise, the Northrop Grumman team looks at trends in the observatory performance (such as tank pressures and temperatures) to make sure the observatory is performing as expected. When trends are aligned with anticipated behavior or forecasting models, the observatory can stay focused on its science mission.
Maintaining Flight Software
The Northrop Grumman team is responsible for developing updates to Webb's flight software – just like software updates made to smartphones. Spacecraft flight software helps control functions like the spacecraft's orientation and maintains operational temperatures.
Recently, the team made an update to the observatory's spacecraft software that will help streamline a command sequence onboard previously performed from the ground. This new optimization reduces ground intervention and maximizes efficiency so Webb can spend more time observing the cosmos.
Replicating the Observatory on Earth
Before any updates are made to Webb in space, Northrop Grumman practices on Earth.
On Earth, Northrop Grumman performs maintenance and operates the Engineering Model Testbed (EMTB) that replicates a majority of Webb's spacecraft hardware. Engineers can test a variety of flight products, such as flight software updates and operating procedures. By testing these updates and procedures, engineers can confirm that they work as expected before using them on the observatory.
Continuing the Mission
Since launching on December 25, 2021, Webb has performed above and beyond expectations. The Webb team determined the observatory should have enough propellant to allow support of science operations on orbit for more than a 20-year science lifetime, giving humanity an unprecedented view of the cosmos. Extending the telescope's life will only continue more operations from the team to reveal answers to unprecedented questions.
"The discoveries astronomers and scientists have made so far with Webb are raising newer and bigger questions about the universe," said Jon Arenberg, chief mission architect, Northrop Grumman. "With new questions – come new ideas and Webb will inform the next generation of advanced science missions."
A photo accompanying this announcement is available at https://www.globenewswire.com/NewsRoom/AttachmentNg/9166a4c5-264e-430a-9df5-c64a2c5d7425