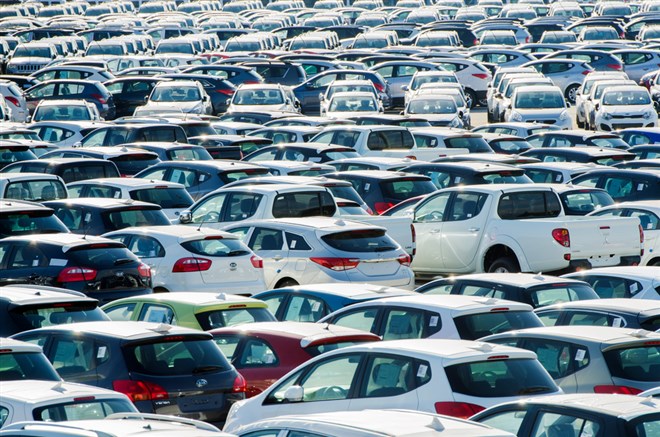 A growing number of indications suggest the market, not just the institutions, has chosen CarMax (NASDAQ: KMX) over Carvana (NASDAQ: CVNA). Simply put, the former has proven its ability to function and operate across state borders, while the former is banned from at least one state and may face issues with others.
What this means for investors is a blue chip used car company versus a start-up quality (albeit a very large and established start-up quality) stock that comes with outsized risk. The used car market is not out of the woods, but it will emerge, and when it doesn't, CarMax is in the best position to do so victoriously. 
In regard to the institutions, the institutions own almost 100% of CarMax stock while they only own 63% of Carvana. Carvana is supported by very high insider ownership, but that is mostly due to the CEO and his father, who own most of the insider positions.
As for the institutional activity, the institutions have been net buyers of CarMax for the last six consecutive quarters, including Q4 2022, while they've turned bearish on Carvana. Institutional activity in Carvana turned decidedly bearish in Q4 and may gain momentum. Morgan Stanley recently issued a bear-case scenario with shares of Carvana trading for a dime. 
"Secured borrowing capacity may be available, but we believe equity holders also face a significant risk of dilution, driving a wide range of outcomes and prompting us to remove rating and target," said analyst Adam Jonas about Carvana's outlook.
Short-Sellers And Analysts Have Used Car Stocks In Reverse 
The slow-down in the used-car market attributable to rising prices, tight supply and rising interest rates have had the used car stocks in a downtrend. This is true for both CarMax and Carvana, but there is a notable difference in the activity. Both are pegged at Hold, but CarMax is a much firmer Hold verging on Buy, while Carvana's is trending lower fast and only a Moderate Hold.
In regard to the price target, Carvana is expected to gain about 1000% in relation to the consensus target. Still, its consensus is down about 90% compared to only 50% for CarMax, and short-sellers are equally biased. 
Short interest in CarMax is high at 11% and may continue to weigh on the price action, but it is nothing compared to the 50% short interest reported for Carvana. At that level, it is unlikely that this stock will see much upside in the near to short-term without some major shift in the news and fundamental story. More likely, the shorts will keep piling on until the stock falls to another new low, and there are technical reasons to believe CarMax has some support from the market while Carvana doesn't. 
The Only Thing That Matters Is Profits 
Looking at the Q3 earnings reports, it is obvious why the market is tilted in favor of CarMax, which is profitability. While both companies missed estimates for the top and bottom lines, the major difference, aside from the fact KMX is double the business of CVNA, is that CarMax turned a profit and has been profitable for quite some time while Carvana continues to bleed money. 
The price action is biased as well. Both stocks are in a downtrend, but it looks like CarMax may have hit bottom while Carvana has not. CarMax bounced off of support in late October, while Carvana had already fallen through a comparable level and was then confirming resistance. In this light, investors should expect to see Carvana underperform in 2023 if not trend lower, while CarMax establishes a new base of support and outperforms.