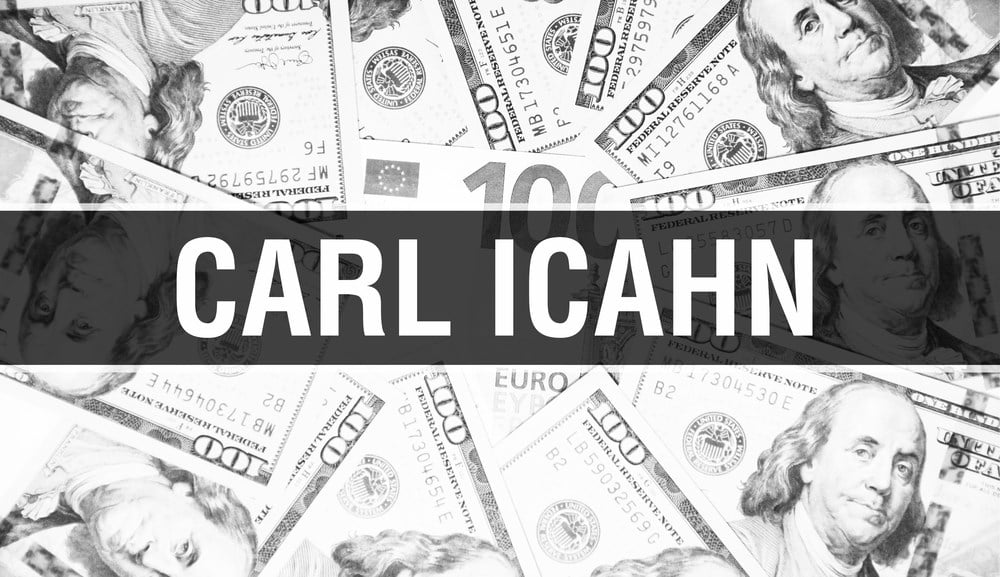 Icahn Enterprises L.P. (NASDAQ: IEP) is a diversified holding company founded in 1987 by famous American Investor Carl Icahn. The company operates in various industries through various subsidiaries and affiliates, including energy, automotive, real estate, gaming, and food packaging. Some of the companies' well-known brands and businesses are Tropicana Entertainment, CVR Energy, PSC Metals, and Federal-Mogul. Creating long-term value for its shareholding by investing in companies with high growth potential and solid fundamentals has always been the focus and mission of Carl Icahn.
While Carl Icahn is no stranger to Wall Street, having long established himself as a successful investor and financier with a successful track record dating back decades, lately, things have not been going according to plan for the billionaire.
With the collapse in share price, IEP's current dividend yield is a staggering 38.74%, the highest yield of any U.S. large-cap company by a distance.
IEP Stock Collapse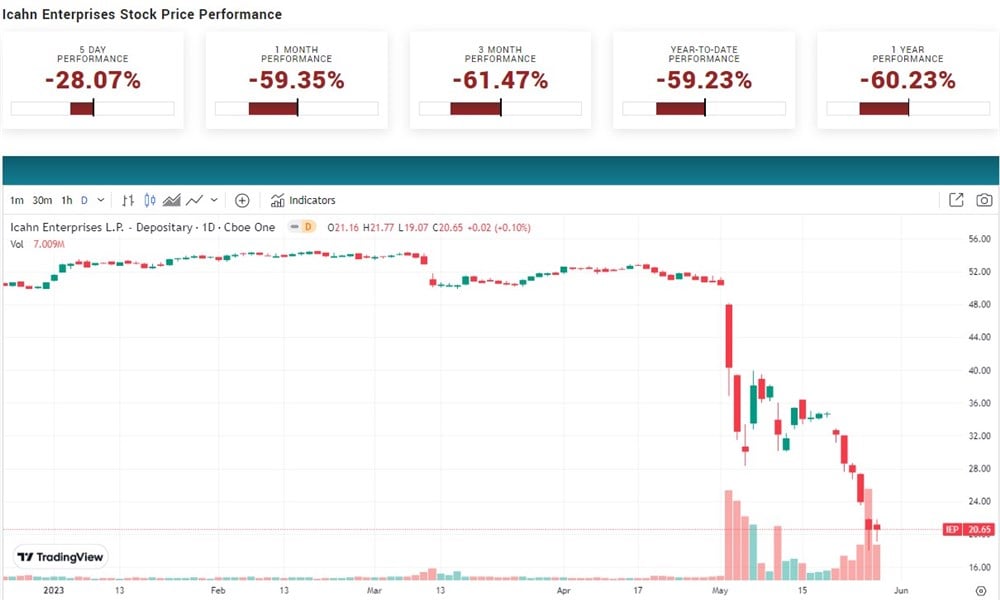 After trading in a range for over two years, between $50 and $55, shares of IEP collapsed. Over the past month, the stock is down 59%, and 35% over the past week. Since the stock broke support of $50  and began its spectacular fall, its market capitalization has collapsed, losing over $9 billion in value.
The Short Report That Sparked the Selling In IEP
Well-known short seller, Hindenburg Research, released a short report on May 2nd titled "Icahn Enterprises: The Corporate Raider Throwing Stones From His Own Glass House." In the report, Hindenburg claimed that IEP units are inflated by 75% for several reasons:
They state that IEP trades at a 218% premium to its last reported NAV.
Hindenburg said they had uncovered evidence of inflated valuation marks for IEP's less liquid assets.
Hindenburg said that IEP had suffered additional performance losses year to fate following its last disclosure.
The report also addresses IEP's financial difficulties due to its high level of leverage and substantial debt. Hindenburg state that the company has a total of $5.3 billion in debt, with maturities of $1.1 billion, $1.36 billion, and $1.35 billion coming due in 2024, 2025, and 2026.
According to the report, Icahn's ownership in IEP represents about 85% of his net worth, leaving him little room to maneuver with his capital in an attempt to inject motivation or optimism in shares of IEP.
After the short report was released, the U.S. Attorney's Office for the Southern District of New York inquired about the company's corporate governance, capitalization, securities offerings, dividends, valuation, marketing materials, due diligence, and other materials.
The Threat of a Margin Call
The threat of a margin call is possible as Icahn's ownership in IEP has been collateralized with a margin loan. According to IEPs 2022 annual report, Icahn has pledged 181.4 million depositary units of his almost 300 million. According to the filing, the collateral is to secure certain personal indebtedness. Before the stocks collapse, the 181.4 million units pledged as collateral was valued at over $9 billion, and as of the close last week, they were valued at $3.7 billion.
As the value of the collateral pledged has significantly decreased, the lender(s) typically would ask the borrower to pledge additional collateral.
On Twitter, the well-known investor and foe of Carl Icahn, Bill Ackman, shared his thoughts on a potential margin call, saying: "All it takes is for one lender to break ranks and liquidate shares or attempt to hedge before the house comes falling down."
Can Icahn Avoid A Total Collapse?
With Icahn Enterprises under federal investigation and Carl Icahn potentially putting himself in a dire situation by taking on too much leverage, the outcome does not look good. 
Unless an investor or group provides a much-needed capital injection to the company or the company and Icahn announces a share buyback, the writing might be on the wall.
With decades of experience and success under his belt, whether Carl Icahn can remedy this situation remains to be seen.