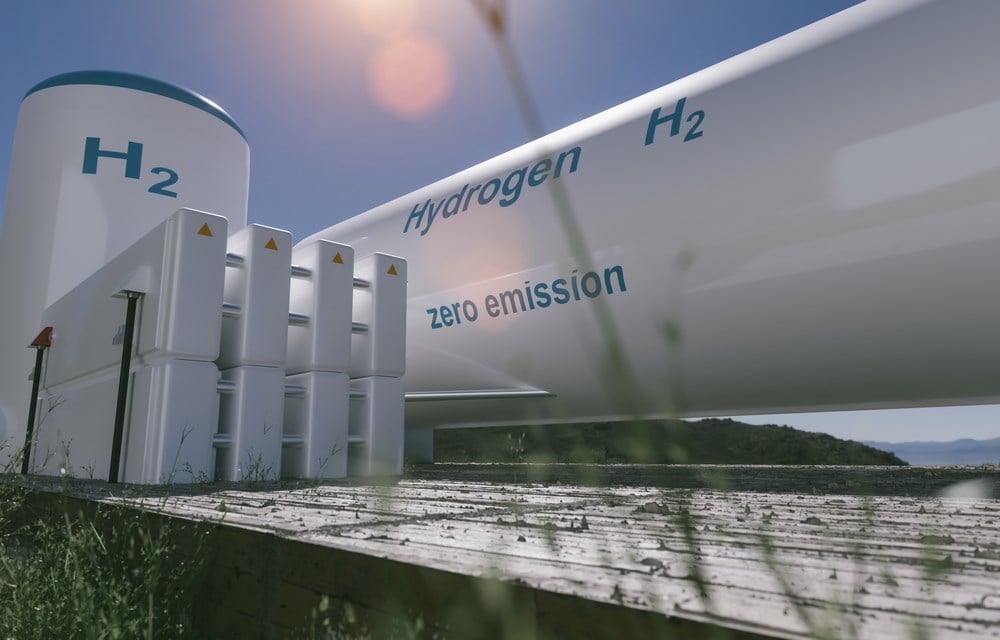 Climate change activists have been dreaming about the "hydrogen economy" for years. Such an economy would significantly lower the world's carbon footprint while supplying clean energy that can be used in a variety of applications. These applications can theoretically include specific modes of transportation. 
The promise of such an economy is also on the minds of investors considering where hydrogen will fit in our nation's transition to clean energy. To help answer that question, you must first understand that there are different forms of hydrogen. And only one of those, green hydrogen, is a truly clean energy source.  
Unlike grey hydrogen or blue hydrogen, which use fossil fuels in some capacity, green hydrogen uses only water to produce electricity. That makes it the only truly clean form of hydrogen. 
That also makes it a favorite in Washington, D.C. In fact, there is a $9.5 billion line item in the Inflation Reduction Act specifically for green hydrogen development. This is significant for a number of reasons. Developing hydrogen at scale creates economic, technical, and commercial challenges. And while $9.5 billion won't solve all those problems, it may help advance the technology further. 
With all that said, this is still a speculative sector, but for investors who are also true believers, here are three green hydrogen stocks that offer the most promise.  
A Global Pure-Play Investment in Green Hydrogen 
If green hydrogen becomes a prominent renewable energy source, Plug Power Inc. (NASDAQ: PLUG) must be on your watch list. Plug Power is working to build "an end-to-end green hydrogen ecosystem." When completed, the company envisions its green hydrogen supporting applications ranging from fleet trucking and material handling to stationary power. 
The company is already starting to benefit from the Inflation Reduction Act. In July 2022, Microsoft Corporation (NASDAQ: MSFT) announced a partnership with Plug Power on a hydrogen fuel cell backup power plant. This will deliver backup power to Microsoft's data centers. 
And the real growth for Plug Power may come from Europe, which is further along in hydrogen adoption. The latest win for the company came in mid-July when the company secured a 100 MW electrolyzer deal for green hydrogen.  
The company will deliver the electrolyzers in 2024. That coincides with analysts' expectations for when Plug Power will achieve profitability.  
The Company's Patented Technology May Deliver Huge Gains 
Bloom Energy Corporation (NYSE: BE) is not a 100% pure-play green hydrogen company. But the company's leadership in all forms of hydrogen is supported by its depth of intellectual property that includes 19 patents. The company uses this technology to create unique solutions for stationary power solutions.  
Like Plug Power, Bloom Energy has projects in the United States and in Europe. In June, the company announced an agreement with the English company, Perenco – one of the leading hydrocarbon companies in Europe. Bloom Energy will install 2.5 megawatts of solid oxide fuel cells.  
Like many companies in this sector, Bloom Energy is not yet profitable. However, analysts expect the company to cut its negative earnings per share by more than half in the next 12 months. And that coincides with analyst expectations for a 50% gain in the share price of BE stock.  
A Fund That Provides Broad Exposure with Less Risk 
Exchange-traded funds (ETFs) are not always the best choice for investors. However, when it comes to a niche sector like green hydrogen, it may be a suitable choice. Many investors abide by the philosophy of "buying what they know." That can be tricky with an area like green hydrogen. 
Nevertheless, like AI and other forms of technology, you can't profit if you don't play. And that's a reason to consider the Direxion Hydrogen ETF (NYSEARCA: HJEN). This fund provides exposure to the entire hydrogen sector. However, it includes both PLUG and BE. Both stocks are in the top 5 of the fund's over 30 holdings. 
The fund currently has over $31 million in assets under management (AUM) and an appealing expense ratio of just 0.45%. And buying HJEN stock gives you something that many individual hydrogen stocks will not, access to a dividend. The fund pays a quarterly dividend that currently yields 1.17%.