CorriX® is a Dietary Supplement Made From a Unique Combination of a Patented Strain to Enhance Immune Health
Republic of Korea - September 16, 2023 —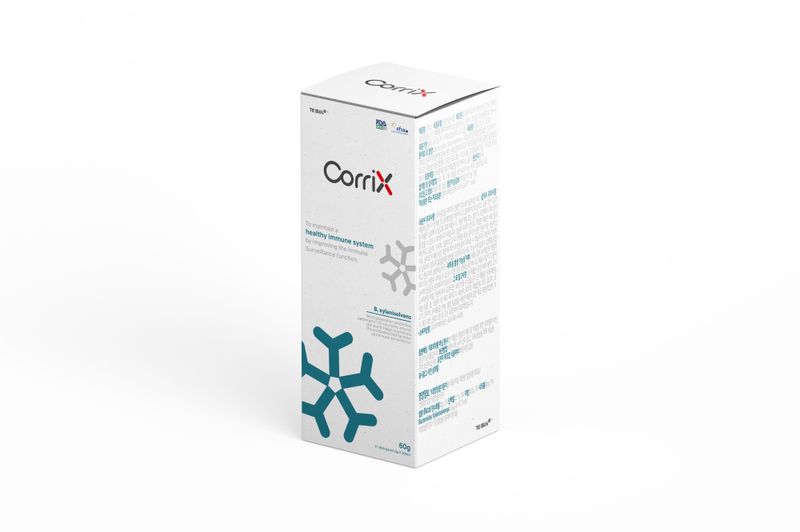 TE BioS, a leader in bioscience innovations, is excited to introduce 'CorriX®,' a dietary supplement proven to support immune health, at the 21st World Korean Business Convention. Based on a patented bacterial strain solely owned by the company, CorriX® has undergone rigorous clinical trials in Germany involving 140 participants to prove its efficacy. Not only has it received US FDA GRAS (Generally Recognized as Safe) and EU ESFA Novel Food certifications, affirming its safety, but it is also featured as a Next Generation Probiotics in Nature Microbiology. With this product, TE BioS has set ambitious plans to broaden its product line, CorriX®, into the United States, Europe, and Japan, solidifying its role as a global immune health brand.
Founded in 2009, TE BioS aims to create value through human-centric technology and innovation, and the release of CorriX® aligns perfectly with that mission. CorriX® has already been patented in 32 countries around the world, including the U.S. and EU, which makes it a highly competitive and promising entrant in the global dietary supplements market. Its introduction at the 21st World Korean Business Convention marks the beginning of its global expansion, with an initial focus on penetrating markets in the United States, Europe, and Japan.
The effectiveness of CorriX® as an immune supporter has been demonstrated through a robust clinical trial conducted in Germany.
Clinical trials have shown that 75% of participants who regularly took CorriX® experienced induced production of Tfa IgM antibodies, which serve as immune support and immune surveillance.
This ground-breaking product stands out not only for its proven efficacy but also for its potential to evolve into a pharmaceutical product with anti-cancer properties, as hinted at in its feature in Nature Microbiology.
The review paper published in Nature Microbiology introduced the value of B.xylanisolvens as a Next Generation Probiotics (NGP). The authors speculated that an increase in TFα antibodies would promote a more robust response to cancer and thus ameliorate the host's own cancer immune surveillance system.
With the dietary supplement market continually growing, CorriX® aims to fill a void by providing a product that is not only scientifically proven to be effective but also safe, as confirmed by its FDA GRAS notification and EU ESFA Novel Food certification.
CorriX® is a dietary supplement with a unique combination of a patented bacterial strain that synergize to enhance immune health. It's the embodiment of TE BioS' scientific approach to utilizing beneficial bacteria that have coexisted with the human body to support immune health. By using a proprietary culturing and blend, TE BioS has crafted a product with immense promise, backed by scientific rigor and certifications, and looks forward to seeing how CorriX® will improve lives globally.
TE BioS invites inquiries about CorriX® and is confident that this revolutionary product marks the beginning of a new chapter in immune health solutions worldwide. The company's unique culturing and blend of humanitarian focus and scientific innovation make it an exciting contributor to the future of global health. As it gears up for its participation in the 21st World Korean Business Convention, TE BioS is poised to make significant contributions to immune health globally.

Contact Info:
Name: Sean Park
Email: Send Email
Organization: TE BioS
Address: Republic of Korea
Phone: +82 43-218-4944
Website: http://tebios.com

Release ID: 89107500
In case of encountering any inaccuracies, problems, or queries arising from the content shared in this press release that necessitate action, or if you require assistance with a press release takedown, we urge you to notify us at error@releasecontact.com. Our responsive team will be readily available to promptly address your concerns within 8 hours, resolving any identified issues diligently or guiding you through the necessary steps for removal. The provision of accurate and dependable information is our primary focus.