United States - September 17, 2023 —
HeyAllergy provides a comprehensive allergy treatment program, including medication and sublingual immunotherapy (allergy drops), for immediate and long-lasting relief during the pollen season.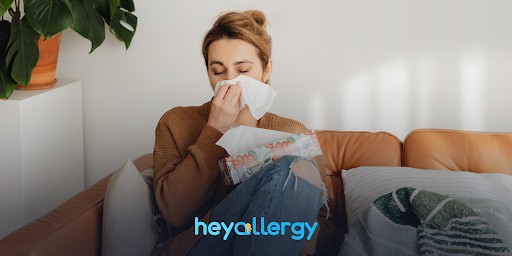 HeyPak is a unique sublingual therapy program offered by HeyAllergy that is designed to be both highly effective and incredibly convenient. By gradually exposing the patient's body to small doses of the allergen, HeyPak helps to train the patient's body to build up a tolerance, ultimately addressing the root cause of the t allergy symptoms.
HeyAllergy's sublingual immunotherapy (SLIT) involves placing drops under the tongue, which is a fast and easy way to deliver treatment. SLIT is highly effective, offering long-term relief from allergy symptoms. HeyAllergy may recommend SLIT based on the patient's needs.
The company asserts that it understands the impact allergic asthma, eczema, and other types of allergies can have on people's lives, and that is why the team is committed to helping patients find relief. Whether dealing with seasonal allergies, allergic asthma, eczema, or other allergic conditions, HeyAllergy has the expertise to treat patients.
Dr. Krikor Manoukian, the CEO of HeyAllergy stated that "the concept of HeyAllergy came to life based on a vision to be able to provide allergy relief in every corner of the United States. We are currently in seven states across the United States (NY, CA, Il, PA, NV, FL, TX) with the intention of quickly growing to encompass all the United States. We strive to give the best care possible and we thank patients for entrusting us with their allergy needs."
Paul, a HeyPak user, shared his positive experience with the allergy drops, saying, "I am very happy being placed on HeyPak for my seasonal allergies. I have been using these sublingual drops for a few months now and I feel they are already helping me. I have been having less sneezing and itchy eyes."
HeyAllergy's team works with patients to determine if sublingual immunotherapy (SLIT) with HeyPak is the right treatment option for them. The company has performed a thorough analysis of all the pollen that is endemic to different geographic regions. A specific blood test would be ordered based on the patient's location. Based on the allergy test results, a customized formula is created for the patient. In combination with using effective dose ranges set by guidelines, HeyPak is more accurate and effective in treating patients' allergies and their symptoms. Moreover, HeyAllergy's team of experienced professionals works with each patient to develop a treatment plan that meets their specific needs and delivers the best possible results.
About HeyAllergy
Headquartered in California, with locations in New York, Texas, Florida, Nevada, Illinois, and Pennsylvania, HeyAllergy's innovative approach is designed to offer patients a range of treatment options that are both effective and lasting, ensuring long-term relief from allergy symptoms. Springtime, in particular, can be a challenging season for allergy sufferers. The sneezing, runny nose, and itchy eyes can make even the simplest tasks feel overwhelming.
To learn more about HeyAllergy, more information can be found on their website https://heyallergy.com.

Contact Info:
Name: Aragil Digital Marketing
Email: Send Email
Organization: HeyAllergy
Phone: 1-818-435-2257
Website: https://www.heyallergy.com/

Release ID: 89107723
In case of encountering any inaccuracies, problems, or queries arising from the content shared in this press release that necessitate action, or if you require assistance with a press release takedown, we urge you to notify us at error@releasecontact.com. Our responsive team will be readily available to promptly address your concerns within 8 hours, resolving any identified issues diligently or guiding you through the necessary steps for removal. The provision of accurate and dependable information is our primary focus.