Offset achieved through 7,366,062,960 document scans globally
New York City - September 19, 2023 —
A frontrunner in the digital transformation wave, CamScanner, a globally recognized document scanning application, is thrilled to announce a notable achievement. In just one year, through its wide-reaching platform, CamScanner successfully prevented an astonishing 33,147.283 metric tons of carbon emissions.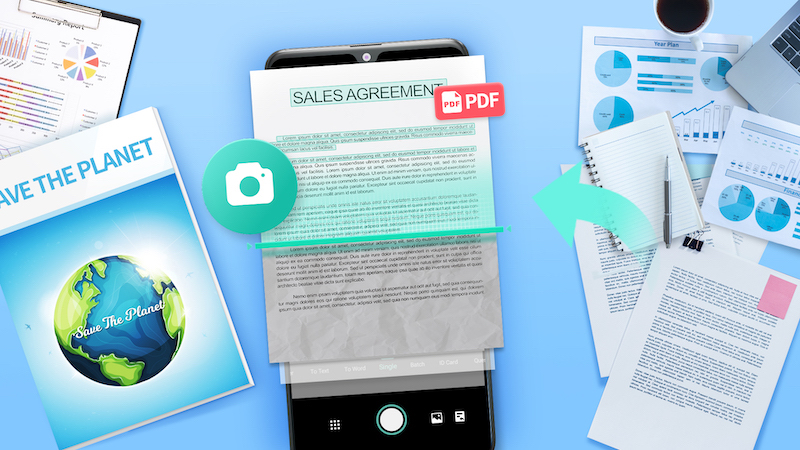 Last year, CamScanner's 7,366,062,960 global document scans potentially saved the equivalent of one A4 paper each – a significant carbon offset.
According to the Environmental Protection Agency (EPA), such a carbon saving is equivalent to the nurturing of 497,222 seedlings for a decade. It's similar to avoiding the yearly emissions produced by 6,692 cars or offsetting the carbon footprint of 3,790 homes' annual energy use. To top it off, this also equals the emissions from a single charge of 3,657,880,495 smartphones.
To put it into a more relatable perspective:
Paper vs. U.S. Population: According to data from the U.S. Census Bureau, the United States has an approximate population of 330 million. CamScanner's impressive figure of 7,366,062,960 saved sheets could provide every American with about 22 A4 scans.
Paper Savings in Football Fields: The omission of 7,366,062,960 sheets corresponds to a significant carbon saving of 36,830 tons. Given that a football field typically absorbs about 10 tons of CO2 each year, CamScanner's carbon offset is equivalent to the yearly absorption of 3,683 football fields.
Paper vs. Central Park: Central Park, spanning 843 acres in New York City, doubles as a significant carbon sink. With forested zones typically absorbing 2.5 tons of CO2 per acre, the park might offset around 1,500 tons yearly. Assuming this, CamScanner's CO2 savings correspond to Central Park's absorption over 24.5 years.
Paper vs. American Burgers: Given that Americans consume nearly 300 million hamburgers annually, if each burger was wrapped using one saved A4 sheet, it would cover 24 years of America's burger appetite.
Paper vs. Nathan's Hot Dog Eating Contest: Annually, the victor of the Nathan's Hot Dog Eating Contest consumes an average of 70 hot dogs. If these were each wrapped using a saved A4 sheet, it would suffice for over 105 million contests.
The significance of making digital transitions in the workplace is immense, not just for streamlining processes but for significantly reducing our carbon footprint. With global climate change looming, the role of applications like CamScanner becomes even more crucial. Its contribution underscores the monumental impact a single application can make when adopted widely.
"A digital scan is more than just a convenience; it's a commitment to our environment," a CamScanner representative shared. This sentiment is echoed by users worldwide, with one echoing, "With CamScanner, it's not just about digitizing documents but actively contributing to a sustainable future."
As the digital frontier evolves, so does the potential for mitigating our environmental impact. Every document scanned is a stride toward a sustainable horizon. The onus is now on individuals worldwide to join this green digital movement.
About CamScanner
First released in 2011, CamScanner is a mobile app that allows users to scan, edit and manage documents. With over 700 million downloads across 200+ countries in 60+ languages, the app consistently ranks as one of the top business and efficiency apps on the market.
Contact Info:
Name: Tim Brown
Email: Send Email
Organization: CamScanner
Website: https://www.camscanner.com/

Release ID: 89107628
If there are any deficiencies, discrepancies, or concerns regarding the information presented in this press release, we kindly request that you promptly inform us by contacting error@releasecontact.com. Our dedicated team is committed to addressing any identified issues within 8 hours to guarantee the delivery of accurate and reliable content to our esteemed readers.