RockHard Nation (1-888-221-9265) has announced its vitamin-enriched Prostate Mate supplement to optimize prostate health among American men.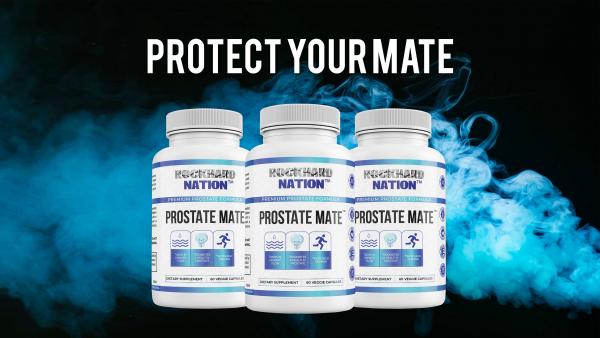 Wilmington, United States - September 20, 2023 —
RockHard Nation has launched Prostate Mate as an organic, natural therapeutic alternative to Alpha-blockers and 5-alpha-reductase inhibitors - the drugs used to prevent prostate enlargement. A two-capsule dose contains 200mg of Saw Palmetto, and 100mg of Pygeum Africanum extracts that reduce inflammation and prostate enlargement.
More details can be found at https://rockhardnation.com/collections/frontpage/products/prostate-mate
The natural supplement for benign prostatic hyperplasia (BPH) contains red raspberry, copper, graviola, and zinc to increase stamina and promote healthy urinary flow by maintaining regular prostate function and size.
Research conducted by The American Cancer Society shows prostate cancer is the second-most common cancer among American men, resulting in approximately 288,300 new cases and 34,700 deaths in 2023. The risk of prostate cancer is thought to be higher among men over the age of 50, especially those who eat high-fat diets.
The signs of this illness include pain and burning during urination, enduring stiffness in the lower back and hips, and blood in semen and urine. RockHard Nation offers Prostate Mate as a natural supplement that addresses this common problem. The formula contains extracts of Maitake, Shiitake, and Reishi mushrooms - a synergistic combination that has been used in several ancient systems of medicine.
The berries of the saw palmetto plant are commonly used to treat urinary tract issues caused by prostate gland enlargement, regulating urinary tract function.
The Prostate Mate formula also features Vitamins E and B6, which strengthen the body's central nervous system, promoting the conversion of proteins and carbohydrates into protein. Vitamin E strengthens the body's natural defenses against illness and infection.
RockHard Nation pledges to supply health products at affordable prices, and Prostate Mate is now available online for $39. People hoping to boost their immune system, memory, strength, and stamina can explore the Invincible, Brainstorm, and Testoboost Ultra supplements, also available in the store.
A company spokesperson said: "RockHard Nation offers premium nutritional supplement products to contribute to your body's strength, youthfulness, longevity, and overall performance. Whether you're looking for products to help with energy, digestion, heart health, prostate health, and other important areas of health, we're here to support you."
Interested parties can find more information about RockHard Nation products by visiting https://rockhardnation.com/pages/about-us
Contact Info:
Name: Ralph
Email: Send Email
Organization: RockHard Nation
Address: 24a Trolley Square Unit #4065, Wilmington, Delaware 19806, United States
Website: https://rockhardnation.com

Source: PressCable
Release ID: 89108078
In the event of encountering any errors, concerns, or inconsistencies within the content shared in this press release, we kindly request that you immediately contact us at error@releasecontact.com. Our dedicated team will be readily accessible to address your feedback within 8 hours and take appropriate measures to rectify any identified issues or facilitate press release takedowns. Ensuring accuracy and reliability are central to our commitment.