The revolutionary on-premise BI solution cuts through the glut of data to provide businesses with actionable insights
United States - September 21, 2023 —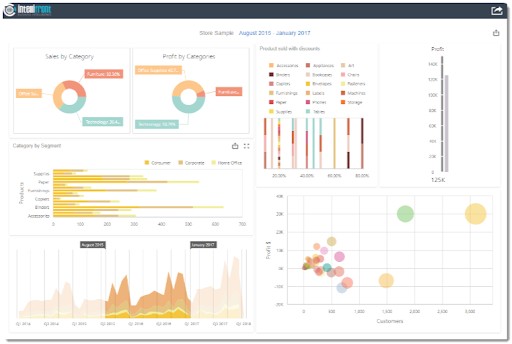 ChristianSteven Software, a pioneering force in Business Intelligence, Data Analytics, and Report Distribution software, continues to help businesses revolutionize their business insights with IntelliFront BI. The browser-based BI solution designed to solve mission-critical large enterprise needs has earned rave reviews from clients who have unlocked the power of real-time insights into their business data for better decision-making.
Why BI Matters
Data has emerged as the cornerstone of success in an increasingly competitive business landscape. Businesses require up-to-date, timely, and accurate data insights to stand head and shoulders above the competition. Business Intelligence tools have become indispensable for business success. Reporting software, data analytics, and dashboard software like ChristianSteven's IntelliFront BI drive strategic decision-making, increase efficiency, reduce costs, and drive profitability.
Building upon the demands of today's data-driven business landscape, ChristianSteven Software is committed to providing innovative data analytics and business intelligence solutions that allow businesses to focus on strategic tasks by automating various processes, identifying patterns and opportunities for growth, cost reduction, and time-saving.
It's on-premise, it's secure, it's IntelliFront BI
IntelliFront BI by ChristianSteven Software is the undisputed data analytics and BI solution that gives businesses complete control over their data. The on-premise browser-based solutions with a SOC2 Type 2 certification ensure the highest data control, security, and compliance standards for every client.
With a distinguished track record in providing unparalleled reporting, distribution, scheduling, dashboards, KPIs, and business processes, IntelliFront BI has consistently risen to the challenge of creating actionable information. This game-changing data analytics software automates, streamlines, analyzes, and predicts business data, enabling businesses to effortlessly oversee and optimize their processes through a single, easy-to-use, secure portal.
"I am convinced the future of data analytics lies within this incredible product that continues to evolve before our very eyes," said Lawan, an impressed IntelliFront BI user.
IntelliFront BI's single, easy-to-use portal facilitates creating and sharing reports, KPIs, and dashboards. The browser-based admin module allows the quick creation of static and real-time reports, which can be shared with management and stakeholders through a secure user portal. IntelliFront BI's on-premise implementation offers Active Directory Integration, 2-factor Authentication, Single Sign On, and built-in application security to ensure data integrity, seamless collaboration, and report sharing.
Lauded for its high availability infrastructure and business process automation module, IntelliFront BI integrates with ChristianSteven scheduling suite to automate the export and delivery of reports in standard formats like PDF, XML, and CSV to a variety of destinations like Email, Folder, Google Drive, Slack and more. In addition, the portal provides on-demand real-time information, including serving and curating Crystal Reports and self-service SSRS.
Besides giving users a single, easy-to-use, secure portal, IntelliFront BI allows clients to set up user groups to deliver interactive BI dashboards and reports inside and outside the organization. IntelliFront BI makes data analysis a breeze for all skill levels.
"Create visually stunning and interactive reports and dashboards in real-time using a variety of visuals through our browser-based admin module. Also, automatically update your interactive KPI cards with colors, glyphs, goals, measurement units, and aggregation to make them invaluable and unmissable."
Data Excellence Made Simple
By leveraging IntelliFront BI, which, unlike cloud-based solutions, ensures data remains within the client's grasp, businesses can reduce manual data processing through automation, which enhances data-driven decision-making.
"IntelliFront BI has improved our reporting management system," says Jack Meadows, IS Manager at the University of Louisville, Kentucky. "We can incorporate our own documentation templates for each report, categorize reports into functional groups, and provide dashboards and KPIs geared to each customer's needs. Our users like the interface. We can organize our reports, dashboards, and KPIs by groups, which helps our users find the reports they need quickly."
The road to success is paved with insights, and IntelliFront BI allows businesses to visualize trends, predict patterns, and streamline their operations with impact analytics and business intelligence. With its on-premise, browser-based single, secure portal and continuous updates to improve compatibility and ensure security, the data analytics software allows customers to find the 'aha' moment in their journey to data-driven decision-making.
About ChristianSteven
ChristianSteven Software is a world-renowned data analytics and business intelligence solutions provider. With over 5,000 clients in 47 countries, ChristianSteven helps businesses solve mission-critical needs through process automation. From scheduled BI report delivery to browser-based data analytics and mobile-enabled dashboards, ChristianSteven Software shines in data analytics, business intelligence, reporting, report distribution, report scheduling, dashboards, and business process automation.
Visit ChristianSteven to learn more about its solutions, and sign up for a 30-day free trial of IntelliFront BI.

Contact Info:
Name: Christian Ofori-Boateng
Email: Send Email
Organization: ChristianSteven Software
Website: https://go.christiansteven.com/

Release ID: 89107746
If you encounter any issues, discrepancies, or concerns regarding the content provided in this press release that require attention or if there is a need for a press release takedown, we kindly request that you notify us without delay at error@releasecontact.com. Our responsive team will be available round-the-clock to address your concerns within 8 hours and take necessary actions to rectify any identified issues or guide you through the removal process. Ensuring accurate and reliable information is fundamental to our mission.