In an industry that consistently sees new advancements, it's rare to encounter a product that truly stands out and caters to the needs of most vapers – allowing for longer and better puffing experiences.
Shenzhen, Guangdong Province, China - September 22, 2023 —
With the vape industry saturated with numerous disposable options, vape enthusiasts eagerly anticipate an all-rounder device. In an industry that consistently sees new advancements, it's rare to encounter a product that truly stands out and caters to the needs of most vapers – allowing for longer and better puffing experiences.
Today, we are thrilled to introduce a new arrival – the Dura 9000, brought to you by Puffmi Vape, infusing fresh vitality into the vaping landscape. This is the disposable vape you've been waiting for. With its unprecedented features that no other product has before, you can joy easy that you've got your hands on one of the most cost-effective device ever.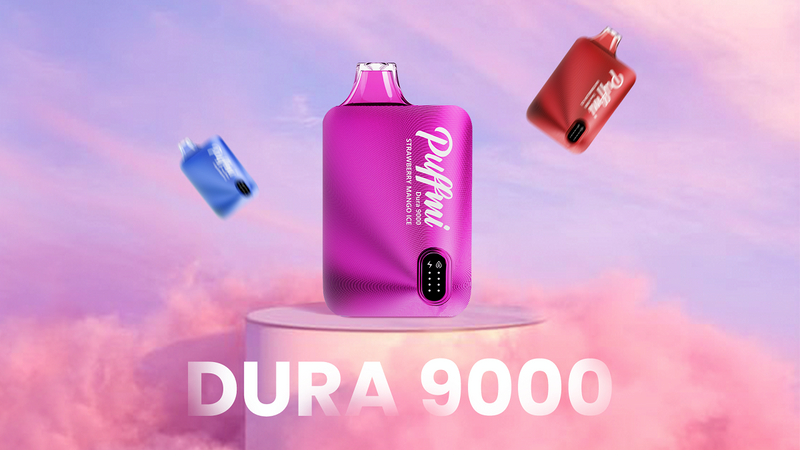 High E-Juice Capacity
Dura 9000 is a league in terms of e-juice capacity.Designed to cater to the needs of vape enthusiasts, the Dura9000 offers an impressive 9000 puffs, a remarkable 70% increase in e-liquid capacity compared to the commonly seen 5000 puffs vapes. It's not just about big numbers, it's about providing users with an uninterrupted and distinctive vaping experience that stands out from their leisure moment.
Dura 9000 Authenticity
Quality is the essence of a great vaping experience, and Dura 9000 doesn't disappoint. Its exclusive e-juice blend is the result of countless iterations by seasoned flavorists. A flavor profile that doesn't merely imitate the real thing but genuinely feels authentic.
Puffmi's promise of excellence meant putting the Dura 9000 through rigorous testing phases. Its unmatched caliber be verified though over numerous vapers real feedback.The testimonials highlight the device's ergonomic design and its enduring battery life, among other features.
Sleek Design
With its robust capacity, you may expect a bulk device body, yet, Dura 9000 can easily fit in your hand, keeping with its remarkably sleek design. The pocket-friendly hardware design enables it to be a discreet and ready-to-use companion.
Great Battery and Charging
Its battery power are genuinely remarkable as always. A mere 20-minute charge can power Dura9000 for up to 3 days. The 650mAh battery, combined with a convenient Type-C charger, ensures you're perpetually set for your vaping sessions. Plus, with worry-free indicators, you're in complete control of the transparent power and e-juice levels, ensuring you're always well-informed.
Always One Flavor For You
Flavor, undeniably, is the soul of vaping. Offering both 2% and 5% nicotine strength, Dura 9000 steps up with 24 captivating flavors, categorized as:
All-time best: This selection pays homage to the classics, the flavors that have withstood the test of time and remain endearing to many. Journey into nostalgia with the ever-refreshing Cool mint or the delightful fusion of Blueberry raspberry. For those who crave a burst of varied berries, Quad berry ice is your go-to. The earthiness of Tobacco, the tropical sweetness of Banana ice, and the invigorating essence of Energy boom complete this timeless collection.
Popular: As the name suggests, this category contains flavors that have captured the hearts and taste buds of many. Start a fresh day in the morning or cool yourself down in the evening with the breezy Watermelon ice. Indulge in the lushness of Blueberry ice or the crispness of Double apple. Contrast to a sparkling feeling of ZESTY COLA, PEACH ICE expresses a delightful soft juice. The island feels of Tropical mango, the fruity burst of Strawberry squeeze, and the tropical cocktail allure of Pina colada make this collection a pop-star.
PUFFMI special: As a representative among the flavor range of Dura 9000, you can image a vaping adventure when you enjoy this collection of tastes. Beginning with the flavor of WATERMELON BUBBLEGUM, it brings you sweet chewiness. Following that, STRAWBERRY MANGO ICE gives you a cool and fruity blend. The velvety COOL MOCHA is for coffee adventures, while STRABWERRY WATERMELON provides a perfect mixed fruity. Diving into a world involves full aroma with RUBY RED GRAPEFRUIT, or feeling sweet-sour balance of PINEAPPLE LEMONADE. For a more tropical journey, MANGO ORANGE WATERMELON doesn't disappoint you. The magical RAINBOW DROP remains a mystery, guiding vapers to find out the actual texture. Finally, juicy, rich grape melons bring the whole collection together.
Puff That's Vast, Vape That Lasts
Dura 9000 represents a pinnacle of innovation in the vaping realm, combining cutting-edge technology with exquisite design and an extensive flavor range. Its purpose is to align with your vaping preferences while providing an unparalleled vaping experience characterized by high quality, durability, and satisfaction.
Blending aesthetics, functionality, and affordability, Dura 9000 empowers you with a flavored journey. With its remarkable e-juice capacity, extended battery life, and diverse flavor options, it promises an satisfying vaping experience and substantial long-term savings.
For further details about Dura 9000, follow the product link to access more specifications and information.
Contact Info:
Name: Amy
Email: Send Email
Organization: puffmivape.com
Website: http://www.puffmivape.com

Release ID: 89108292
If there are any problems, discrepancies, or queries related to the content presented in this press release, we kindly ask that you notify us immediately at error@releasecontact.com. Our responsive team will be available round-the-clock to address your concerns within 8 hours and take necessary actions to rectify any identified issues or support you with press release takedowns. Ensuring accurate and trustworthy information is our unwavering commitment.