The ProBody Warehouse store now features Scivation XTEND® Original, a branched-chain amino acid (BCAA) supplement containing Leucine, Isoleucine, and Valine in a research-backed 2:1:1 ratio.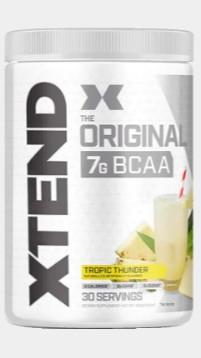 El Cajon, United States - September 23, 2023 —
XTEND® is a sugar-free, calorie-free, and carbohydrate-free formula that contains 7 grams of branched-chain amino acids (BCAAs) per serving. It can be consumed as a recovery drink during a workout, aiding muscle recovery and repair.
For more information, please visit https://probodyonline.com/products/scivation-xtend-bcaa
This supplement is available in various flavors, ranging from blue raspberry to grape, green apple, and strawberry kiwi. It combines BCAAs with electrolytes to promote hydration, faster recovery, and lower fatigue levels.
The ProBody Warehouse team explains that proper recovery is essential to any fitness regimen, as muscle tissue breaks down and depletes stored nutrients during exercise. The body struggles to fully recuperate between workouts without adequate rest and nutritional support. Supplementing with BCAAs gives muscles the necessary building blocks to regenerate and grow stronger.
XTEND® contains 3.5 grams of leucine per serving, the BCAA most directly involved in muscle protein synthesis. Studies have shown that consuming leucine after resistance training enhances the body's muscle-building capabilities. The product also has 1.75 grams each of isoleucine and valine to complement the benefits of leucine. Numerous studies confirm that this 2:1:1 ratio of BCAAs, the same ratio found in human muscle tissue, optimizes absorption. This balanced formula allows all three BCAAs to work together, enhancing protein synthesis better than supplementation with leucine alone.
A blend of sodium and potassium electrolytes is included in the formula to replace those lost by sweating. Proper fluid balance aids recovery by allowing nutrients to flow into muscles and flush out metabolic waste products. ProBody Warehouse, with four locations across San Diego, provides a wide selection of fitness supplements. The retailer offers popular products such as collagen, protein powders, and pre-workout energy formulas from top retailers, including ASN, Blackstone Labs, Mehago Nutrition, Goetz Pharmaceutical, and Optimum Nutrition.
The addition of XTEND® to the product lineup gives customers another clinically validated option to take their training further.
A spokesperson states: "Whatever your fitness goal, training style, or sport of choice, XTEND® can help you train harder, recover faster, and get back in the game sooner. Try all the sugar-free, zero-calorie, mouth-watering flavors of XTEND® Original to fuel your fitness goals."
For more information, please visit https://probodyonline.com
Contact Info:
Name: Rob Hagos
Email: Send Email
Organization: ProBody Warehouse
Address: 301 W. MAIN ST, El Cajon, California 92020, United States
Phone: +1-619-593-0466
Website: https://probodyonline.com/

Source: PressCable
Release ID: 89107799
Should you identify any discrepancies, concerns, or inaccuracies in the content provided in this press release or require assistance with a press release takedown, we strongly urge you to notify us promptly by contacting error@releasecontact.com. Our responsive team is committed to addressing your concerns within 8 hours by taking necessary actions to resolve identified issues diligently or guiding you through the necessary steps for removal. Our dedication lies in providing accurate and reliable information.