--News Direct--
When local businesses thrive, neighborhoods thrive. And in a time when neighborhood businesses face unprecedented challenges, we witness the power of community spirit. Recently, Caty Kobe, Nextdoor's Head of Community conducted a satellite media tour to highlight the efforts and initiatives underway to ensure our local businesses not only survive but thrive.
A video accompanying this announcement is available at: https://youtu.be/HE5jF2FDdZc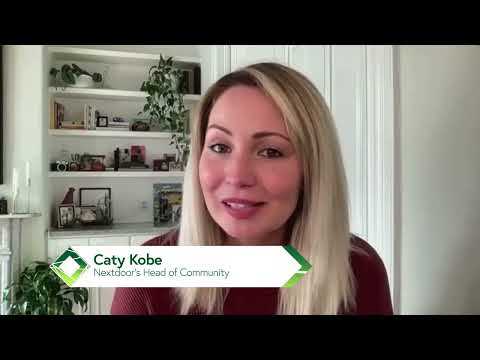 Local businesses form the heart and soul of our communities. In addition to providing goods and services, these businesses create jobs, contribute to the local economy and bring character to the community.
So, to say thank you to those who don't take a summer break, Nextdoor, the neighborhood network, hosts an annual 'for neighbors, by neighbors' awards celebrating and spotlighting the local businesses that are beloved by their customers.
Recognizing the top 1% of local businesses on Nextdoor, the 7th annual 'Neighborhood Faves' award campaign has just kicked off, inviting neighbors to honor the local businesses they love most. From June 1 to June 30, neighbors on Nextdoor can vote for all of their favorite businesses across 20 categories, from their go-to restaurants, brunch spots and cafes, wellness and home services providers, and more.
Celebrating your favorite local businesses with a Neighborhood Fave vote is an amazing way to support your local economy and to spread the word about the places you love.
Head over to the Nextdoor app or visit nextdoor.com/faves to vote for your favorites. Because when local businesses thrive, neighborhoods thrive.
Neighborhood Faves winners will be announced in July. See the 2023 Neighborhood Faves Awards official rules for more information.
To connect with your local neighborhood, download the app or login at nextdoor.com.
About Nextdoor
Nextdoor (NYSE: KIND) is where you connect to the neighborhoods that matter to you so you can belong. Kindness is core to our purpose: to cultivate a kinder world where everyone has a neighborhood they can rely on. Neighbors around the world turn to Nextdoor daily to receive trusted information, give and get help, get things done, and build real-world connections with those nearby — neighbors, businesses, and public services. Today, neighbors rely on Nextdoor in more than 305,000 neighborhoods across 11 countries. In the U.S., 1 in 3 households uses the network. Nextdoor is based in San Francisco. For additional information and images: nextdoor.com/newsroom.
About Caty Kobe
Caty Kobe is Head of Community at Nextdoor, responsible for overseeing the global moderation program. She's a rescue dog mama, an avid gardener, a karaoke enthusiast, and a proud San Franciscan.
Contact Details
YourUpdateTV
+1 212-736-2727
View source version on newsdirect.com: https://newsdirect.com/news/heart-of-the-neighborhood-honoring-and-supporting-local-businesses-681927166