--News Direct--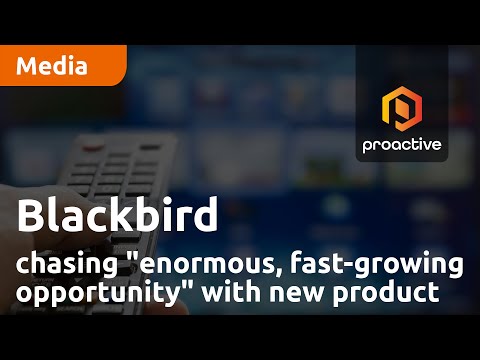 Blackbird PLC (AIM:BIRD, OTCQX:BBRDF) CEO Ian McDonough speaks to Proactive's Thomas Warner after the technology company presented its latest product to investors at a special event in Shoreditch.
McDonough explains that the product, called elevate.io, is an innovative web-based end-to-end editing and audio creation platform designed for the creative industry. He says the platform's standout feature is real-time global collaboration for editors, which addresses a key challenge faced by creators.
McDonough emphasises the unique advantage Blackbird has been able to garner from its core codec, highlighting that it enabled the rapid development of the new product.
He says initial reactions from investors were highly positive and says there is immense potential growth in the $250 billion creative economy. Blackbird is targeting a $20 billion market for tools and services within this sector, projected to grow at a CAGR of 20-25% over a decade. He says Blackbird is chasing an "enormous, fast-growing opportunity" with the new product that is expected to launch early in the new year.
Additionally, Blackbird's announced earlier this week the signing of a new contract with an original equipment manufacturer (OEM) for the Summer Games in 2024.
Contact Details
Proactive UK Ltd
+44 20 7989 0813
View source version on newsdirect.com: https://newsdirect.com/news/blackbird-chasing-enormous-fast-growing-opportunity-with-new-product-858662896