Trusted by a long list of people-first companies, Electives is making impactful learning possible

BOSTON - June 8, 2023 - PRLog -- Electives, the enterprise live learning platform that makes it possible to create meaningful learning impact, announced that it had been named "Corporate Learning Solution of the Year" in the fifth annual EdTech Breakthrough Awards program conducted by EdTech Breakthrough. This leading market intelligence organization recognizes the top companies and solutions in the global educational technology market.

EdTech Breakthrough winners include a long list of well-known companies, like Discovery Education, Roblox, LEGO Education, 2U, Rosetta Stone, Cengage Learning, Houghton Mifflin Harcourt, Logitech, McGraw Hill and more.

Electives makes it easy for HR and people operations leaders to build impactful learning cultures by streamlining the planning, curation, administration and measurement of live learning programs.

"Electives isn't your run-of-the-mill corporate learning experience, and that's by design," expressed Jason Lavender, CEO and co-founder of Electives. "Our groundbreaking platform empowers HR and people leaders to transform their learning impact effortlessly. At the same time, we're cultivating vibrant communities of learners who crave (versus avoid) opportunities for growth and development."

Designed to support individual, team-based and peer-to-peer live learning with a perfect mix of quality, quantity and diversity of content and instructors, the Electives live learning platform has four synchronized parts:
Extraordinary instructors delivering unforgettable experiences. Electives has 150+ instructors who are all real people sharing real-life experiences as professors, FBI agents, psychologists, performers, athletes and more.
Live learning designed to build memorable connections. Electives offers 450+ live classes on essential topics like leadership, new manager training, communication skills, DEI, innovation and more.
Platform tools designed to eliminate administrative burden. The Electives platform is a single source for planning, curating, administrating and managing live learning programs.
Electives support. The Electives team helps create learning strategies to meet the unique objectives of its business partners and their employees.
On June 1, Electives launched Electives Membership, a new employee benefits program that lets employers give their employees individualized live learning opportunities. Each month, members get to browse the roster of live learning opportunities and select the classes they want to join. All Electives Membership classes are live and interactive.

"We are continually enhancing the Electives platform to make it increasingly comprehensive and supportive of both employer and employee needs," shared Krikor Dzeronian, COO and co-founder of Electives. "Winning the EdTech Breakthrough Award proves that the industry values our contribution and recognizes the need for live learning solutions that align with the strategic priorities of today's people-first companies."

The mission of the EdTech Breakthrough Awards is to honor excellence and recognize the innovation, hard work and success in a range of educational technology categories, including student engagement, school administration, adaptive learning, STEM education, remote learning, career preparation and many more. This year's program attracted more than 2,400 nominations from over 16 countries throughout the world.

"The Electives platform supports individual, team-based and peer-to-peer live learning with a perfect mix of quality, quantity and diversity of content, instructors and experiences. We're proud to name them our 'Corporate Learning Solution of the Year!'" said James Johnson, Managing Director, EdTech Breakthrough. "Recent studies show that fewer than one-third of U.S. employees are engaged at work. Whether upskilling and/or reskilling employees while building a culture of learning, or looking to offload the logistics of learning for multiple teams, regions and groups, Electives delivers unforgettable learning experiences and better quality learning with less effort."

In October 2022, Electives was named to the HolonIQ North American EdTech 200 list of most promising startups alongside established leaders like Handshake and Masterclass.

About Electives, Inc.

Electives is an enterprise live learning platform that makes it possible to create meaningful learning impact by streamlining the planning, curation, administration and measurement. The Electives platform offers the perfect mix of quality, quantity and diversity of content, instructors and experiences needed to design learning programs that achieve a long list of organizational outcomes. Learn more at www.electives.io.

About EdTech Breakthrough

Part of Tech Breakthrough, a leading market intelligence and recognition platform for global technology innovation and leadership, the EdTech Breakthrough Awards program is devoted to honoring excellence in educational technology products, companies and people. The EdTech Breakthrough Awards provide a platform for public recognition around the achievements of breakthrough educational technology in categories including e-learning, student engagement, school administration, career preparation, language learning, STEM and more. For more information, visit EdTechBreakthrough.com.


Photos: (Click photo to enlarge)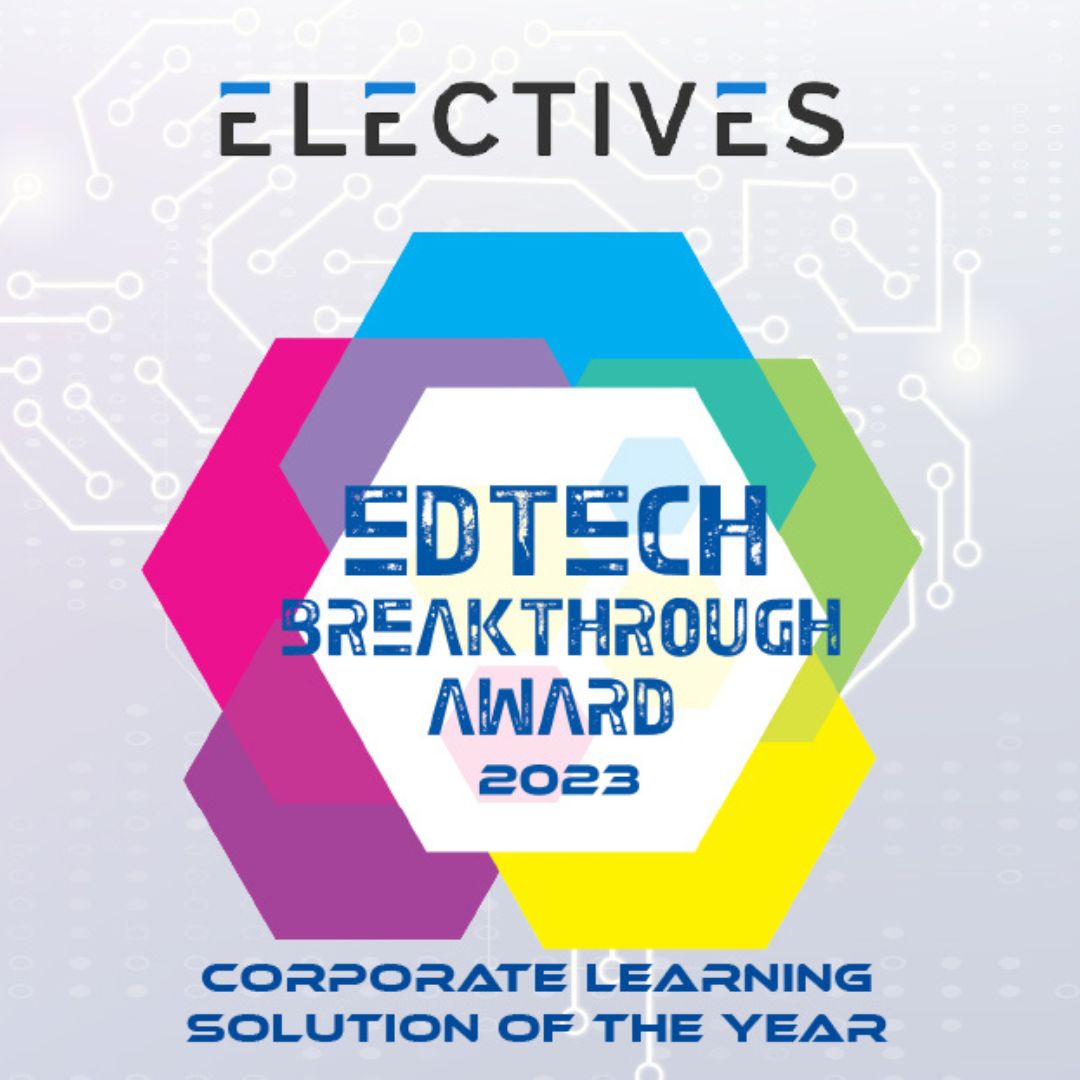 Read Full Story - Electives named 'Corporate Learning Solution of the Year' by EdTech Breakthrough | More news from this source

Press release distribution by PRLog