September 1, 2022 – TheNewswire - Electric vertical take off and landing (eVTOL) aircrafts are gaining immense popularity. Customers and investors alike are looking for cleaner and more environmentally friendly ways to travel in the future.
Urban air mobility offers the solution as these electric aircrafts have the ability to take off and land in small spaces, are relatively cheaper to operate, and allow consumers to avoid congested vehicle traffic on the ground. The best factor is that eVTOL aircrafts operate on batteries, which make them carbon neutral.
Morgan Stanley analysts have suggested that the eVTOL market could be valued at more than $1 trillion by 2040 and as much as $9 trillion by 2050. The firm has also said that eVTOL can serve a wide range of markets, ranging from passenger travel to military applications to freight transportation.
Here are five eVTOL companies to keep your eye on in 2022:
1. Joby Aviation ($JOBY)
Joby Aviation is a California-based transportation company developing an all-electric vertical take-off and landing aircraft, which it intends to operate as part of a fast, quiet, and convenient service in cities around the world.
The company recently announced an expansion of its existing contract with the U.S. Air Force's Agility Prime program that increases the contract's potential value by more than $45 million. The contract also widens the Company's defense partnerships to include the U.S. Marine Corps, which will participate in government-directed flight tests and use case exploration.
Joby's engagement with government partners will bolster the Company's primary goal of launching a commercial passenger service by providing access to testing facilities, early operational experience for government customers, and a partial offset to the company's research and development costs.
Shares of Joby Aviation trade on the NYSE under the ticker symbol JOBY.
2. Eve Holding ($EVEX)
With a more than 50-year history of aerospace expertise, Eve Holding is taking a holistic approach to progressing the urban air mobility ecosystem. The company possesses an advanced eVTOL project, comprehensive global services and support network, and a unique air traffic management solution.
Eve Holding plans to conduct its first North American urban air mobility simulation using helicopters powered by Blade Air Mobility (NASDAQ listed: BLDE), as a substitute for an eVTOL. The company aims to study operations, ground services, passenger journeys and eVTOL operator needs, creating more accessible and faster connections through downtown Chicago. The company will conduct its Chicago UAM simulation over a period of three weeks, starting with ground tests and passenger flights.
Shares of Eve Holding trade on the NYSE under the ticker symbol EVEX.
3. Vertical Aerospace ($EVTL)
Vertical Aerospace was founded in 2016 by Stephen Fitzpatrickr. Over the past five years, the company has focused on building the most experienced and senior team in the eVTOL industry.
Vertical Aerospace recently announced a partnership with Babcock International to explore new applications for the company's VX4 eVTOL aircraft. Babcock has over thirty-five years of experience in EMS, performing thousands of missions every year globally. The new partnership will review opportunities to utilize the VX4 in vital services such as attending accidents and providing emergency transport between hospitals.
The VX4 aircraft also has proven demand in the passenger transportation markets through established customers that include Virgin Atlantic, Avolon, Bristow, and Iberojet.
Shares of Vertical Aerospace trade on the NYSE under the ticker symbol EVTL.
4. Archer Aviation ($ACHR)
Archer Aviation, based in Santa Clara, California, is designing and developing eVTOL's for use in strategic urban air mobility networks. Archer's goal is to move people throughout the world's cities in a quick, safe, sustainable, and cost-effective manner.
The company recently announced successful completion of its "critical azimuth" flight tests, marking the completion of the second of three key phases of flight testing. The purpose of these tests are to validate the crosswind capabilities of Archer's eVTOL aircraft configuration and flight control systems. The company has now successfully flown Maker at increasing speeds of up to 15 knots in various directions and attitudes.
Shares of Archer Aviation trade on the NYSE under the ticker symbol ACHR.
5. Lilium ($LILM)
Lilium is accelerating the decarbonization of air travel with planned launch networks announced in Germany, the United States and Brazil. The company says that its Lilium Jet offers leading capacity, low noise and high performance with zero operating emissions.
The company recently selected Diehl Aviation, a leading supplier of cabin interiors and systems for the aviation industry, to collaborate on the design and development of Lilium's jet cabin, as well as to act as the integrator and manufacturer for interior components.
Shares of LIlium trade on the NASDAQ under the ticker symbol LILM.
Investors agree that eVTOL, whether utilized for consumers or freight, could be the future of the aviation industry. Listed below are additional eVTOL stocks to watch:
For a full list of eVTOL stocks, quotes and news visit:
https://greenstocknews.com/stocks/evtol-stocks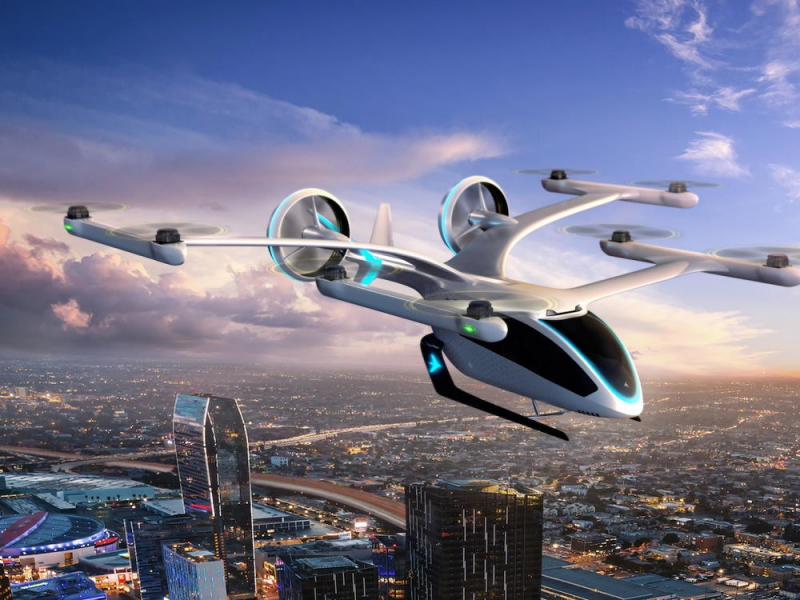 Click Image To View Full Size
Cautionary Statements: Green Stock News ("GSN") is not a financial advisory or advisor, investment advisor or broker-dealer and does not undertake any activities that would require such registration. The information contained herein is not intended to be used as the basis for investment decisions and should not be considered as investment advice or a recommendation, nor is the information an offer or solicitation to buy, hold or sell any security. GSN does not represent or warrant that the information posted is accurate, unbiased or complete and make no representations as to the completeness or timeliness of the material provided. GSN receives fees for producing content on financial news. Investors should consult with an investment advisor, tax and legal consultant before making any investment decisions. All materials are subject to change without notice.
Copyright (c) 2022 TheNewswire - All rights reserved.