Learn how Morgan Stanley is uniting to champion and support our growing Asian American and Pacific Islander community in honor of AAPI Heritage Month.
SOURCE: Morgan Stanley
DESCRIPTION:
May marks Asian American and Pacific Islander (AAPI) Heritage Month, an annual celebration of the diverse cultures and histories of Asian Americans and Pacific Islanders in the U.S. Morgan Stanley will honor this extraordinary and important community through programming and celebrations.
Our events center on understanding, supporting and championing the cultural richness of the AAPI community. This includes making a concerted effort to discuss issues of concern to AAPI employees and confront the rising tide of violence against Asian Americans.
In addition to internal events, the Asian Employee Network is sponsoring two events for clients to encourage dialogue and raise awareness. On May 19, the accomplished actor, director, producer and activist Daniel Dae Kim joins Senior Advisor Audrey Choi to discuss his work in the Asian American community. We'll dive into topics like the increase in violence, health and racial disparities, and the importance of forging alliances with other communities. On May 31, the author, activist and founder of Girls Who Code and the Marshall Plan for Moms, Reshma Saujani joins Seema Hingorani, Managing Director, Investment Management, and the Founder and Chair of Girls Who Invest, for a fireside chat where Reshma will spotlight her advocacy work and her newest book, Pay Up: The Future of Women and Work (And Why It's Different Than You Think).
Earlier this month, Morgan Stanley conducted Bystander Intervention Training, which taught attendees how to intervene effectively as bystanders without compromising their safety. The trainings also examined the positive impact that bystander intervention has on individuals and communities.
We spoke with two members of our AAPI community—Lisa Boyce and David Wu—to find out what AAPI Heritage Month means to them and how to help junior Asian American and Pacific Islander talent rise among the leadership ranks.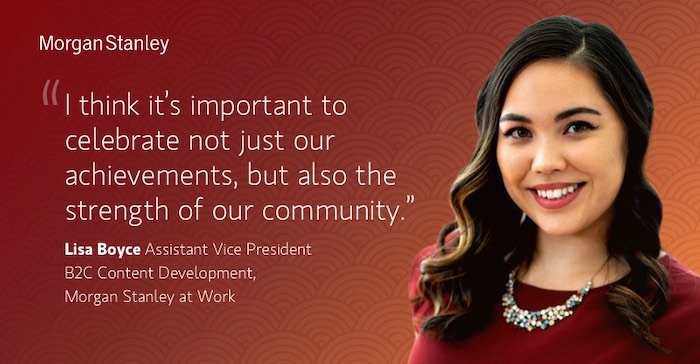 What does Asian American and Pacific Islander Heritage Month mean to you?
This month is a time to honor our history and celebrate our accomplishments. Especially in light of the recent rise in violence, this year I'm really focusing on the joy and connection I've found within our community—the support I've received when I have spoken up and the friends who are my light in dark times. I think it's important to celebrate not just our achievements, but also the strength of our community. And we should do so loudly, recognizing how far we've come and carving out space for further progress.
How can the financial services industry and Morgan Stanley employees help counter the rise of violence and harassment against Asian Americans across the U.S.?
For me, this comes down to leading with empathy. I certainly don't expect Morgan Stanley to solve crime in New York and throughout the country, but it's about showing up as humans. We need to acknowledge the extra mental strain this environment can cause, be aware of the violence that's happening, and offer a safe space for our AAPI colleagues. I'd encourage managers to check in on your direct reports to lessen the emotional labor on their end. This is something that I feel is strongest coming from the top down.
Which areas offer the most potential for advancing diversity—and what can people do to help?
Throughout the industry there are a variety of efforts to increase diversity in the recruiting process—which is a crucial initiative. But it's important to put the same effort into supporting that junior talent as they rise through the ranks so they can succeed in leadership roles as well. That means working to dismantle the "model minority" myth and confronting internal biases about what a leader looks and acts like.
What does Asian American and Pacific Islander Heritage Month mean to you?
AAPI Heritage Month is an opportunity to celebrate a group of people whose accomplishments have historically been understated across broader society. This is especially important because the community traditionally does not have as many famous "champions" who can represent us in public spaces. Plus, many of us grow up in families where modesty is paramount.
Where do you feel the most progress has been made in recognizing Asian American and Pacific Islander contributions in our industry?
The advancements over the last two years with the broader social justice movement have activated many members of our community who traditionally haven't spoken up—including me. And it's empowered us to be leaders in changing the trajectory of AAPI issues. This energy has resulted in AAPI topics now reaching the top levels of our organization, as demonstrated by the firmwide talk around anti-Asian sentiment between our CEO, James Gorman, and Professor Kenji Yoshino. That's an event that likely wouldn't have happened five years ago. I'm optimistic that more leaders are rising up across the AAPI community every day and that our leadership will continue driving towards a more inclusive future.
Where do you think the most progress needs to be made?
People should aspire to better understand and relate to the background and style of AAPI individuals, rather than trying to force them to fit in. People can help by being more empathetic and championing select AAPI individuals as leaders across the industry. The AAPI community itself can contribute by serving as role models and mentors for youth and junior employees. That starts with finding out if your organization has a diversity council or employee network and getting involved in any way that you can. Also be intentional in identifying youth and junior employees, including blocking out time to get to know them.
© 2022 Morgan Stanley Smith Barney LLC. Member SIPC.
CRC#4741684 (05/2022)
Tweet me: In celebration of Asian American and Pacific Islander (AAPI) Heritage Month, Learn how @MorganStanley is uniting to champion and support its growing Asian American and Pacific Islander community. Read the latest article here: https://bit.ly/3N5ZHjs
KEYWORDS: NYSE: MS, American Asian and Pacific Islander Community, AAPI Heritage Month, Asian Employee Network