SOURCE: Aflac Incorporated
DESCRIPTION:
Philanthropy
Caring for others is at the core of Aflac's culture, and 2021 was no exception. While supporting our customers every day, we still dedicated time and energy to making a difference in our communities.
Aflac Cancer and Blood Disorders Center
Since 1995, the Aflac Cancer and Blood Disorders Center of Children's Healthcare of Atlanta has become nationally renowned as one of the leading childhood cancer, hematology, and blood and marrow transplant programs in the U.S. With innovative research programs and cutting-edge treatment options, the five-year survival rate for childhood cancer has improved dramatically, from 20% in 1965 to greater than 80% today. This worthwhile cause is very near and dear to the heart of the Aflac family, including the Aflac Foundation, Inc., our executives, employees and the field force, whose generous contributions help to provide a steady flow of funding for research. In total, Aflac's contributions to the Aflac Cancer Center have exceeded the $160 million mark as of April 2022. This generosity has greatly contributed to the Aflac Cancer Center's success and distinction in research, which has earned the Aflac Cancer Center recognition as one of the top pediatric cancer programs in the country by U.S. News and World Report. Aflac's commitment is not only positively impacting kids with childhood cancer, but also those with rare blood disorders, including sickle cell disease – a disease that is not widely known or understood.
The inspiration for Aflac's efforts to help address challenges brought on by sickle cell disease, in relation to larger disparities in pediatric health care, are largely centered on the Aflac Cancer and Blood Disorders Center of Children's Healthcare of Atlanta: The Aflac Cancer Center is the most prolific provider of sickle cell disease care in the U.S., caring for nearly 2,000 pediatric patients each year and regularly performing blood and marrow transplants. In 2020, it was rated No. 1 in the nation for total sickle cell disease discharges in 2020 with 2,000-plus total patient visits, according to the Public Health Information System Data.
Aflac Parents House
A large part of being a well-respected and trusted company includes being a compassionate and socially responsible company. Aflac Japan recognizes that social responsibility is an essential element of our purpose. As a company, the Aflac Japan family cares deeply about our communities, and it is our privilege to help where we can. When a child is diagnosed with cancer or other serious medical conditions, he or she often must travel to Tokyo or Osaka from other parts of Japan to receive treatment, which is often an ongoing process. To help provide a level of assistance, the first Aflac Parents House, which was established in 2001 through a donation from Aflac Japan, serves as a home away from home where pediatric patients and their families can temporarily live together while they support their child's battle with cancer or numerous other serious illnesses. The Aflac Parents House is also utilized as a comprehensive support center for consultation and events related to pediatric cancer. 
In memory of Jean Amos, who passed away in November 2019, Aflac Japan has renovated the Parents House and established the Amos Room with memorial donations from Aflac Japan executives, employees, group companies and sales agents. These individuals also support the operation of Parents House by donating hygiene products and daily necessities so that children and their families can stay in the building with peace of mind, even as concerns over COVID-19 infection continue.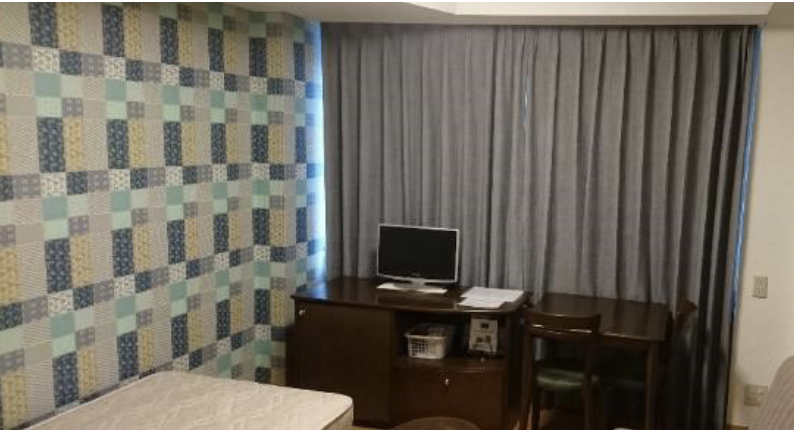 The Aflac Parents House is also used as a comprehensive support center for consultation and events related to pediatric cancer.
Cancer Awareness Classroom
Aflac recognizes the duty and responsibility that comes with being the pioneer and leading company for cancer insurance. As the pioneer of cancer insurance, consumers have placed their trust in our company and our products. We work hard each day to be good stewards of that trust. At Aflac Japan, for example, in cooperation with all 47 prefectures, we actively educate people about cancer prevention and the importance of early detection. For example, in the Tokyo suburb of Chofu City, where Aflac Japan has major operations, the company cooperates with the local government to provide cancer education and developed cancer classes for all junior high schools in the city. In December 2021, Aflac Japan co-hosted a cancer screening awareness seminar with Chofu City on Aflac Japan's official YouTube channel, with the aim of spreading a correct understanding of cancer screening.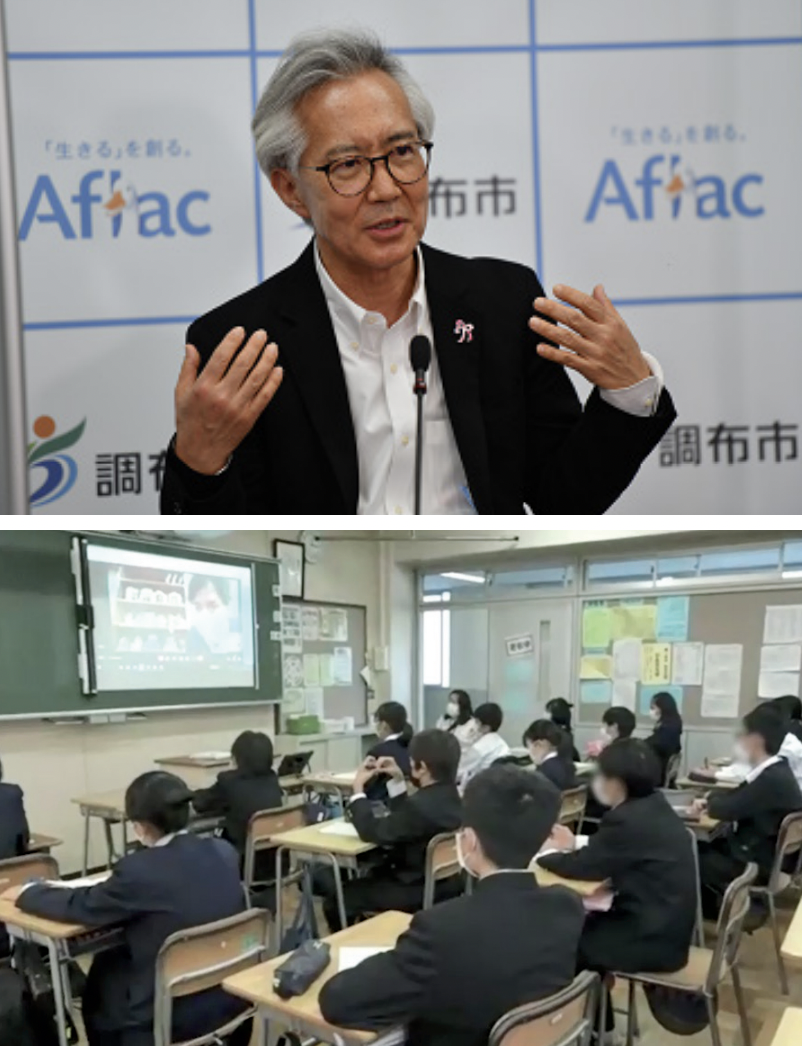 Aflac Japan All Ribbons
Aflac strives not only to provide peace of mind to our policyholders, but also compassionate help to our employees. With that in mind, in 2017, Aflac Japan pioneered a volunteer peer-based employee community called All Ribbons for employees who have experienced cancer. The name was chosen to reflect the wish of community members to support each other and their Aflac colleagues who have experienced various types of cancer. The All Ribbons group members provide support to fellow employees battling cancer and struggling to balance treatment and work. All Ribbons participants are provided with opportunities to share their unique experiences battling cancer, including tips for remaining balanced in their work life. Employee consulting services are also provided. In addition to these support activities, the All Ribbons group also hosts panel discussions which often take place at the All Ribbons Café which is a meeting place for employees where cancer services information is available.
Volunteering
Aflac's steadfast philanthropic initiatives and volunteerism are grounded in "leaving our duckprints." In the U.S., employees and independent sales agents have donated more than $160 million to support pediatric cancer research, treatment and the Aflac Cancer and Blood Disorders Center through April 2022.
In Japan, we support those facing childhood cancer through initiatives such as the Aflac Parents House, where children being treated for diseases such as childhood cancer and their families can stay at a low price; scholarships for high school students who have lost their parents to cancer or who have experienced childhood cancer themselves; and support for the Gold Ribbon activities and more, including initiatives to improve the cancer screening rate in Japan.
My Special Aflac Duck®
In Japan and the U.S., Aflac Incorporated believes in doing good for future generations. That takes shape in many ways within the Aflac family, but most prominently in our dedication to children and families facing childhood cancer. We know it takes more than medicine to help children cope with cancer. That's why Aflac delivers My Special Aflac Duck free of charge to children in the U.S., Japan and Northern Ireland to assist them as they undergo cancer treatments. It's an investment — for the children, their families and their futures.
In addition to supporting the treatment and research of childhood cancer, Aflac wanted to do more. We wanted to give children with cancer something they could literally hold on to — something that would give them joy and help them on their journey. Aflac delivered on this commitment in 2018 with My Special Aflac Duck, our smart comforting companion that helps children feel less alone by using interactive technology during their cancer treatment. A compatible web-based app enables children to mirror their care routines, including medical play, lifelike movement and emotions to engage and help bring comfort to children during their cancer care journey. Ultimately, My Special Aflac Duck helps kids recognize that they're not alone in their lived experience; creates positive associations with the treatment regimens to inspire adherence both in and out of the home; and provides coping mechanisms anytime, anywhere, for anyone.
Each year, more than 15,000 children are diagnosed with cancer in the U.S., and Aflac's goal is to gift each newly diagnosed child, age three and up, his or her very own My Special Aflac Duck completely free of charge. Through the Aflac Childhood Cancer Campaign, Aflac Cancer Center and now, My Special Aflac Duck, Aflac is committed to providing support, hope, time and resources to children with cancer.
Having helped more than 13,000 kids cope with cancer, My Special Aflac Duck is finding some new friends. In early 2022, Aflac U.S. expanded the reach of its award-winning program to include children with blood disorders such as sickle cell disease. Housed in custom packaging, these new duck accessories are tailored especially to help children with blood disorders such as sickle cell cope with their unique care routines; they include a warm blanket, port-IV adapter and a new digital experience on the accompanying free app.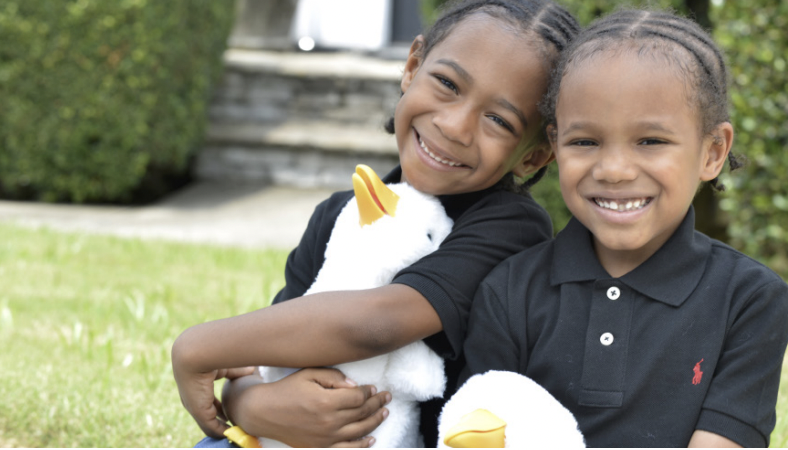 Sawyer Guillory was born with sickle cell disease and received his twin brother Saxton's bone marrow as his cure. Both were part of Aflac's pilot program in 2021 to provide a new version of My Special Aflac Duck to children with sickle cell disease. The Guillory family is grateful that both of their sons, Saxton and Sawyer, are now healthy. About her twins and her family's experience, Shea Guillory said, "Saxton and Sawyer are two peas in a pod. They were born together; they were 'wombmates.' Sawyer was literally born with his cure. When they informed me that Sawyer had sickle cell anemia, I was devastated; I was at a loss for words. The doctors told me that we needed the best care for Saxton, which is how we came to the Aflac Cancer and Blood Disorders Center of Children's Healthcare of Atlanta. Saxton was Sawyer's bone marrow transplant donor. He went through the surgery and the procedure with his brother. The level of care that my son received at this hospital is hard to describe. It means so much to me. Sawyer and Saxton received a My Special Aflac Duck, and Sawyer named his duck 'Daxton' after his twin brother. I am in love and in awe with everything about the Aflac Duck. It helps to give kids a way to express themselves. It's a wonderful tool, and I think the more patients that have the opportunity to be able to use it, I think it would help them tremendously."
Health care providers can visit myspecialaflacduck.com for more information and to request My Special Aflac Ducks for their pediatric patients with cancer and sickle cell disease.
Download the 2021 Aflac Business & Sustainability Report here
Tweet me: Caring for others and our communities is at the core of Aflac's culture. Read the @Aflac 2021 Business & Sustainability report to learn more about Aflac's commitment to caring here: https://bit.ly/3l4fmDL
KEYWORDS: NYSE: AFL, Aflac, philanthropy, My Special Aflac Duck, Aflac 2021 Business & Sustainability Report