This week, we were the first life science company to join San Diego's McGrath Family Junior Achievement BizTown
SOURCE: Illumina
DESCRIPTION:
On May 31, Illumina celebrated the official opening of the newest storefront in The McGrath Family Junior Achievement (JA) BizTown, in San Diego, California. Biztown is JA's experiential-based elementary school capstone program. "Through active participation in a simulated community, students develop an understanding of business, economics, and innovation in San Diego," said Siddhartha Vivek, President & CEO of Junior Achievement of San Diego. "We are thrilled to welcome Illumina as our first life science biotech company." San Diego Biztown is a 10,000-square-foot mini-city made up of more than 20 local businesses. Students walk away from this immersive experience with a better understanding of how to apply what they learn in the classroom to the real world.
The Illumina storefront in BizTown mimics our labs with stations for students to become "scientists" by running experiments, building a double helix, and exploring careers in the life science and biotechnology industry.
Students are exposed to a sampling of the applications of genomics and how each connects to the San Diego economic ecosystem. Some of these applications include sequencing a whole human genome to help diagnose a rare disease, and studying environmental DNA to aid in the conservation of endangered species. We highlight potential careers in biology, data science, engineering, and all the supporting careers that bring our products to light, with the goal of improving human health.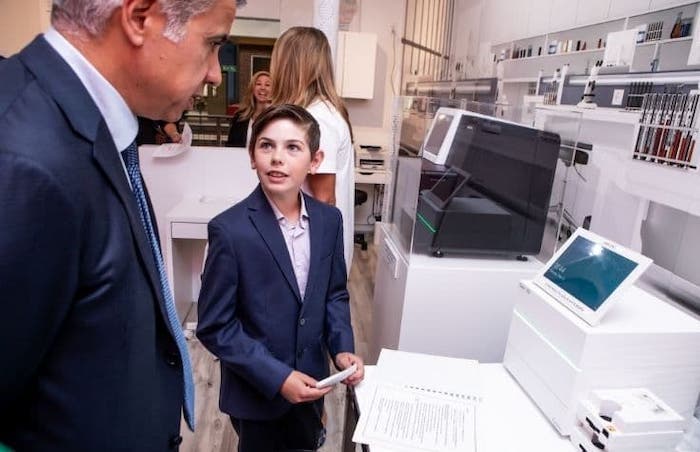 "As we continue to grow our company, we want to create connections and enable students to see themselves as the next generation of scientists, researchers, or clinicians that use genomics to solve humanity's biggest challenges: everything from cancer and infectious diseases like COVID-19 to biodiversity conservation and climate change," said Sam Samad, Chief Financial Officer of Illumina. Sam was joined onsite for the ribbon cutting by a special guest and recent Biztown attendee, Kyle Schwartz. Following Kyle's fifth-grade trip to Biztown earlier this year, he wrote a letter to Sam to learn more about Illumina and being a CFO. Sam invited Kyle to help officially open the Illumina store. "I couldn't be more excited for the future, knowing it will be led by kids like Kyle, and all of the Biztown students," said Sam.
We are committed to providing equitable access to both genomics and STEM education. Our goal is to reach five million STEM learners by 2030. Since 2019, we have reached more than 900,000 learners.
5 Goals for Partnering with Organizations Like JA
Engage our employees to inspire the next generation
 
Develop tools for educators
 
Create an educational community
 
Inspire community partners and educators
 
Remove barriers to ensure equitable access to STEM
We are excited to kickstart this three-year partnership with The McGrath Family JA BizTown in the hometown of our headquarters. We are honored to support educators and empower students as we work towards creating a more equitable and sustainable future together.
Learn more about Illumina's Corporate Social Responsibility program, community impact, and progress here.
Tweet me: This week, @illumina made @JASanDiego history as the first biotech company to open a BizTown shop. The storefront will mimic Illumina labs with stations for students to become "scientists" and will assist young people in their career pathways in STEM. https://bit.ly/3NmrtIH
KEYWORDS: NASDAQ: ILMN, McGrath Family Junior Achievement BizTown, STEM, genomics, STEM Education