Presented by AEO in partnership with Empower by GoDaddy
SOURCE: GoDaddy
DESCRIPTION:
Empower by GoDaddy is proud to celebrate 5 years of serving entrepreneurs everywhere. This report is intended as a reflection of our learnings and framework for others to follow suit in supporting local small business owners around the world.
Strategies for Policymakers and Partners to Uplift Small Businesses
As market and workforce needs shift, reimagining the digital landscape to include vibrant small businesses allows innovative solutions to emerge. To that end, GoDaddy and AEO have identified key strategies that partner organizations can implement to help shape the future of business and work.
For Local BSOs
Use inspirational stories to recruit participants. ​
Share past participant success stories to motivate potential participants to join the program. These stories will help participants know what to expect and will reinforce the legitimacy of the program's methods.
 
Provide or reinforce basic skills before leveling-up to program content.
Basic digital literacy is the most-needed skill among Empower by GoDaddy program participants. Offer training to build digital literacy and basic computer skills before teaching more sophisticated skills such as website creation or e-commerce strategy design and implementation.
 
Provide segmented training and support for product-and service-based businesses.
While a digital presence is necessary for both product- and service-based businesses, they differ in what kind of tools and training they need and how to best leverage them. Help each entrepreneur achieve the most success by customizing training and support to their needs.
 
Create meaningful connections through business owner stories.
Highlight real stories and successes from microbusiness owners' lived experiences. While funders and partners find data compelling, understanding the personal and community impact of specific businesses resonates with audiences and sets the stage for deeper engagement.
"Legislators, policymakers, and even judges don't know just how many everyday entrepreneurs there are, or how profound their influence is."
–Harvard Business Review Analytic Services1
Foster an environment that facilitates peer learning and networking.
Business owners learn best from other business owners who are facing similar challenges. Encourage ways for participants to learn from the experiences of others. Moreover, new opportunities, such as partnerships or promotional possibilities, come from making new connections. Intentionally build community to create meaningful support for program participants.
 
Implement a "train-the-trainer" model.
To ensure consistency and standardization in delivery and experience, subject matter experts should train staff responsible for supporting the implementation of any digital literacy program. Equipping staff with an adequate level of proficiency and comfort with the curriculum and tools will help ensure program success.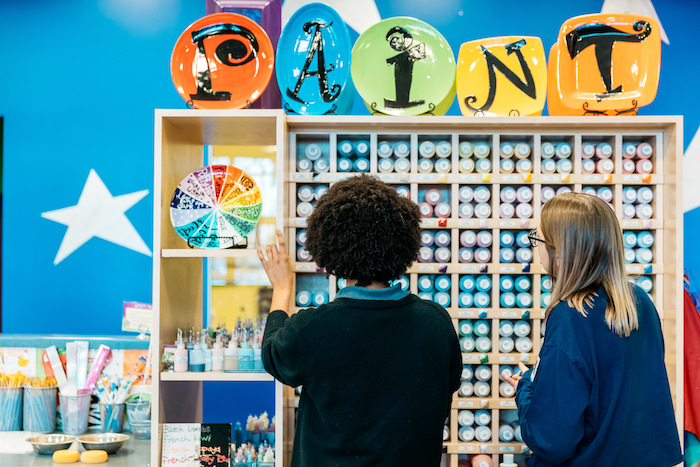 Photo: Scott and Lori Neff, As You Wish Pottery
For Policymakers
Invest in digital skills training to support up-skilling the workforce.
As the future of work continues to shift toward the digital space, community leaders must ensure that the workforce has the appropriate digital literacy to compete. A tech-savvy entrepreneur can respond better and faster to changing customer expectations and maintain a competitive edge. And with small businesses employing 47% of the private-sector workforce, training them on digital literacy is an essential strategy to keep that hiring going as they are enabled to grow.

2


 
Gather insights from microbusiness owners.
Focus groups, in-depth interviews, and surveys offer insight into the experiences, challenges, and journeys of small business owners. Policymakers can learn what they need to survive and grow and uncover strategic opportunities to enhance support to generate increased value and social impact.
 
Leverage data showing the economic and community-building power of microbusinesses.
Policymakers can pull microbusinesses out of the margins by highlighting the tremendous impact they impart to their local economies. Policymakers can tap into tools like Venture Forward, a multi-year research effort led by GoDaddy, to help them quantify the microbusiness contribution to the business landscape.
 
Foster a small business-friendly environment through incentives.
Policymakers can help offset the costs of doing business for microbusiness owners by offering tax refunds and other incentives that make broadband internet and other necessities businesses rely on more accessible and affordable for all.
 
Invest in accessible and affordable broadband access in all geographic areas.
Lack of access to affordable broadband internet inhibits microbusiness owners' ability to launch and grow within the digital landscape. Subsidies can make reliable broadband a feasible reality, even for rural communities where the high cost can prevent local leaders from pursuing greater connectivity. Some options for closing the gap include electrical cooperatives, alternative technologies, and public-private partnerships.3
For Corporate and Philanthropic Partners
Leverage your company's expertise via critical coaching and mentorship.
Coaching and mentoring relationships between staff and local entrepreneurs can create new opportunities for networking, potential business ideas, and overall growth as entrepreneurs seek trusted guidance and support. Such programs also help companies build critical community relationships and put their corporate social responsibility values into action.
"Working closely with our Empower entrepreneurs provided me with a sense of purpose. I was able to see a direct impact in the work I did and what we do as a company. I went back to the office more inspired and ready to be my best to carry out our mission, once I was able to see (in person) the impact we truly make as a company. "
– Courtney, Learning Operations Analyst, GoDaddy People Operations – Gilbert, AZ
Establish strategic partnerships with local BSOs.
Cross-sector partnerships create mutual value and deep social impact. Working with BSOs and entrepreneurs creates win-win-win situations that bring together diverse resources in ways that achieve more impact, greater sustainability, and increased value to all stakeholders.
 
Facilitate partnerships that eliminate fragmentation in local ecosystems.
Navigating the wide variety of virtual and inperson entrepreneurial resources available can cause confusion and low engagement among entrepreneurs. Partnerships aimed at mapping these resources, aligning their provisions, and helping entrepreneurs navigate the ecosystem can help entrepreneurs efficiently connect to the resources they need.
 
Integrate microbusiness' experiences and needs into new program and service designs.
A deep understanding of the needs of microbusinesses should drive the design and development of programs and services. This approach ensures that small business engagement is relevant and meaningful, which results in increased business value and social impact.

4


 
Communicate stories of impact.
Share stories about how small businesses are having impact from the perspective of entrepreneurs, partners and community leaders. It's also helpful to share your corporate perspective on the impact small businesses have in the community, leveraging your brand and reach to support small businesses.
Conclusion
The need for digital skills — from basic computer literacy to digital marketing strategies and execution— is not only newly urgent for small business owners in the COVID-altered world of remote interaction, but will continue to grow in importance as work and commerce evolve in coming years. Put succinctly, a strong digital presence is now an essential precondition for business success and will only be more and more so in the future. This means that local economies driven by small businesses will increasingly rely on entrepreneurial ecosystems that make digital literacy a core component of business training and resource provision. Investing in a digital-first business-training approach like Empower by GoDaddy is a strategic path for policymakers, corporations, and community organizations to turbo-charge local economies and encourage more equitable access to resources that can ensure widespread distribution of the benefits of small business success. Business-development programs and resources focusing on building digital skills and strategies among small businesses are essential elements of a vibrant entrepreneurial ecosystem.
"Inclusive growth and development is possible in the digitally enabled economy, and ... supporting online participation for businesses and residents is one strategy for promoting economic opportunity and thriving communities." — GoDaddy5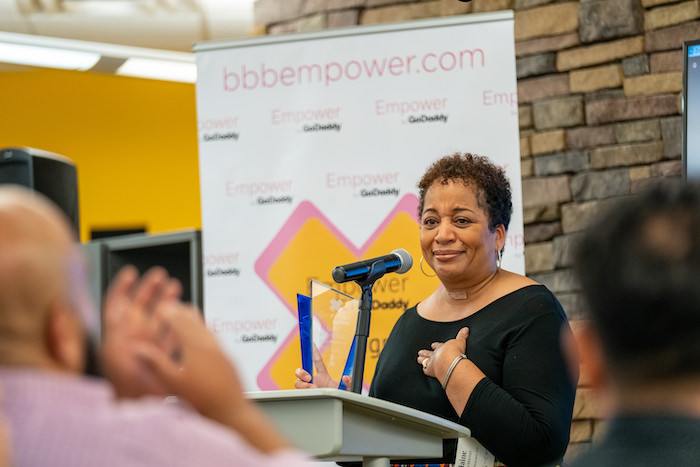 Photo: Empower Entrepreneur participating in GoDaddy's Made in America Empower workshops.
Learn more about Association for Enterprise Opportunity (AEO) here
1 Harvard Business Review Analytic Services, "The Rise of Everyday Entrepreneurs and Their Economic Impact on Communities," 2020; https://www.godaddy.com/ventureforward/wp-content/ uploads/2021/03/HBR_Whitepaper_Apr_2020.pdf
2 U.S. Small Business Administration, "2019 Small Business Profile"; https://cdn.advocacy.sba.gov/wpcontent/uploads/2019/04/23142719/2019-Small-Business-Profiles-US.pdf
3 Federal Reserve Bank of Richmond, "Bringing Broadband to Rural America," December 2020; https:// www.richmondfed.org/publications/community_development/community_scope/2020/comm_scope_ vol8_no1
4 Manhattan Institute, "Entrepreneur-Led Economic Development: A New Strategy for Generating Local Growth and Productivity," May 19, 2021; https://www.manhattan-institute.org/entrepreneur-ledeconomic-development-local-growth-productivity
5 K. Mossberger (Arizona State University), C. J. Tolbert, and S. LaCombe (University of Iowa), "Overview: A New Measure of Digital Participation and Its Impact on Economic Opportunity," March 2020; https://techdatasociety.asu.edu/content/new-measure-digital-participation-and-economicopportunity-communities-data-20-million
Tweet me: .@GoDaddy and @AEOworks have identified key strategies that organizations can use to help shape the future of business. Learn how businesses can reimagine the digital landscape to include small businesses and allow innovative solutions to emerge here: https://bit.ly/37gzQG4
KEYWORDS: NYSE: GDDY, GoDaddy, Association for Employment Opportunities, Empower by GoDaddy, Venture Forward by GoDaddy