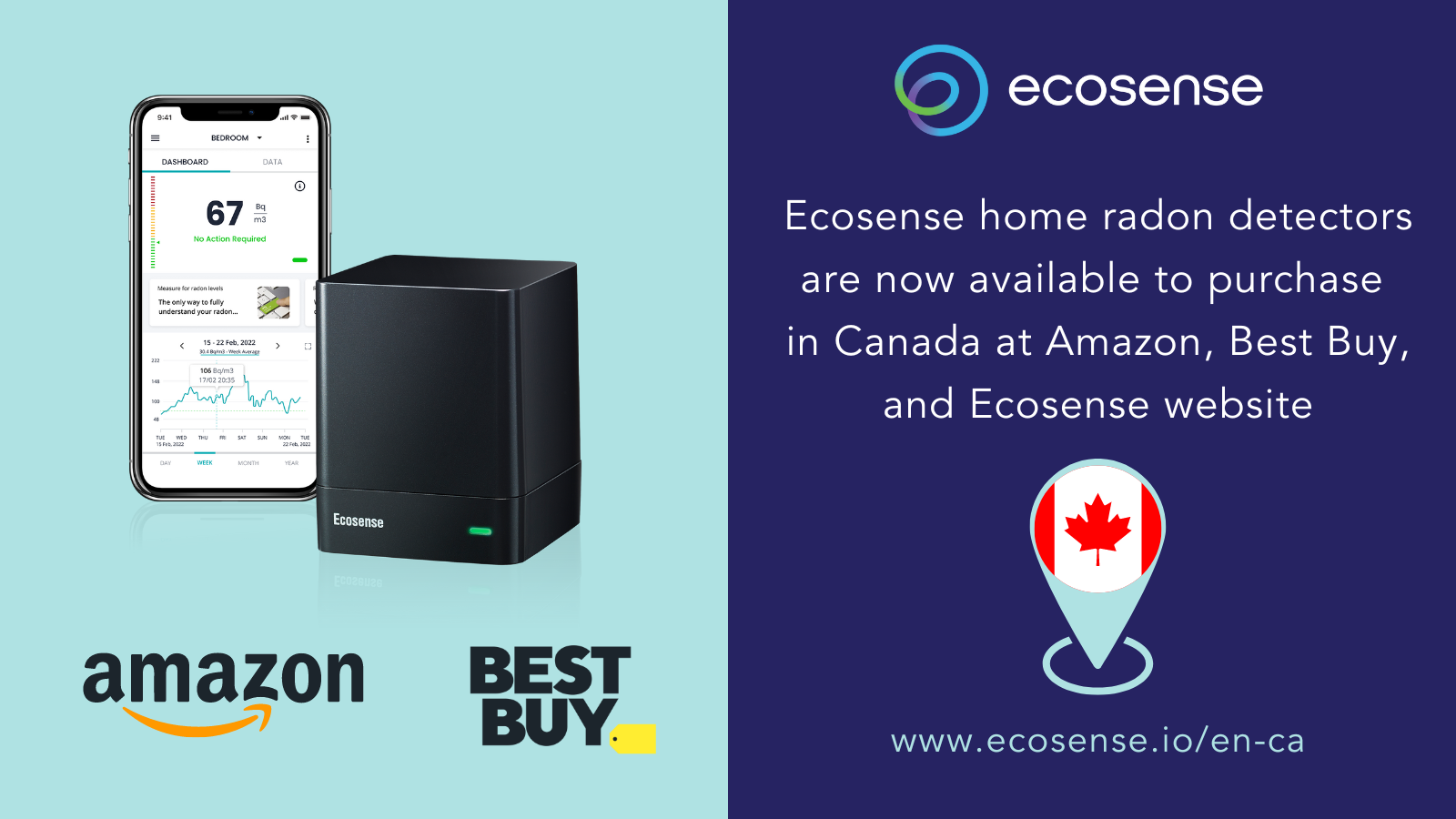 Ecosense home radon detectors are now available to purchase in Canada at Amazon, Best Buy, and Ecosense website
The company is committed to Improving Air Quality in Canadian Homes and Workplaces
San Jose, California - April 13, 2023 - Ecosense, a leading provider of radon detection and monitoring solutions, is proud to announce the launch of its innovative radon monitoring devices in Canada. EcoBlu, EcoQube, and RadonEye devices are now available for purchase through Best Buy Canada, Amazon Canada, and the Ecosense website. Distribution and fulfillment are made possible through the company's recently announced Canadian fulfillment center. Specifically, consumer devices EcoBlu, EcoQube, and RadonEye are available on Amazon Canada. In addition, EcoBlu and EcoQube devices are also available for purchase on Best Buy Canada.
EcoBlu is a simple plug-and-play digital radon monitor that provides real-time, short and long-term results on an LED display. EcoQube is an award-winning intelligent radon monitor that captures radon fluctuations and provides remote access to trend charts through the EcoQube App. The RadonEye is the first-generation smart radon monitor, Bluetooth connected, and displays radon levels right on a built-in display and the RadonEye App. All three devices are based on Ecosense's patented radon sensor technology with industry-leading counting efficiency enabling faster, more accurate, and reliable results. 
"Our devices will make a significant impact on monitoring radon levels in Canadian homes and workplaces," stated Insoo Park, Founder, and CEO of Ecosense. "Our devices are designed to provide Canadian customers with accurate and reliable readings to ensure their safety from radon exposure, the No.1 cause of lung cancer among non-smoking Canadians. Our mission is to empower individuals and organizations to take control of their indoor air quality and make informed decisions to protect their health and well-being. The launch of our radon monitoring devices in Canada marks a significant milestone in our mission to provide technologies leading to a healthier lifestyle for our customers worldwide."
In the coming months, Ecosense will be offering its line of professional radon testing devices, RadonEye Pro and EcoTracker, for purchase on multiple platforms, including the Ecosense website, Amazon Canada, and Best Buy Canada. RadonEye Pro, which is NRPP-certified, is most suitable for professional radon testing, while EcoTracker is a quick diagnostic tool designed to help radon mitigators identify hotspots. These professional-grade solutions offer advanced features that are ideal for commercial and industrial applications. 
In addition, the Ecosense Referral Club is now available to Canadians.  Joining the program is easy and it offers members additional revenue streams without the hassle of managing inventory. Referral Club members can share a referral link or promotional code with their clients and Ecosense will process the orders and ship directly to the clients. In return, Ecosense Referral Club members receive monthly commissions. 
About Ecosense®
Based in the heart of Silicon Valley, Ecosense is a leader in and trusted provider of both professional and consumer radon detection and monitoring solutions that are easy to use, accurate, and fast.  The company's smart real-time radon detectors utilize a patented detection technology with high accuracy, delivering reliable results in minutes, not days. The EcoQube was named to TIME's List of the 100 Best Inventions of 2021 and previously was recognized as a CES 2021 Innovation Awards Honoree in the health and wellness category. Ecosense's patented ion chamber technology performance has received independent validation from the University of Michigan (Dept. of Nuclear Engineering and Radiological Science) and the Kansas State University Radon Chamber.  Both studies concluded that Ecosense's Patented Technology performed comparably to premium research-grade detectors.
Media Contact
Company Name: Ecosense
Contact Person: Otter Public Relations
Email: Send Email
Phone: 727-346-6455
Address:100 E Pine St Suite 110
City: Orlando
State: FL
Country: United States
Website: https://ecosense.io/