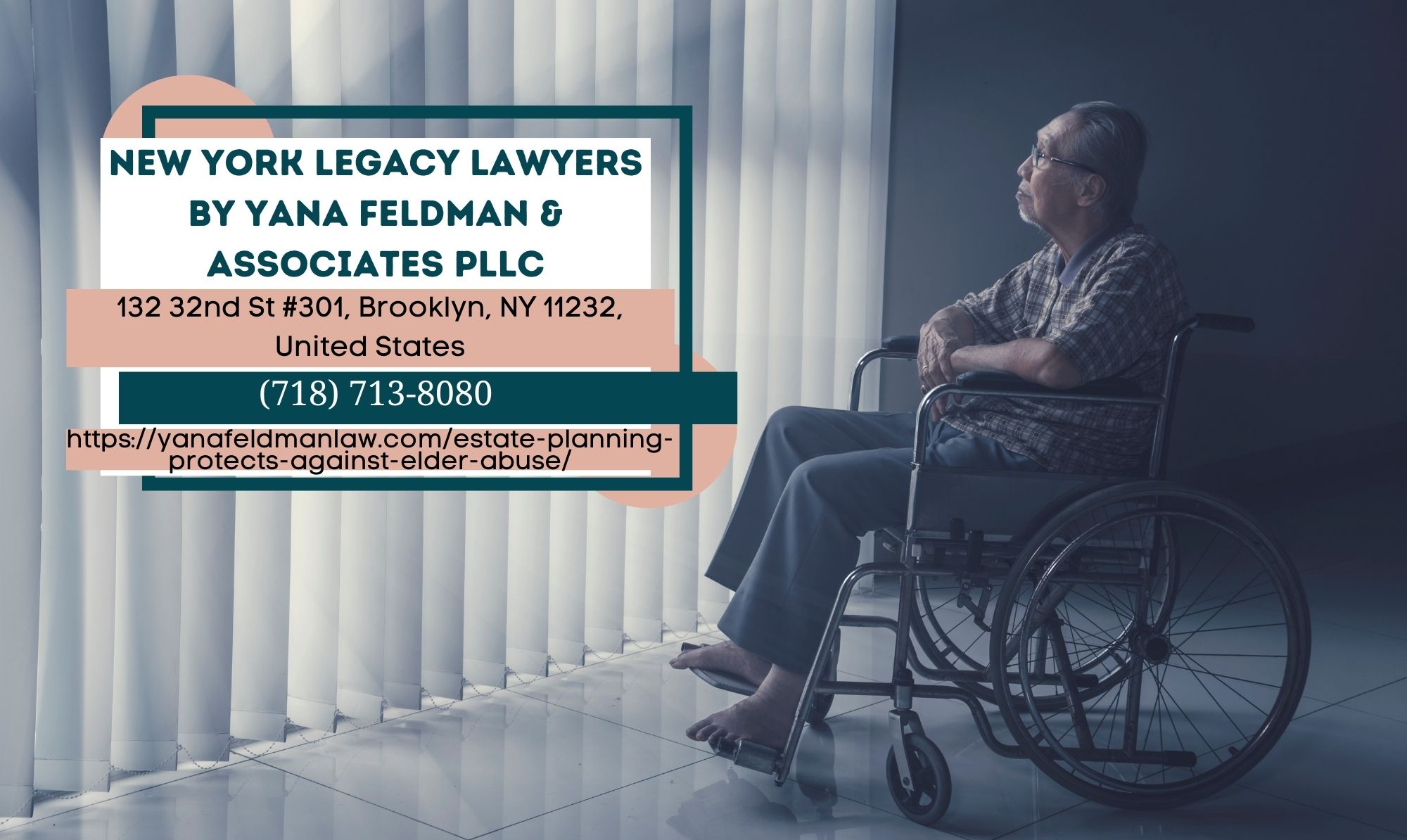 New York Estate Planning Attorney Yana Feldman Releases Article on Protecting Against Elder Abuse
New York estate planning attorney Yana Feldman (https://yanafeldmanlaw.com/estate-planning-protects-against-elder-abuse/) of New York Legacy Lawyers recently published an insightful article titled "Estate Planning Protects Against Elder Abuse." The piece highlights the importance of estate planning in safeguarding seniors from potential financial abuse and exploitation.
According to New York estate planning attorney Yana Feldman, elder abuse is a growing concern for seniors who have accumulated assets throughout their lives. Seniors often become vulnerable to fraud and other forms of financial abuse perpetrated by those entrusted to protect their assets. Feldman emphasizes the role of estate planning in shielding seniors from such abuse.
In the article, New York estate planning attorney Yana Feldman discusses the various threats seniors face, such as declining health and mobility, which can lead to increased dependence on caregivers and other individuals with access to their finances. Elder abuse can arise from unsolicited investment offers, appeals for help, and fraudulent activities like identity theft. Feldman stresses the importance of having estate planning tools in place to prevent abuse.
The article also differentiates between elder law and estate planning, outlining their distinct yet equally vital roles. While elder law focuses on protecting a senior's assets during their lifetime, estate planning concentrates on the disposition of assets after their passing. Elder law planning involves proactive measures to anticipate future medical needs, qualify seniors for Medicaid or other benefits, and protect against elder abuse. Estate planning encompasses the creation of wills, trusts, and guardianship arrangements for minor children or pets.
Feldman highlights the need for regular review and updates to estate plans due to changing circumstances such as marriages, divorces, births, deaths, and financial situations. She encourages individuals to seek the guidance of a qualified New York estate planning attorney to navigate the complex legal landscape affecting seniors.
The article further explains how estate planning can prevent elder abuse by carefully designating who can access assets and under what conditions. Feldman suggests incorporating various tools, such as wills and trusts, along with appointing trusted accountants and attorneys to oversee a senior's estate.
Yana Feldman emphasizes the value of estate planning in protecting seniors and their assets, stating, "Whether you are a senior looking to protect your estate and its assets, a young couple looking to grow and protect an estate, or someone with a family member or other loved one in need of estate protection, many great tools exist to get the job done."
As a final note, the article encourages readers to consider estate planning as a proactive measure to secure their family's future and safeguard their legacy. By consulting with an experienced New York estate planning attorney, individuals can gain peace of mind knowing their assets and loved ones are protected.
About Yana Feldman & Associates PLLC: 
Yana Feldman & Associates is a law firm widely experienced in estate planning and elder law, with over 15 years of experience in the field. The dedicated team of professionals at Yana Feldman & Associates is committed to listening to and addressing each client's unique needs, offering tailored estate planning solutions and guidance.
Embeds:
Youtube Video: https://www.youtube.com/watch?v=bDElUfWSmno
GMB: https://www.google.com/maps?cid=16408561942605909937
Email and website
Email: yana@yanafeldmanlaw.com
Website: https://yanafeldmanlaw.com/
Media Contact
Company Name: New York Legacy Lawyers by Yana Feldman & Associates PLLC
Contact Person: Yana Feldman
Email: Send Email
Phone: (718) 713-8080
Address:132 32nd St
City: Brooklyn
State: New York 11232
Country: United States
Website: https://yanafeldmanlaw.com/