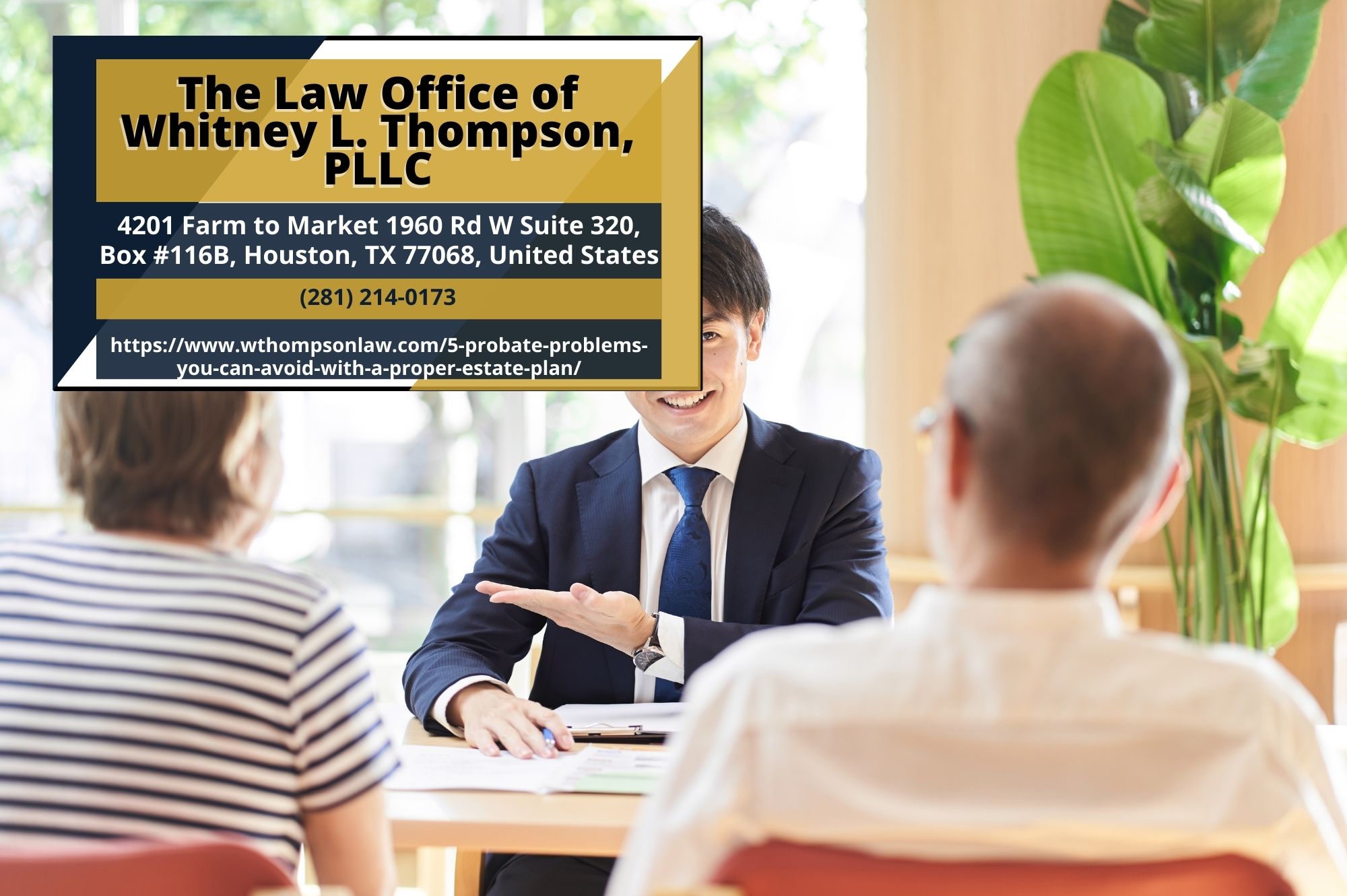 Houston probate attorney Whitney L. Thompson (https://www.wthompsonlaw.com/5-probate-problems-you-can-avoid-with-a-proper-estate-plan/) of The Law Office of Whitney L. Thompson has recently released an in-depth article discussing the '5 Probate Problems You Can Avoid with a Proper Estate Plan.' The piece aims to educate readers about the importance of effective estate planning and the common problems that arise during the probate process.
In the opening paragraphs, Whitney L. Thompson, a knowledgeable Houston probate attorney, explains how probate problems can affect loved ones after a person's death. She highlights the importance of having a comprehensive estate plan in place to ensure peace of mind for individuals and their families. The Houston probate attorney emphasizes the value of a well-crafted estate plan, which can not only make the probate process easier and less costly for heirs but also help distribute assets according to the deceased person's wishes.
Quoting directly from the article, the Houston probate attorney states, "A last will and testament is often the first thing people start with when they plan their estate. A person who dies without a will is considered to have died intestate. This means that their estate is probated when they pass away. The probate process may apply to titled property (such as a car or real estate), personal property, and financial holdings that are not payable on death."
Furthermore, Thompson explains the benefits of having a will, which include naming an executor to administer the estate, naming guardians for minor kids or dependents, planning for end-of-life care, and preparing for burial and funeral preferences. She also discusses the role of trusts and powers-of-attorney in estate planning.
The five probate problems that Thompson addresses in her article are: contesting a will, disagreements over joint inheritances, international property inclusions in a will, inability for executors to find certain assets, and the potential expenses of probate court.
Each of these issues is discussed in depth, providing a comprehensive understanding of the potential challenges that can arise during the probate process. Thompson further provides strategies that can be employed to avoid these problems, helping to ensure a smoother transition of assets and reduce potential family conflict.
As Thompson states, "As you can imagine, these issues often quickly tear families apart. Not only are probate problems expensive, but they also take years to resolve—even when an estate is modest. Help your family avoid probate after your passing and form an estate plan before it is too late."
About The Law Office of Whitney L. Thompson:
The Law Office of Whitney L. Thompson, based in Houston, Texas, takes pride in providing comprehensive legal services to clients in the areas of probate and estate planning. Led by accomplished attorney Whitney L. Thompson, the firm is dedicated to helping clients navigate the often complex and emotionally charged legal issues related to estate planning and probate. Through detailed guidance and personalized service, they strive to offer peace of mind to clients, ensuring their assets and loved ones are protected.
Embeds:
Youtube Video: https://www.youtube.com/watch?v=0N7hWfpUQAU
GMB: https://www.google.com/maps?cid=9428708165305469162
Email and website
Email: info@wthompsonlaw.com
Website: https://www.wthompsonlaw.com/
Media Contact
Company Name: The Law Office of Whitney L. Thompson, PLLC
Contact Person: Whitney L. Thompson
Email: Send Email
Phone: (281) 214-0173
Address:4201 Farm to Market 1960 Rd W Suite 219, Box #116B, Houston, TX 77068
City: Houston
State: Texas
Country: United States
Website: https://www.wthompsonlaw.com/