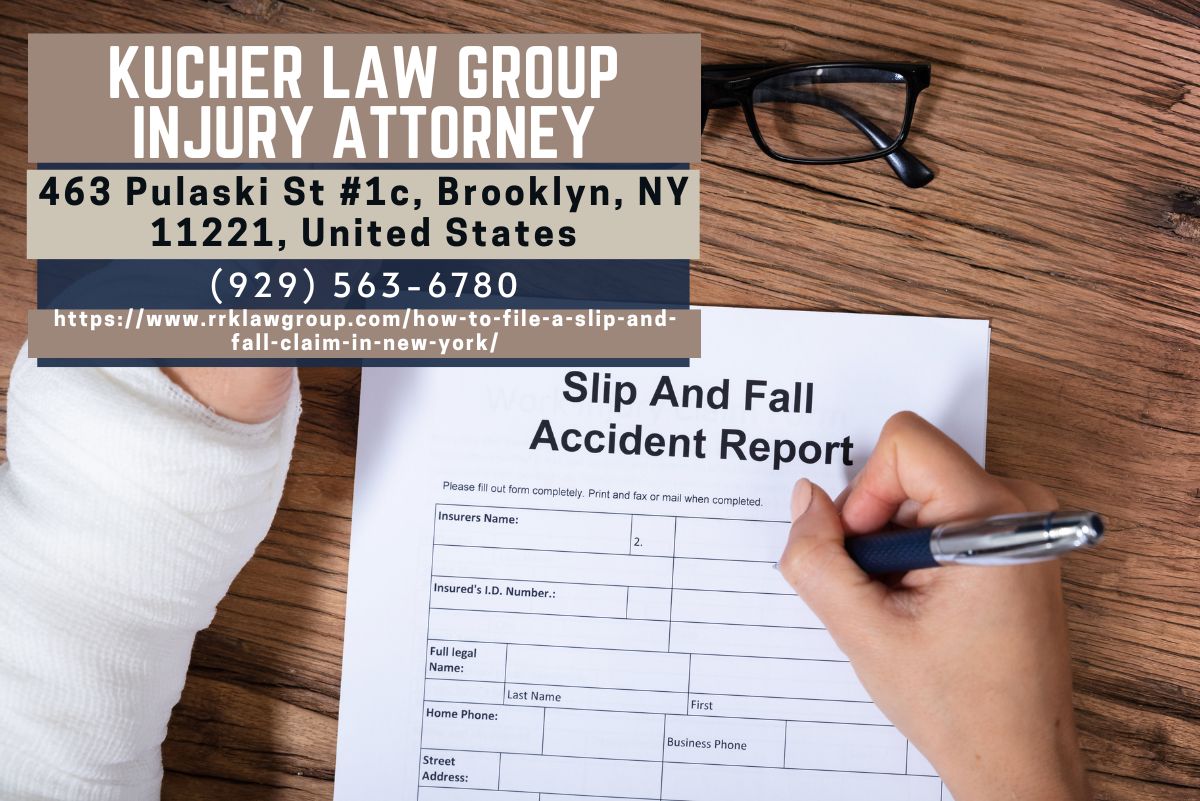 Brooklyn Slip and Fall Lawyer Samantha Kucher Publishes Comprehensive Guide on Filing Slip and Fall Claims in New York
In a bid to promote awareness and assist victims of slip and fall accidents, Brooklyn slip and fall lawyer Samantha Kucher (https://www.rrklawgroup.com/how-to-file-a-slip-and-fall-claim-in-new-york/), of the Kucher Law Group, has published an informative and comprehensive guide titled 'How to File a Slip and Fall Claim in New York'.
Slip and fall accidents are a major concern in the United States, accounting for approximately one million of the eight million injuries and deaths recorded annually. These accidents can cause serious injuries, long-term disability, financial strain, and even death. In response to this, Samantha Kucher, a respected Brooklyn slip and fall lawyer, has released a detailed guide designed to help victims understand the process of filing a claim and seeking deserved compensation.
"The process of filing a slip and fall claim can be complex, but with the right guidance, victims can successfully seek compensation for their injuries. This guide aims to provide an easy-to-understand walkthrough for those who might be unaware of their rights," says Samantha Kucher, a dedicated Brooklyn slip and fall lawyer.
The guide addresses the legal terminology - such as premises liability and comparative negligence - involved in slip and fall cases, providing a clear understanding of these terms. It also covers various aspects of the claim process, including the various types of injuries that can be incurred during a slip and fall accident, and the different factors affecting the success of a claim.
Samantha Kucher adds, "When people suffer from a slip and fall accident, they often do not know where to turn or what to do. This guide aims to clarify the steps involved in filing a claim, and the situations where property owners can be held liable."
In the guide, Kucher also discusses the importance of timely action, highlighting the statute of limitations for slip and fall cases, which ranges from 90 days for properties owned by the City of New York to three years for private properties.
For those who have experienced a slip and fall accident and are looking to understand their rights and the process of filing a claim, Samantha Kucher's guide is a valuable resource. With her dedication to providing accessible legal information to the public, she continues to be a beacon of support for victims of personal injury accidents.
To learn more, visit the Kucher Law Group's website and read Samantha Kucher's comprehensive guide on 'How to File a Slip and Fall Claim in New York'.
About Kucher Law Group:
The Kucher Law Group is a prominent personal injury law firm based in New York. Led by Samantha Kucher, the firm is committed to providing quality legal counsel and representation to individuals who have been injured due to the negligence of others. The team of dedicated attorneys invests time and effort into investigating the details of each case they handle, with a commitment to holding negligent parties accountable for their actions. They serve the areas of Brooklyn, the Bronx, Manhattan, and other areas in New York.
Embeds:
Youtube Video: https://www.youtube.com/watch?v=amOMetvJTPw
GMB: https://www.google.com/maps?cid=5716384493669715397
Email and website
Email: contact@rrklawgroup.com
Website: https://www.rrklawgroup.com/
Media Contact
Company Name: Kucher Law Group Injury Attorney
Contact Person: Samantha Kucher
Email: Send Email
Phone: (929) 274-8000
Address:463 Pulaski St #1c
City: Brooklyn
State: New York 11221
Country: United States
Website: https://www.rrklawgroup.com/