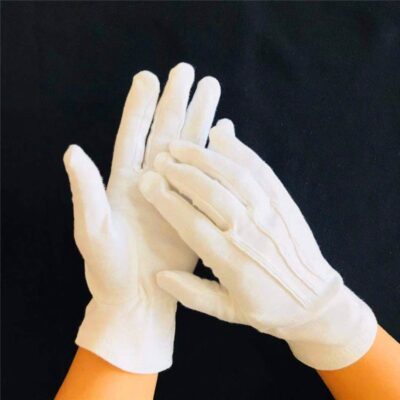 HMDGlove.com, a leading supplier of safety and hand protection gear, has introduced their latest collection of white cotton gloves, marking an important milestone in their commitment to delivering top-quality products to a wide range of industries. Known for their versatility, durability, and comfort, the newly launched white cotton gloves are designed to meet the diverse needs of users in various applications including healthcare, manufacturing, and food handling.
"Our goal is to continuously evolve and expand our range of products to meet the ever-changing needs of our consumers," said Sarah Thompson, CEO of HMDGlove.com. "The new white cotton gloves line-up has been meticulously engineered to provide not just comfort, but also durability and reliability, setting a new standard in the market."
A True All-Purpose Solution
Whether you're an industrial worker, a healthcare professional, or simply someone who loves DIY crafts, the white cotton gloves offer an exceptional level of adaptability. These gloves are free from harmful substances and allergens, making them a top choice for those with sensitive skin. They are perfect for tasks that require a high level of tactile sensitivity, and their breathability ensures that your hands remain dry and comfortable throughout the day.
Notable Features
100% High-Quality Cotton Material: The gloves are made from 100% cotton, making them soft to touch, breathable, and lightweight.
Washable and Reusable: The durable construction of these gloves means they can be washed and reused multiple times without losing their shape or effectiveness.
Snug Fit: Designed to fit hands perfectly, the gloves provide excellent grip and dexterity.
Colorfast Technology: The gloves retain their pristine white color even after multiple washes, making them ideal for formal events and ceremonies.

Industries Served
The new range of white cotton gloves from HMDGlove.com is suitable for a wide array of industries:
Healthcare: Ideal for handling sensitive medical equipment and procedures.
Manufacturing and Construction: Offering protection against minor abrasions and ensuring a firm grip on tools.
Food Handling: Meeting strict hygiene standards, these gloves are perfect for food processing tasks.
Art and Craft: The gloves prevent smudging and offer precision for delicate work.
Ceremonial and Events: Used in various cultural, religious, and formal events to uphold tradition and etiquette.

Sustainability Commitment
In line with the company's dedication to sustainability, these white cotton gloves are produced using eco-friendly practices. "We are committed to reducing our environmental footprint and this product line reflects that commitment," stated Thompson.
Availability and Pricing
The new collection of white cotton gloves is now available for purchase on the company's website, HMDGlove.com. Special bulk discounts are also offered for large orders.
With their new range, HMDGlove.com is setting new benchmarks for quality and reliability in the hand protection industry. They invite customers to experience the unmatched comfort and versatility of their white cotton gloves.
For more information, visit HMDGlove.com.
Media Contact
Company Name: Hongmeida Gloves Manufacturing LLC
Contact Person: Media Relations
Email: Send Email
Phone: (+86)17531191067
Address:No.553 Taihua street
City: Shijiazhuang
State: Hebei
Country: China
Website: https://www.hmdglove.com/