Introduction about baby socks:
For newborns or babies younger than 12 months, remember that quality fabric - preferably something organic and soft - will feel much more comfortable and they will be less likely to want to take them off. For toddlers who are exploring and walking, more durable socks with a non-slip sole are ideal.
normal 21S cotton , organic cotton , normal polyester and recycled polyester , bamboo ,spandex,lurex ...All material ,accessories and finished socks can pass ASTM F963( including small parts,pull and thread end ) , CA65,CASIA (including lead, cadmium,Phthalates ), 16 CFR 1610 Flammability Testing  and BPA free.
Socks size from New Born baby to Toddler ,and Realever has different packaging for them , such as 3pk baby jacquard socks , 3pk terry baby socks , 12pk baby knee high socks , infant crew socks and 20pk baby low cut socks .
Also Realever can add accessories on them  , pack them with foot moulds and in boxes ,this make them to be booties and looks much nicer and fancy . In this way , they can come out to booties with flowers , bootis with 3D rattle plush, booties with 3D icon ...
3 Important Factors for Buying Baby Socks
Picking out a good pair of baby socks can be the simplest difficult thing for parents. Simple, yes of course, there are thousands of options out there for people to choose from and it's "just a pair of socks"!  Difficult? Absolutely, how do they select from all the options out there? Materials, styles, and constructions, what are the priorities?  When they finally bought the perfect pair of socks, and a few days later, you came back from that walk at the park and realize one sock was missing on their baby's feet; back to square one.  So Realever is going to go over couple of important factors people must consider when buying baby socks (these factors can apply to adult socks as well).
1. Materials
When choosing socks, first thing to consider is fiber content. People will find that most socks are made of a blend of different fibers.  There are no socks made of 100% cotton or any other fiber because you need spandex (elastic fiber) or Lycra added to allow socks to stretch and to fit properly.  Understanding the pros and cons of each fiber type will help them make a more informed decision.  Realever feet contain lots of sweat glands, while it is very important for adult socks to not just absorb moisture but picking it away, it's not a priority for baby socks.  What's important for baby socks is the material's ability to keep warmth since baby's feet take a big part on regulating their body temperature. 
Cotton
The most common material people will find on the market.  It is the most affordable fabric and has good warmth retention.Cotton baby socks,which is a natural fiber that most parents prefer. Try to select higher yarn count (just like bed sheets which will be smoother).  If possible, look for organic cotton as they are grown without the use of chemical fertilizers or pesticide which reduces damage to mother nature.
Merino Wool
People usually connect wool to winter and cold weather, but Merino wool is a breathable fabric that can be worn year round.  Made from the wool of merino sheep that live predominantly in New Zealand, this yarn is soft and cushiony.  It has gain popularity among athletes and hikers and backpackers.  It is more expensive than cotton, acrylic, or nylon, but baby merino wool socks are good choice for toddler or older kids that are running around all day to use up their endless energy.
Commonly refer to as "soybean protein fiber".  It is a sustainable textile fiber made from renewable natural resources - the leftover soybean pulp from tofu or soymilk production. Micro-pores in the cross-section and high amorphous regions improve the water absorption capacity and higher air permeability leads to an increase in water vapor transfer.  Azlon from soy fiber also has warmth retention that's comparable to wool and the fiber itself is smooth and silky.  Combining these properties make wearer stays warm and dry.
Nylon is usually blended in with other fabrics (cotton, rayon from bamboo, or azlon from soy) often comprising 20% to 50% of the sock's fabric content.  Nylon adds durability and strength, and dries quickly.
Elastane, Spandex, or Lycra.
These are materials that add a bit of stretch and allow the socks to fit properly. Usually only a small percentage (2% to 5%) of the sock's fabric content is made up of these materials.  Although a small percentage, but this is an important factor that determines the fitting of socks and how long they will stay fit.  Low quality elastics will become loose and causing the socks fall off easily.
2. Socks Construction
The 2 most important things to consider when checking baby socks constructions are toe seams and sock top closure type.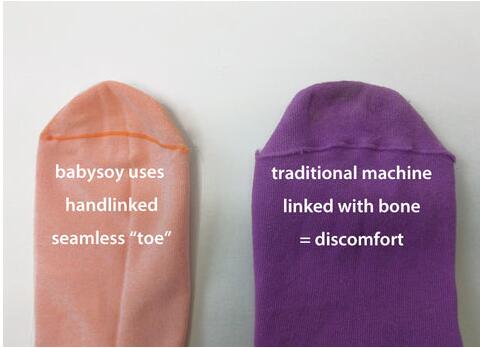 Socks are knitted as a tube during the first stage of production.  Then they are taken to a process to be closed via a toe seam that runs across the top of the toes.  The traditional machine linked toe seams are bulky and protruded beyond the cushioning of the sock and could be irritating and uncomfortable.  Another method is hand linked flat seams, the seam is so small it sits behind the cushioning of the sock that they are virtually undetectable.  But the hand linked seams are costly and production rate is about 10% of the machine linked, so they are mainly used for baby/infant socks and high end adult socks.  When buying baby socks, it's a good idea to turn the socks over to check the toe seams to make sure they are comfortable for babies.
Socks top closure type
Other than the quality of the elastic fiber used that will determine if the baby socks will stay on, another factor would be the socks top closure type.  Double rib stitching will provide more support because of the double thread structure making sure the closure don't become loose and also due to the double structure, closure doesn't need to be so tight that leaves a mark.  The single stitching makes it harder to gauge the tightness of closure and often leaves a mark (when knitted too tight) or becomes loose faster (don't want to leave a mark).  The way to tell is that for double rib stitching, surface and inside of the closure will look the same.
3. Classification of baby socks
Although there might be more, but baby and toddler socks generally falls into these three categories.
Baby Ankle Socks
These socks are an expression of their name, only reaches to the ankles.  Since they cover the least ground, so they are probably the easiest becoming loose and fall off.
Baby Crew Socks
Crew socks are cut between ankle and knee high socks in terms of length, typically ending under the calf muscle. Crew socks are the most common socks length for baby and toddlers.
Baby Knee High Socks
Knee high, or over the calf socks run the length of baby's legs to just below the kneecaps. They're ideal for keeping their baby's leg warm, pairing well with boots and dress shoes. For toddler girls, knee high socks can also be a stylish complement to a skirt. Knee length socks generally uses double knitting technology to prevent them from rolling down. 
Realever hopes that these three factors will help people to pick out a good pair of baby infant socks that are comfy and stays on.  As Realever has emphasized on other articles, buy quality rather than quantity.  Especially for baby socks, it is important to pick the right materials and constructions to make sure the socks are comfy to wear and they actually stay on people's baby's feet for more than a few days.  A good pair of socks can lasts 3-4 years (good for hand-me-down) while poor quality socks will not last more than 6 months (usually becoming loose or lose form).  If people wear a pair of socks a day, 7-10 pairs of good quality socks will serve people 3-4 years.  In that same period of 3-4 years, they will go through about 56 pairs of poor quality socks.  56 vs 10 pairs, a shocking number and people are probably spending more money on those 56 pairs than the 10 pairs.  Not to mention the extra amount of resources used and carbon emission associated with those 56 pairs.
So Realever hopes this article not only help them to pick out baby socks that are comfy and stay on, but also help them to make a good decision to reduce waste and save environment.
Advantages of company baby socks:
1. Free samples
2. BPA free
3. Service: OEM and customer Logo
4. 3-7 days quick proofing
5. Delivery time is usually 30 to 60 days after sample confirmation and deposit
6. Realever MOQ for OEM/ODM is normally 1200 pairs per color, design and size range.
7. Factory BSCI certified

Advantages of Ningbo Realever Enterprise Limted
Realever Enterprise Ltd. is a company with a huge line that covers baby and kids products( infant and toddler shoes, baby socks and booties, cold weather knit items, knit blanket and swaddle, bibs and beanies, kids umbrellas, TUTU skirt, hair accessories and apparels ). After more than 20 years work and developping in this field, Ningbo Realever Enterprise Limted can supply professional OEM for buyers and customers from different market based on excellent factories and  technicist. Realever provides free design service according to their requirement and best price to help people get their market. Ningbo Realever Enterprise Limted welcome customers' designs and ideas and can make perfect samples for people.
Satin baby mary janes, Metallic PU baby sandals, baby sneakers with flower, baby boots with pom pom, baby plush animal shoes ect. are exported all over the world, especially Africa, South America, Southeast Asia, Middle East, Europe, America, Japan and South Korea.
Ningbo Realever Enterprise Limted is located in Ningbo City, Zhejiang Province, China, close to Shanghai, Hangzhou, Keqiao, Yiwu and other places. The geographical position is superior and the transportation is convenient.
For people's needs, Ningbo Realever Enterprise Limted can provide the following services:
1. For all their inquiries, Ningbo Realever Enterprise Limted will reply them in detail within 24 hours
2. Ningbo Realever Enterprise Limted has a professional team to recommend products and services for people and introduce problems for them with a professional attitude.
3. Ningbo Realever Enterprise Limted will recommend to people according to their requirements.
4. Ningbo Realever Enterprise Limted provides OEM service and print their own logo. In the past years, Ningbo Realever Enterprise Limted builts very good relationship with buyers from USA, and did more than 20 excellent items and program. With enough experience in this field, Ningbo Realever Enterprise Limted can work out the new items very fast and make them perfect, this helps buyer to save time and rush the new items to the market at quickest time. Ningbo Realever Enterprise Limted sold to Walmart, Disney, Reebok, TJX, Burlington, FredMeyer, Meijer, ROSS, Cracker Barrel… And Ningbo Realever Enterprise Limted OEM for brands Disney, Reebok, Little Me, So Dorable, First Steps…
Ningbo Realever Enterprise Limted has very experienced engineers who can help people assisant on design.
How to choose a pair of comfortable shoes for people's baby?
Choosing comfortable shoes for their baby is critical to their foot health and development. Here are some suggestions to help them choose the right baby shoes.
First, make sure their shoes are the right size. People baby's feet are growing rapidly, so choosing the correct size is very important. Measure the length of their baby's feet and refer to the size chart to choose the right shoe size. Make sure there is some room in the length of the shoe so that their baby's toes can move freely.
Second, choose materials with good air permeability. Babies' feet tend to sweat easily, so choosing shoes with good ventilation can help keep feet dry and comfortable. Soft leather or cotton are good options, as they allow air to circulate and reduce moisture build-up on the feet.
Third, choose soft shoes. Their baby's foot bones and muscles are still developing, so choose soft shoes that provide enough flexibility and support. Avoid hard or irritating shoes, as they may cause discomfort for their baby's feet. In addition, the soles of the shoes also need attention. Choose soft, non-slip soles that provide enough grip to help their baby stabilize their gait and prevent falls. Check the material and texture of the soles to make sure they provide good grip on different surfaces.
Finally, pay attention to the design and details of the shoe. A good shoe designer will take into account the characteristics of the baby's feet, such as shoe shape, shoelace or Velcro design. Choosing shoes that are easy to put on, take off and adjust can save time and effort and ensure their baby's comfort. It's worth noting that people's baby's feet can deform a bit as they grow, so it's important to check shoe size and fit regularly. If the baby complains of uncomfortable feet or the shoes are worn out, it is necessary to replace them with new shoes in time.
In short, choosing a pair of comfortable shoes for baby should consider factors such as size, material, sole, design, and regular inspections. By choosing the right shoes, their baby's feet will be well supported and protected, promoting healthy foot development and a comfortable walking experience. Remember, providing comfortable shoes is essential to baby's foot health.
Media Contact
Company Name: Ningbo Realever Enterprise Limted
Email: Send Email
Phone: +86 574-27887917
Country: China
Website: https://www.babyproductschina.com/