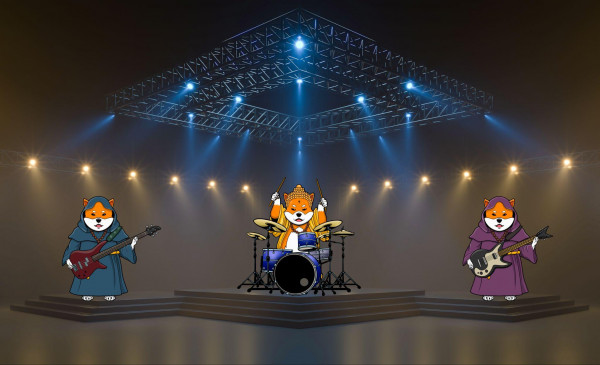 Orlando, Florida, United States, 7th Sep 2022 – The Buddha Inu is a new social media platform, created on the belief that raising money for charity can be both fun and profitable for everyone. With the emergence of Web3 and Blockchain Technology, never before have we lived in a time where communities can be built around a cryptocurrency and a common goal, allowing every member of that community to profit. While Web3 is a new and relatively unknown technology to many, it is well known to those in the industry, to reach its full potential every cryptocurrency project must have "Mainstream Adoption." The Buddha Inu team believes that with their primary mission for charity and their unique features, they have a winning combination for Mainstream Adoption and then some. 
The Buddha Inu CEO Brian Scott had this to say about the concert series: "The Brother Simon Concert Series is an ongoing series of concerts being held to benefit several charities who function primarily in support and rescue of street children, and these concerts are how we are adding Real World Utility to the project, leading to Mainstream Adoption." 
Further adding to this Adoption, the team plans to combine the concert series with a "Mobile Contact Payment System" which they are developing, that will allow users to pay for admission to these concerts, along with certain other goods and services by using the community's own cryptocurrency token called $SIMON.  Mr. Scott went on to say, "The combination of our concert series and mobile contact payment system is a natural fit. Because these are our shows and our box office, we have the ability to accept payment however we choose, meaning it will be easy to implement." He added that the team is currently in talks with several travel and hospitality companies regarding integration, and once fully developed "Buddha Pay," the aptly named payment system, will provide significant discounts to concertgoers who use it, as it will become the preferred method of payment. 
Some other unique features to the project are their Defi App and 10,000-character NFT collection. The NFTs will grant special access and priority seating to the concerts, while the more rare NFTs even pay their owners a share of the revenues generated at the events. 
The Defi App, developed by team member Eric Webb, a current PhD Candidate ( whom Mr. Scott emphasized, " We are all very proud of " ), allows users the ability to mint and stake the community token $SIMON as well as the NFTs. The App makes minting fun and easy, while staking either the Token or NFTs will provide a generous return for holders who choose to do so. 
After a year of preparation and a whole lot of work, The Buddha Inu officially launched on 09 July 2022, so the project is brand new. For anyone new or experienced with crypto, this is a golden opportunity to get in at the very beginning and to us this certainly looks like a very promising community to get into. You can learn more about The Brother Simon Concert Series and this Unique Community by visiting thebuddhainu.com and on social media.
https://www.youtube.com/channel/UC9xcKaof1f2xE50bce4tN2Q
https://www.facebook.com/profile.php?id=100079143445191
https://twitter.com/TheBuddhaInu
https://www.instagram.com/thebuddhainu/
Thank you all for the support, together we can make a difference. Namaste.
i want this out today as planned. after reading it 10 more times and adjusting things to the way i want them, i think its good now at 4;50 pm. why is there a red mark on the photo? after i know that, i think we are good
there were changes made that were not marked… please do not change anything without marking it so i can see the changes.  thank you
Media Contact
Organization: The buddha Inu LLC
Contact Person: Brian Scott
Email: Send Email
State: Florida
City: Orlando
Country: United States
Website: https://thebuddhainu.com
The post The Buddha Inu Launches New Concert Series For Charity. appeared first on King Newswire.

Information contained on this page is provided by an independent third-party content provider. eTrendystock make no warranties or representations in connection therewith. If you are affiliated with this page and would like it removed please contact contact@etrendystock.com