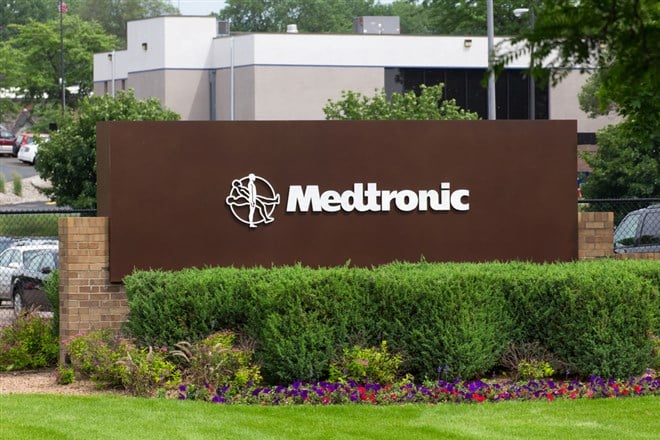 The world's largest medical device maker, Medtronic PLC (NYSE: MDT), has fallen weekly since April 2022. However, Medtronic stock shares may have finally bottomed out. 
The company makes glucose monitors, stents, insulin pumps, pacemakers and catheters used by patients in over 150 countries, which treat over 70 health conditions. Supply chain challenges, a strong U.S. dollar, commodity price inflation, lower procedure volumes due to hospital staffing shortages and a drop in China volume-based procurement (VBP) all contributed to weak results.
The tide may finally be turning. Normalization continues to set in, but the company sees business improving in the second half of its fiscal 2023.
Comparing to Peers with MarketRank™
Using the Marketbeat MarketRank™ Forecast, we can see how Medtronic may be the better value of the medical device makers.
Medtronic

 has had a 3.61% projected earnings growth and insiders sold $1.52 million shares last quarter. The stock has a 3.4% annual dividend yield and a 20.3% upside price target. MarketRank™ gives it three stars out of five. 

Abbott Laboratories (NYSE: ABT)

 

has a -15.74% projected earnings growth. Insiders dumped $6.1 million shares last quarter. Abbott is a Dividend Aristocrat with a 1.70% annual dividend yield and a 1% upside price target. MarketRank™ scores it three out of five stars.

Boston Scientific Corporation (NYSE: BSX)

 has a 10.98% projected earnings growth rate. Insiders sold $10.1 million shares last quarter. The stock has no dividend but a 7.9% upside projected price target and scores two out of five stars.
Absorbing the Normalization
On November 22, 2022, Medtronic released its fiscal second quarter 2023 results for October 2022. The company reported an earnings per share (EPS) profit of $1.30, excluding nonrecurring items versus consensus analyst estimates for a profit of $1.28, beating estimates by $0.02. Revenues fell (-3.3%) year-over-year (YOY) to $7.59 billion, missing analyst estimates of $7.7 billion. 
Medtronic CEO Geoff Martha commented, "We have near-term product catalysts in our pipeline. We are decisively allocating capital internally and selectively making focused acquisitions. We are making improvements to the operational health of the company, and we are streamlining the company's structure and taking cost out. All of this gives us confidence that we are on the path to creating durable growth and shareholder value."
Setting the Bar Lower 
Medtronic lowered its fiscal full-year 2023 EPS to $5.25 to $5.30, down from previously lowered estimates of $5.53 to $5.65 versus $5.53 consensus analyst estimates. It expects the second half of fiscal 2023 revenues to accelerate 3.5% to 4% from the first half.
Breaking Out of the Weekly Falling Price Channel
The weekly candlestick chart indicates a potential breakout from the falling price channel as it gets the first green candle close above the channel since it commenced in April 2022. The weekly 20-period exponential moving average (MA) resistance is at $83.07, followed by the weekly 50-period MA at $93.13. MDT had its first green candle close above the falling price channel since it started in April 2022. 
Shares bounced off the 52-week lows at $75.77 to break out through the weekly market structure low (MSL) trigger at $78.38. The weekly stochastic is again trying to bounce through the 20-band as buying volume rises weekly. The weekly 20-period EMA is the next resistance to contend with. Pullback support levels are $75.79, $72.13, $69.35, $67.11 and $63.98.
Analyst Actions 
After its lowered guidance, many analysts chimed in with ratings and price target changes. Oppenheimer downgraded its rating to "perform" from "outperform" and lowered its price target to $85 from $106. Citigroup cut its rating to "neutral" from "buy" and price target to $85 from $108. On December 8, 2022, Medtronic raised its quarterly dividend by 8% to $0.68 per share. 
Reversing the Headwinds 
China implemented a VBP policy for medical devices in 2019. With the repealing of its zero-COVID policies, Medtronic may see a recovery in China. The U.S. dollar has also retreated from its 17-year highs, which should improve margins in the next quarter. The supply chain should also accelerate its recovery with the China reopening. The company is also doubling down on its investment in the diabetes market with insulin delivery systems, monitors and sensors, along with partnering directly with its hospital clients to improve reimbursements.