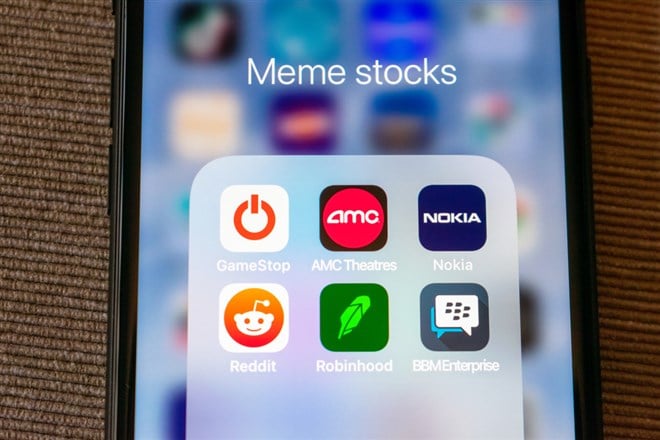 Stonks. Diamond hands. BTFD.
The lingo made popular in online stock communities is making a comeback. With the market in 'risk-on' mode, retail traders are once again flocking to meme stocks, many of which soared during the early days of the pandemic. A resurgence in the stock prices of GameStop, AMC Entertainment, Blackberry and more has social media boasting of 'tendies,' i.e., profits banked in widely followed meme plays. 
The timing is curious with the risk of a U.S. recession looming. Then again, it is uncertainty itself that could be fostering an unlikely reunion for WallStreetBets and other trading armies. After all, when the meme stock phenomenon took off in the Fall of 2020, there was economic uncertainty aplenty with coronavirus cases and variants on the rise. 
In 2023, capital market risk stems from a different set of factors — inflation, higher rates and geopolitical turmoil. Will these form the backdrop for a major meme stock rally…or merely a short-lived farewell tour?
For now, the latter appears more likely.
Despite the recent gains across the meme universe, the movement has yet to reach a fever pitch. Trading volume has paled in comparison to the glory days of early 2021. 
Take Gamestop for example. At the height of the frenzy, nearly 200 million GameStop shares were traded in a single day. This year, daily GameStop volume on a split-adjusted basis has averaged roughly one-tenth of what it did then. 
Given where the market has been the last couple of years, retail investors may not have the cash (let alone the free time at home) to dump the same kind of money into stocks and options. The result: 2023's meme stock short squeezes have been rather mild.
Still, it's an interesting development to watch, given these retail 'apes' potential to band together and influence the market. Here are three of the stonks leading this year's meme charge.
Is Peloton Gearing Up for Another Rally? 
At last week's peak, Peloton Interactive, Inc. (NASDAQ: PTON) was up 125% year-to-date. The former pandemic-era darling got a major jolt of buying volume on February 1st due to a probable short squeeze. Peloton has been a popular target among Wall Street critics and short sellers, with home fitness trends fading during the economic reopening. 
The average analyst target implies limited upside from here, but that may not deter meme stock traders. It may only encourage them to push the price past the Street's $18 bogey. And with nearly 15% of the float held short, Peloton has decent short-squeeze potential. The relatively weak volume during this week's slide suggests another bull rush is coming.
Peloton's rebound is also being driven by a better-than-feared quarterly update. The company reported fiscal Q2 revenue of $792.7 million topped the Street's forecast by 12% and spurred hope that the worst may be over. Analysts are projecting a return to sales growth in the back half of calendar 2023.
What Makes Coinbase a Unique Meme Stock?
Coinbase Global, Inc. (NASDAQ: COIN) is one of the most heavily shorted U.S. large caps. With 25% of the float controlled by shorts, we saw how quickly the stock could climb when a short-seller counterattack is launched. On February 3rd, shares of the cryptocurrency platform operator quickly ran above $87, the stock's highest level since August 2022.
Of course, the Coinbase Global rally is also fueled by a recovery in the prices of Bitcoin, Ethereum and several popular alt coins. With a higher market appetite for risk, Bitcoin has surged 40% this year. Regardless, Coinbase is a mainstay among meme stock communities which also tend to be big proponents of the crypto revolution. The company's Q4 report on February 21st will likely attract a bigger crowd than usual.
Is Virgin Galactic Stock Headed to the Moon?
Virgin Galactic Holdings, Inc. (NYSE: SPCE) will also have the wind at its back when it reports later this month. The space travel company has long been a favorite among meme stock traders, with its spacecraft a natural fit for the 'to the moon rocketship emojis. This year, the stock has ascended more than 60% but remains far from its February 2021 peak.
To some meme stock dreamers, Virgin Galactic has plenty left in the tank for a massive short squeeze. Over 20% of the 224 million share float is held short. Combined with the prevailing Wall Street view that the investment remains a 'moonshot,' the fuel is certainly there for a parabolic squeeze. The last eight opinions offered by sell-side analysts have come with either hold or sell ratings — and bearish target prices running from $3 to $6.