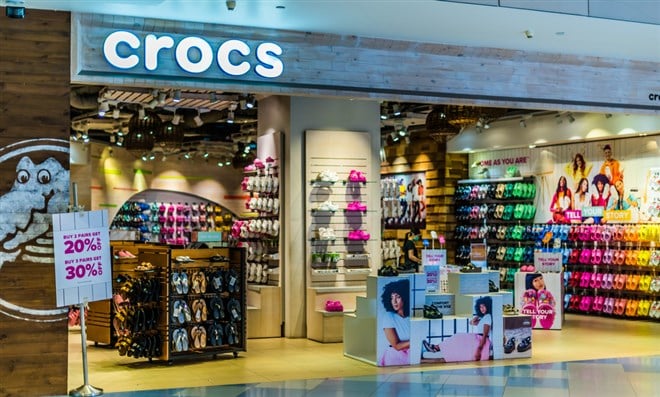 With so many storm clouds in the market, it's nice to come across a bright spot. And that's a way to describe Crocs, Inc. (NASDAQ: CROX). The stock fell by approximately 8%, but that was likely due to the broader sell-off that affected the entire market. However, you don't have to look very hard to find reasons to believe that CROS stock may be a comfortable fit for your portfolio.  
An Iconic Brand That Continues to Evolve 
Crocs came on the scene as an iconic brand of footwear. Originally meant as boating shoes, the design was inspired by Dutch clogs. Unsurprisingly, the shoes went mainstream and – like many bold designs- were polarizing. But any concerns about the design couldn't take away from the fact that the shoes were comfortable.  
The company celebrated its 20th anniversary in 2022 and as their latest shoes are showing, the company continues to evolve. One example is its LiteRide sneakers which allow for comfortable all-day walking, This addresses one limitation of the classic sandal. 
Crocs has also spun off a new brand – HEYDUDE – a complete line of what the company calls "go-to" shoes for everyday wear.  
A Great Earnings Report 
On February 16, Crocs delivered a strong earnings report that beat on both the top and bottom lines. Earnings per share came in 18% higher at $2.65 (estimates were for $2.23). And revenue was also strong coming in at $945.16 million which beat the consensus estimates for $939.16 million.  
But the report was even better when investors consider that both numbers (particularly revenue) were higher than in the same quarter from the prior year. And for the full year, earnings were 30% higher than in 2021. 
In terms of forward guidance, the company is projecting full-year revenue to come in between 10% and 13% higher. Earnings will only be about 3% higher according to the company's forecasts. But at a time when many companies are forecasting negative earnings that's a win.  
Investors might be concerned about the company's debt situation at a cursory glance. It has a debt-to-income ratio of 2.81. However, the company has been purposefully paying down its debt and is expecting that it will be in a position to continue share buybacks in the second half of 2023.  
Is This a Dip You Should Buy?  
MarketBeat analyst data gives CROX stock a $138,29 price target, a 19% gain from its current price. But that's higher than the 11% gain investors were getting just a few weeks ago. Does this make Crocs a buy-the-dip candidate?  
One reason in its favor is that the company continues to grow revenue and earnings. And, CROX stock is a favorite among institutional investors with 83% of the stock being owned by the institutions. This suggests that this dip in the stock is largely due to macroeconomic conditions. 
And while market timing is an imperfect science, you'll have to decide if now is the right time to take a new position or add to an existing one. Short interest is just over 10% and the stock has short interest ratio of 4.3. 
And the week of March 13 will bring the latest reading on inflation. If the consumer price index (CPI) and producer price index (PPI) come in hotter than expected, there will likely be downward pressure on the entire market.  
Nevertheless, at a time when it's hard to find quality stocks, CROX is bucking the trend and is one for your watchlist.