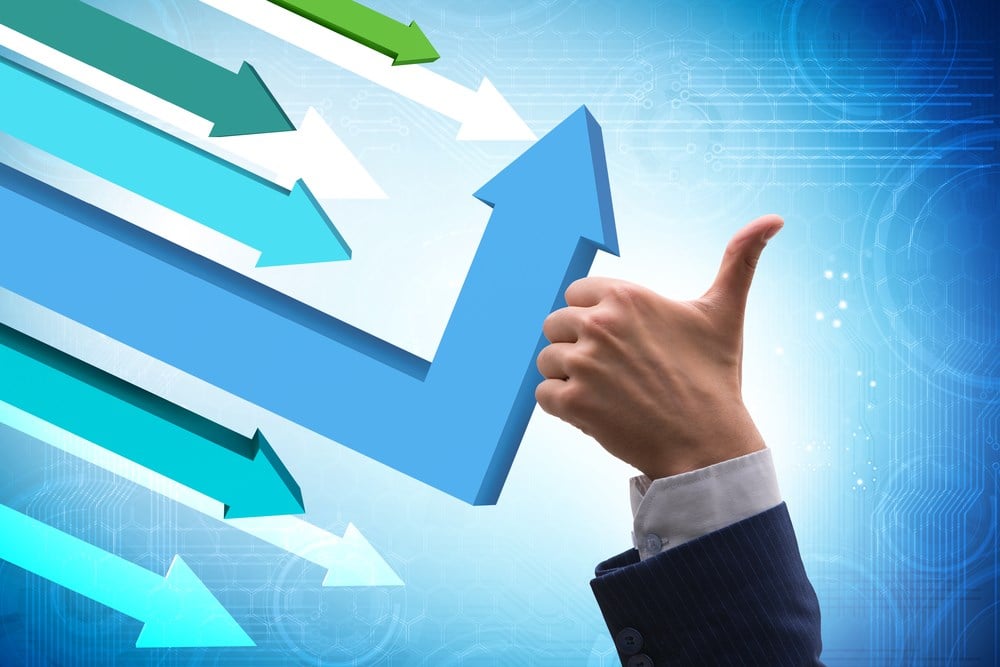 Gamida Cell Ltd. (NASDAQ: GMDA) is an Israeli-based developmental biotechnology company specializing in discovering and advancing cell therapies to fight blood cancer and other illnesses. The stock traded as high as $15.40 in 2018 when it went public and sank to a low of $2.60 by March 2020. The stock revisited $15.00 at the beginning of February on positive clinical trial data, only to drift lower over the next two years, selling down to a low of $0.56 at the end of March 2023.
The company received its first U.S. Food and Drug Administration (FDA) approval for its Omisirge (omidubicel-only) for blood cancer treatment on April 17, 2023, causing shares to surge over 100% in two days. The company competes with large pharmaceutical giants, including Pfizer Inc. (NYSE: PFE), Merck & Co. Inc. (NYSE: MRL) and Gilead Sciences Inc. (NASDAQ: GILD).
Hematologic Disorders
Blood (hematologic) disorders can impact bone marrows, blood vessels, organs and the blood itself. Disorders can range from anemia (shortage of red blood cells) to hemophilia (bleeding disorder), thrombocytopenia (low platelets), thalassemia (abnormal and insufficient hemoglobin), and blood cancers.
Blood Cancers
Blood cancers impact the normal production and function of healthy blood cells. They tend to originate in the bone marrow, lymph nodes or plasma. Stem cells develop into platelets, red blood cells and white blood cells. Sometimes, the development of blood cells can get mutated, resulting in abnormal blood cells that become cancerous to crowd out healthy blood cells. The results range from impairing the immune system and inflammation to disrupting or shutting down blood cell production.
Three Types of Blood Cancers
There are three types of blood cancer: leukemia, Lymphoma, and multiple myeloma. Leukemia starts in the bone marrow and causes abnormal white blood cell production. These abnormal cells multiply quickly throughout the bone marrow, blood and other tissues, causing anemia and a deadly risk of infections.
Lymphoma originates from a type of white blood cell called lymphocytes critical to the immune system. They arise in the lymph nodes or tissue and are classified as either Hodgkin or non-Hodgkin Lymphoma.
Multiple myeloma originates from white blood cells called plasma cells, which are critical for the immune system as they create the antibodies the body needs to fight off infection. Plasma cells are produced in the bone marrow. Abnormal plasma cells can quickly replicate and spread in the bone marrow causing kidney problems, anemia and pain in the bone.
Stem Cell Transplantation
Blood cancer treatments attempt to eliminate and limit the growth of cancer cells as they alleviate symptoms to improve the quality of life for the patient. Various therapies can be included and combined, including chemotherapy, radiation, immunotherapy, surgery and stem cell transplantation. Stem cell transplantation replaces the damaged and abnormal blood-producing stem cells with healthy stem cells from a donor. The treatment is also referred to as a bone marrow transplant.
Infection Risks with Bone Marrow Transplants
While successful transplants have cured blood cancer for thousands of patients, many risks are involved. One of the most significant risks is infection. A qualifying patient will still need to undergo high doses of chemotherapy or radiation as a conditioning treatment, so the infused stem cells can make their way to the bone marrow to begin the production of healthy blood cells.
Bacterial and viral infections and fungal infection
s are significant concerns. There are instances where the transplanted stem cell attacks the patient's body, increasing the chances of fungal infection. The patient is most vulnerable to inflection for the first six weeks after treatment. It can take six months to a year for the immune system to recover fully.
Omisirge and Pipeline
Omisirge was FDA-approved to reduce the risk of infection for blood cancer patients following stem cell transplantation. It's a single intravenous (IV) dose of human allogeneic stem cells from umbilical cord blood. Each dose is patient-specific from a pre-screened donor. Gamida stated it could garner a 20% to 25% market share or 2,000 to 2,500 patients out of 11,000 patients with hematologic malignancies to receive allo-HSCT in 2026.
The company has a pipeline of NAM-enabled cell therapies. Its GDA-301 targets solid tumors, GDA-401 and GDA-501 targets HER2 and solid tumors,  and GDA-601 targets CD38 multiple myeloma. Its GDA-201 for non-Hodgkin Lymphoma is in phase 1 clinical trials. It's also in the discovery phase with four additional treatments to overcome immunosuppression.
Upbeat CEO
Gameda Cell CEO Abbey Jenkins commented, "FDA approval of Omisirge is a major advancement in treating patients with hematologic malignancies that we believe may increase access to stem cell transplant and help improve patient outcomes. We are grateful to all the clinicians, patients and the entire Gamida Cell team without whom this approval would not have been possible.
We also acknowledge the key role the FDA has played in supporting the development of Omisirge and other innovative and potentially life-saving cell therapies for patients with cancer and other serious diseases."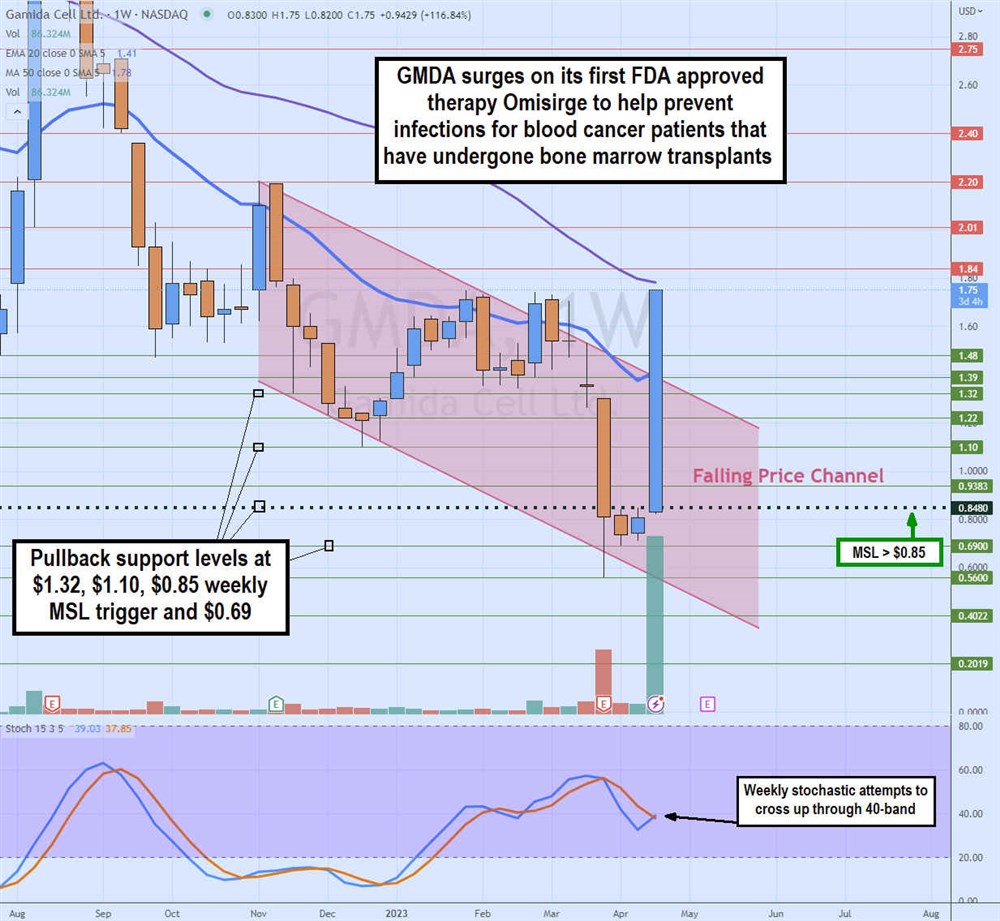 Weekly Falling Price Channel Breakout
The weekly candlestick chart of GMDA illustrates a weekly falling price channel that took shares from $2.20 in November 2022 to a low of $0.56 in March 2023 on growing losses and thinning cash. GMDA staged a rally on the weekly market structure low (MSL) trigger breakout at $0.85 on the FDA approval announcement.
Shares have gapped up to re-test the $1.78 prior resistance and 50-period weekly moving average (MA). The weekly stochastic is attempting to cross back up through the 40-band. Pullback support levels are at $1.32, $1.10, $0.85 weekly MSL trigger and $0.69.