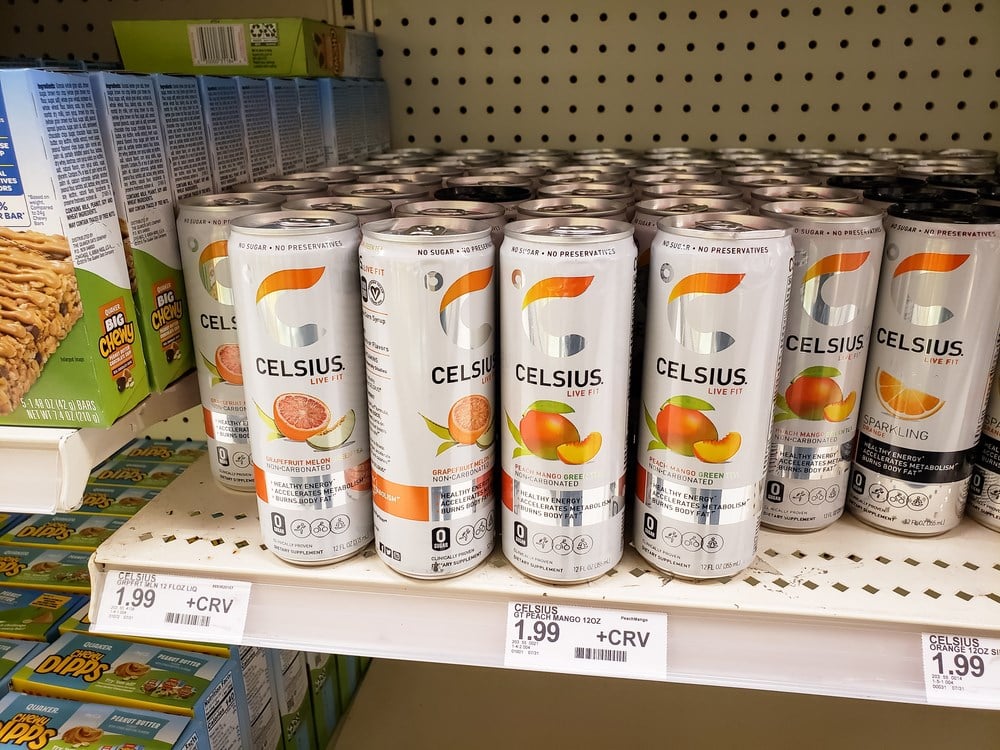 Whether measured in Celsius or Fahrenheit, Celsius Holdings, Inc. (NASDAQ: CELH) is red hot!
Shares of the healthy energy drink maker soared to an all-time high last week following another outstanding earnings report. After rising 48% in 2021 and 40% last year, the stock is up more than 20% year-to-date. Its cumulative five-year return is a staggering 2,681% — and light years away from the S&P 500's 51% advance during the same period.
Celsius' unlikely climb from floundering penny stock to large cap winner began from the depths of the pandemic. With the world keenly tuned into the benefits of healthy eating and drinking, the company's 'better-for-you' energy drinks quickly became a hit. And while other health and wellness trends have faded (at-home fitness, home cooking, etc.), consumers' thirst for healthier energy drinks has only strengthened.
In the ultra-competitive beverage industry, Celsius is making a name for itself by skipping the corn syrup and artificial flavors — but not skimping on the caffeine content. Sugar-free plus innovative flavors is proving to be a disruptive formula in a category long been dominated by Red Bull and Monster. 
How Did Celsius Perform in Q1?
Celsius sales grew 95% year-over-year in the first quarter to a record $260 million. Monster Beverage had a solid quarter too, but its 12% top-line growth was a stark contrast to the rapid growth happening at Celsius. Expanded distribution and product offerings were mainly responsible for last quarter's consensus-topping growth at Celsius. 
The bottom line performance was even better. Earnings per share (EPS) jumped 344% to $0.40, more than twice what analysts had anticipated. While other beverage makers struggled with cost inflation, cost savings moves helped drive a 340 basis point improvement in Celsius's gross margin.  
The strong Q1 performance cemented Celsius as the number three brand in the U.S. energy drink space. In the four-week period that ended March 26th, Celsius had a 7.5% market share, twice what it was the year before. The brand is growing more than eight times faster than the overall energy drink market. 
One of its biggest competitive advantages is on Amazon.com where Celsius grew sales 58% in Q1 to become Amazon's second best-selling energy drink after Monster (and comfortably ahead of Red Bull). This kind of growth is likely to continue capturing the attention of brick-and-mortar and online retailers alike. 
What Is the Growth Outlook for Celsius?
The most encouraging aspect of Celsius' recent financial results is that its integration with Pepsi's distribution network is still ongoing. In August 2022, Pepsi took a $550 million stake in Celsius which has undoubtedly given Celsius more clout in retail. As Celsius continues to add distribution points through its Pepsi relationship, shelf space and sales should keep growing.
Much of the company's growth opportunity is overseas. North America sales accounted for 96% of total sales last quarter. With the business model well-proven in its home market, replicating the success in international markets will be the next challenge. If brand awareness can take off like it has in the U.S., international growth could be explosive.
Analysts forecast that Celsius will deliver EPS of $1.32 this year and $2.15 next year. This gives the stock 97x and 60x P/E ratios for 2023 and 2024 respectively. These multiples are well above the beverage industry average but, given the company's growth trajectory, they may actually be low.
Does Celsius Stock Have More Upside?
Celsius' incredible ascent is reminiscent of Monster Beverage's storybook comeback. In 1988, Monster enacted a 1-for-50 split to maintain Nasdaq listing compliance — only to later do five reverse splits to keep its soaring share price affordable for investors. Celsius didn't have to do a reverse split, but with its share price now well over $100, a reverse split could be in the cards.
The company's swelling $10 billion market cap has put it in large cap territory and a rare company in the publicly traded U.S. soft drink category. Only Pepsi, Coca-Cola, Keurig Dr. Pepper and Monster have higher values.  It is a valuation that seems lofty for a company that had $654 million in sales last year. But given the pace of growth and the fact that Monster's market cap is still six-times greater, there appears to be plenty more upside.
Last week, Bank of America upgraded Celsius from neutral to buy. Better late than never, but the rating change means Wall Street is unanimously bullish on the upstart energy drink player. In a seemingly endless game of catch-up, several analysts raised their price targets after the Q1 report to an average of $129. This implies little if any, upside from current levels, so investors may want to wait for a better entry. But as we keep getting reminded of, Celsius pullbacks have historically been a great time for bulls to pull the trigger.