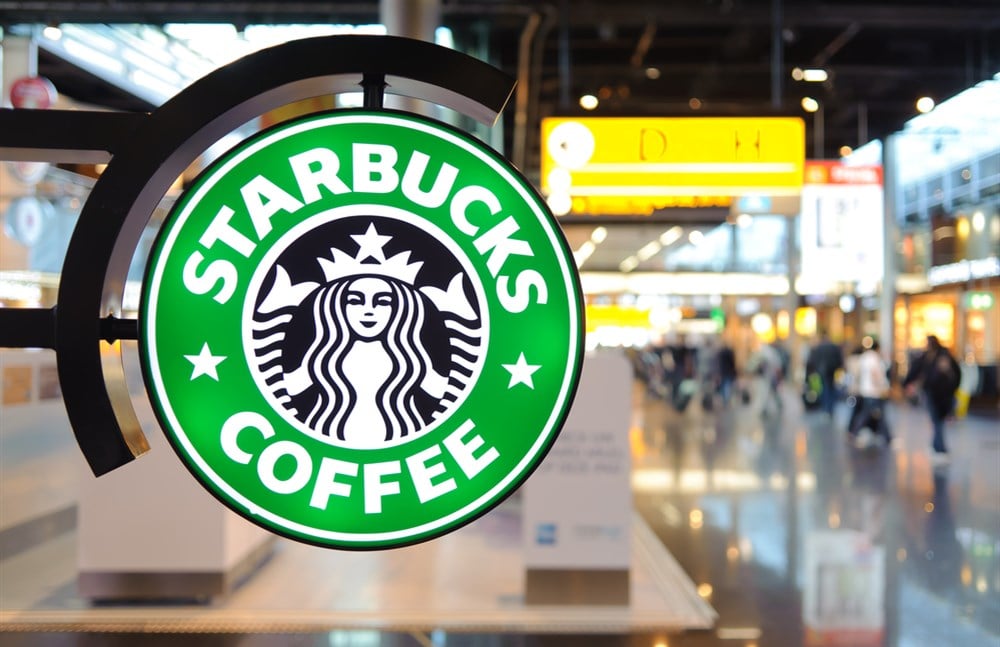 Global coffee and beverage products retailer Starbucks Co. (NYSE: SBUX) stock has largely been absent in the stock market rally, with the S&P 500 index up 12.9% versus its (2.8%) decline YTD. The company has grown its digital loyalty program to more than 30.8 million customers, which account for 57% of U.S. company revenues.
It continues to grow its store count with an increasing asset-light strategy of licensing its stores, especially internationally. Licensing keeps capex limited and margins high while expanding its brand and reach, fending off even small competitors like drive-thru coffee and beverage franchisor Dutch Bros. Inc. (NYSE: BROS).
Licensed Stores vs. Franchise vs. Company-Owned
While many may not know this, Starbucks has been growing its licensed stores as a percentage of its total store portfolio. Licensing differs from restaurant franchising like a McDonald's Co.(NYSE: MCD). Franchising enables individuals to own and operate a franchise while paying royalties.
Starbucks licenses only with companies, not individuals, that can uphold the rigid standards to help expand the brand. Starbucks owns all of its stores and property. The company has been growing its licensed stores from 11% in 2019 to 49% of its total stores in 2023. A majority of licensed Starbucks stores are international.
Who Can Get a License?
Unlike franchisees, licensees don't own the stores. Licensing helps Starbucks expand its reach cost-effectively. Since Starbucks owns the property and the stores, it still assets almost complete control, while the licensee pays for the buildout expenses and operations.
It's an asset-light growth model for Starbucks. It lowers expenses for opening new stores while collecting royalties and revenues from its products and supplies. There is a long waitlist for potential licensees, and the competition is tough. Licensees can include college campuses, hotels, airports, grocery stores and sports stadiums.
Asset-Light Model for Starbucks
A licensee fronts the buildout costs and expenses, including renovations, improvements, inventory, utilities, rent and equipment. Starbucks collects royalties and revenues from supplying the licensee with its products. Starbucks does not finance any buildout costs of licensed stores. It provides support and training, but the licensee is responsible for operations, cleaning, repairs and inventory.
Growth Rebound
On May 2, 2023, Starbucks released its second-quarter 2023 results for the quarter ending March 2023. The Company reported an adjusted earnings-per-share (EPS) profit of $0.74, excluding non-recurring items, versus consensus analyst estimates for $0.65, a $0.09 beat. Revenues rose 14.2% year-over-year (YOY) to $8.72 billion, beating analyst estimates of $8.43 billion.
Global comparable store sales (CSS) rose 11%, driven by a 6% increase in comparable transactions (CT) and a 4% increase in average tickets (AT). Its Starbucks Rewards loyalty program grew 15% YoY to 30 million active members. Margins improved by 200 bps to 19.2% in the U.S.
Regional Stats
North American CSS rose 12%, with a 6% increase in CT and a 5% increase in AT. U.S. CSS rose 12%, driven by 6% CT and 6% AT. International CSS rose 7%, driven by 7% CT. China CSS rose 3%, driven by 4% CT and a decline of (1%) in AT. Inclusive of closures, Starbucks opened 464 net new stores in the quarter, comprising over 100 domestically and 360 internationally.
China is Starbuck's second-largest market, and it expects to double its revenues in the next three years while doubling its store counts by 50% to 9,000. The company ended the quarter with 36,634 stores which are 51% company-operated and 49% licensed.  
New CEO Comments
Starbuck's new CEO, Laxman Narasimhan, commented, "We're very pleased to see our International store strategy is working. In the quarter, our net new stores grew by 363, representing 8% growth year-over-year.
As we look ahead to the end of the fiscal year, we will reach 20 000 stores across the International segment on pace with a growth strategy we outlined at Investor Day." Starbucks reiterated its fiscal full-year 2023 revenues between $35.48 billion to $36.12 billion versus $35.95 billion consensus analyst estimates. U.S. CSS growth is expected between 7% to 9%.
Unionization a Non-Event
More Starbucks stores continue to unionize as over 300 stores have voted to unionize to little or no result. Pro-unionization employees are upset with hourly cuts, safety, and inadequate staffing. The company has remained firm, with no negotiations for a bargaining contract.
BTIG had earlier predicted that negotiations would continue throughout 2023 with no resolution. They conducted a survey that concluded customers were likely to keep their Starbucks if unionization efforts flunked.
Starbucks analyst ratings and price targets are at MarketBeat.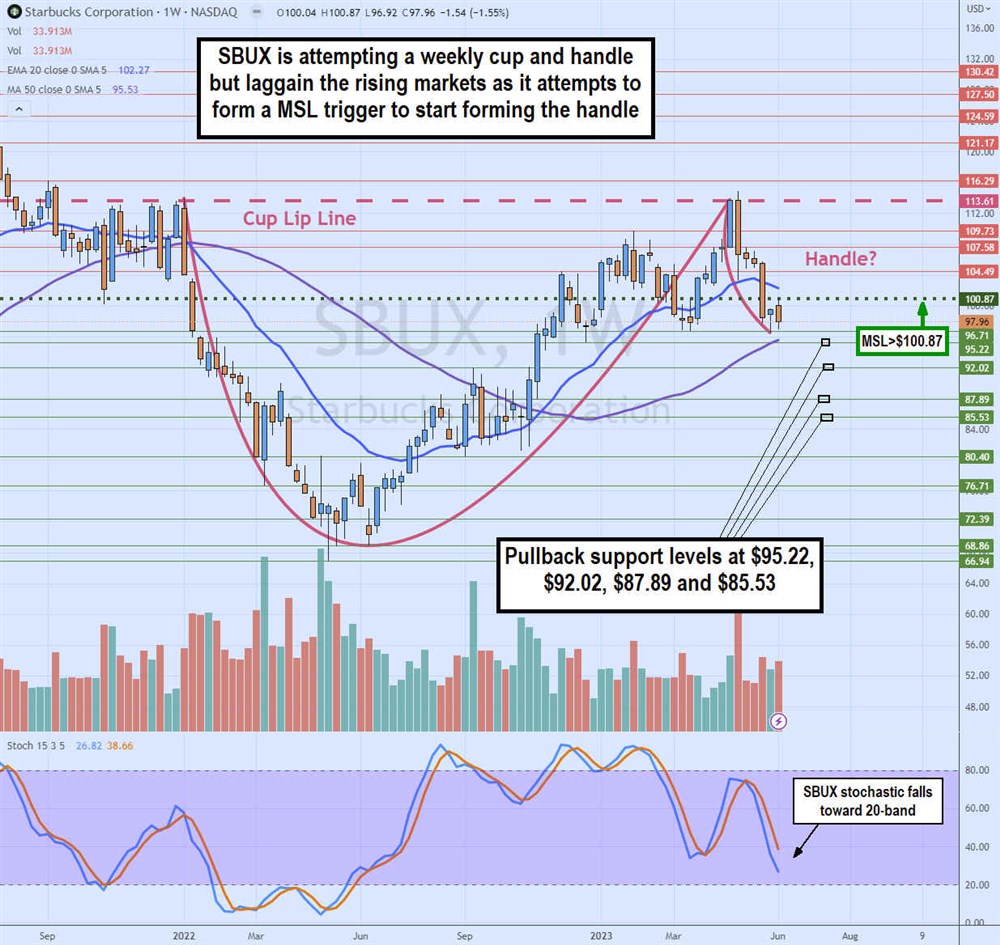 Weekly Cup and Handle Attempt
The weekly candlestick chart illustrates the potential cup and handle pattern that commenced in December 2021 as shares peaked at $113.61, forming the cup lip line.
Shares sold off nearly (50%) falling to a low of $66.94 in May 2022. A rounding bottom took time to form but eventually caused shares to stage a grinding rally back up to retest the cup lip line at $113.61 in April 2023. Shares peaked at $114.91 that month and have since been selling off, hitting a low of $96.71 at the end of May 2023.
The market structure low (MSL) trigger formed on a higher weekly low candle setting the breakout trigger at $100.87. The weekly stochastic continues to fall towards the 20-band. The weekly 50-period moving average (MA) support is rising at $95.53. Pullback supports are at $95.22, $92.02, $87.89 and $85.53.