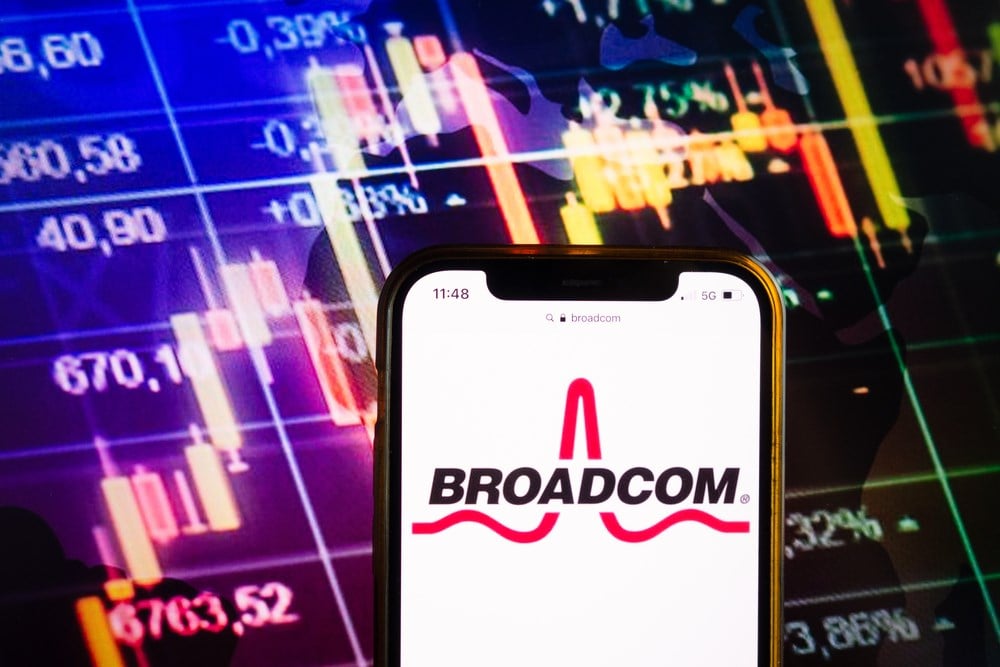 When it comes to semiconductor stocks in recent weeks, Nvidia Corp (NASDAQ: NVDA) may have been grabbing most of the headlines, but they're not the only chipmaker whose stock has been soaring. Shares of Broadcom Inc (NASDAQ: AVGO), with a market cap about a third the size of Nvidia's, have also been enjoying a near-vertical rally. 

Having had a strong finish to last year continuing through Q1, Broadcom's stock found a new gear in the second half of May and is up almost 50% since then. This means they're one of the few major tech companies back at all-time highs after a tough eighteen months for the industry, but that doesn't mean they're not still good value. In fact, if anything, the all-time high tag confirms they're one of the best tech stocks out there at the moment. Here are some more reasons to be considering going into next week. 
Exposure to AI
The first is the company's strengthening fundamental positions. Broadcom's fiscal Q2 report was released earlier this month and showed year-on-year revenue growth of 8%, which, along with EPS, smashed analyst expectations. Of note in the same report was management's increased forward guidance, itself one of the most bullish signals a company's leadership can give to the market about their own improving outlook.
But what has really gotten investors excited since the report was released was the AI angle. Broadcom announced that they're suddenly expecting sales linked to AI to double this year, showing just how favorably exposed the company is to the hottest industry right now. 
Unsurprisingly, the reaction from the heavyweight analysts has been decidedly bullish in recent days, with many reiterating their Buy ratings on the company and boosting their estimates. Bank of America increased its 2024 sales and EPS estimates by 8-9% and raised its price target to $950 per share. Even after the rally since then, this is still pointing to further upside. 
The team over at KeyBanc also reiterated its Overweight rating and raised its price target to $940 from $820. Analyst John Vinh and his team believe there is potential for significant upside in FY23 AI expectations and FY24 Networking revenues based on Broadcom's AI outlook.
Trust also raised its estimates and recommended buying the stock for three key reasons; dividends, M&A benefits, and the growth potential of AI. Analyst William Stein mentioned that as Broadcom provides more details on AI, including a projected 70% growth, the key consideration is whether AI will add to or cannibalize the company's overall semiconductor growth. It's a valid question, if not a top concern right now, but it didn't stop Stein from increasing his forecast for calendar 2024 EPS at the same time. 
Getting Involved
On the M&A point specifically, this past week has seen further good news in that department. Monday saw reports that Broadcom is set to receive conditional approval from the European Union for its $61 billion acquisition of VMware Inc (NYSE: VMW). The approval is contingent upon Broadcom's commitment to provide interoperability remedies to competitors, which is set to address any remaining antitrust concerns raised by the European Commission. 
With shares having traded sideways for much of the month so far as they consolidated their gains from May, this development sent them right back up. Heading into the final session of the week, they're up a cool 10% and are holding onto those gains in Friday's pre-market session. And the best news? Broadcom still feels comparatively cheap here. 
Their price-to-earnings (P/E) ratio is only 27, at the low end of the range for any tech company, even when the outlook is grim. But considering how bright Broadcom's future is looking, it kind of doesn't make sense. Consider for a moment that Nvidia's P/E ratio is 220 but that their shares are still being driven higher as investors and hedge funds. Broadcom's shares trading at a bit more than a tenth of their PE means they have a ton of room left to run, and recent price action suggests that's exactly what they intend to do.