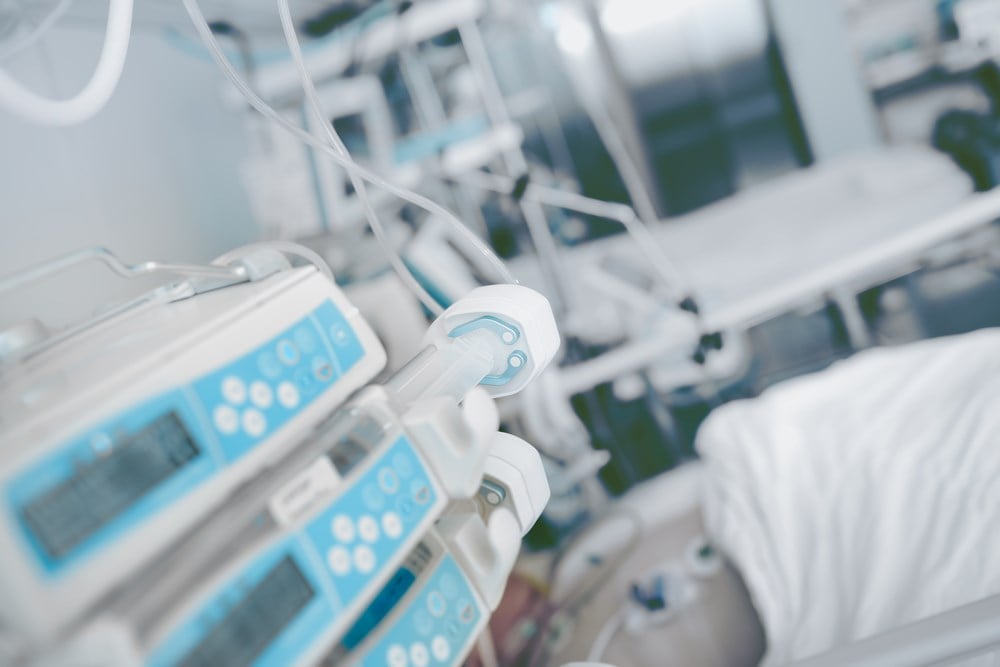 ImmunoGen Inc. (NASDAQ: IMGN) is a commercial-stage biotechnology company leading in antibody-drug conjugates (ADC). ADCs are like heat-seeking missiles that target and selectively deliver cancer-killing toxins to tumor cells while leaving healthy cells alone using antibodies that bind to antigens found on targeted cancer cells. Its recent clinical trial results have caused shares to rise over 300% YTD and to retest decade-long highs.
The company targets three types of cancers: ovarian cancer, acute myeloid leukemia (AML), and blastic plasmacytoid dendritic cell neoplasm (BPDCN). Positive findings on ovarian cancer and BPDCN therapies have turned sentiment on the stock wildly optimistic.  
CADENZA Phase 2 Trial Interim Findings
On June 9, 2023, ImmunoGen presented findings for its phase 2 trial of pivekimab Sunirine, IMGN775, which is a CD123-targeted ADC treatment in BPDCN patients at the European Hematology Association (EHA). It was found to have anti-tumor activity in patients with frontline and relapsed or refractory BPDCN, with no new safety signals identified. BPDCN is rare blood cancer caused by the uncontrolled growth of plasmacytoid dendritic immune cells that help fight against infections. Top-line data results are expected to be reported in 2024.
Naveen Pemmaraju, MD, Associate Professor of Leukemia at The University of Texas MD Anderson Cancer Center and co-investigator of the Phase 2 study commented: "BPDCN is a rare and aggressive blood cancer characterized by meager survival rates and limited treatment options that are often associated with significant toxicities."
He continued,  "We are encouraged by these updated data in a larger population of patients, which demonstrated impressive anti-tumor activity and durable responses in both frontline and R/R patients. These efficacy data, coupled with outpatient administration, reinforce the potential of pivekimab as a promising, novel option for this challenging disease. I look forward to its continued evaluation in the trial." Current BPCDN treatments are available from Gilead Sciences Inc. (NASDAQ: GILD) with idelalisib, a BCL-2 inhibitor and Celgene with its BCL-2 inhibitor venetoclax.
Elahere Ovarian Cancer Killer
Elahere is ImmunoGen's ADC used to treat folate receptor-alpha (Fra) positive ovarian cancer, primary peritoneal, and fallopian tube cancer. It's comprised of two parts. The antibody is mirvetuximab which finds and binds to the Fra protein found on the surface of ovarian cancer cells. The payload is the cancer-killing toxin soravtansine, a potent DNA-damaging agent. It kills the cancer cell by damaging its DNA. There is a 30-minute intravenous infusion given every three weeks.
MIRASOL Elahere Clinical Study Findings
The mirvetuximab in resistant advanced serous ovarian lung cancer (MIRASOL) clinical trial was performed with 453 patients with platinum-resistant ovarian cancer exhibiting high levels of Fra. Previous treatment with bevacizumab had been administered to 62% of these patients.
The primary measure of the study's success was Progression-Free Survival (PFS), with secondary measures including Objective Response Rate (ORR) and Overall Survival (OS). Compared with the chemotherapy chosen by investigators (IC), Elahere showed substantial enhancements in OS and PFS, demonstrating a 33% decrease in mortality risk and a 35% reduction in tumor progression, respectively.
The average OS for Elahere was 16.46 months as opposed to 12.75 months for chemotherapy, while the median PFS was 5.62 months compared to 3.98 months for chemotherapy. Elahere achieved an ORR of 32.4%, contrasting with the 15.9% achieved by the IC chemotherapy group. The drug demonstrated a favorable safety profile, with no new concerns arising beyond minor ocular and gastrointestinal events.
FDA Accelerated Approval
Elahere received an accelerated FDA approval for Elahere in November 2022. The approval stemmed from the SORAYA phase 3 clinical trial findings and its 31.7% ORR and duration of response (DOR). Accelerated FDA approval is a pre-emptive approval for drugs that show promising clinical trial results but have yet to finalize long-term safety and effectiveness data.
It was specifically approved for treating Fra-positive, platinum-resistant epithelial ovarian, fallopian tube and primary peritoneal cancer for patients who have received one to three prior systemic treatment regimens. ImmunoGen is awaiting full FDA approval as well as European approval. ImmunoGen competed with Pfizer Inc. (NYSE: PFE) and acquired Seagen Inc. (NASDAQ: SGEN), a leader in ADC treatments and ovarian cancer treatments from AstraZeneca Plc (NASDAQ: AZN).
ImmunoGen analyst ratings and price targets are at MarketBeat.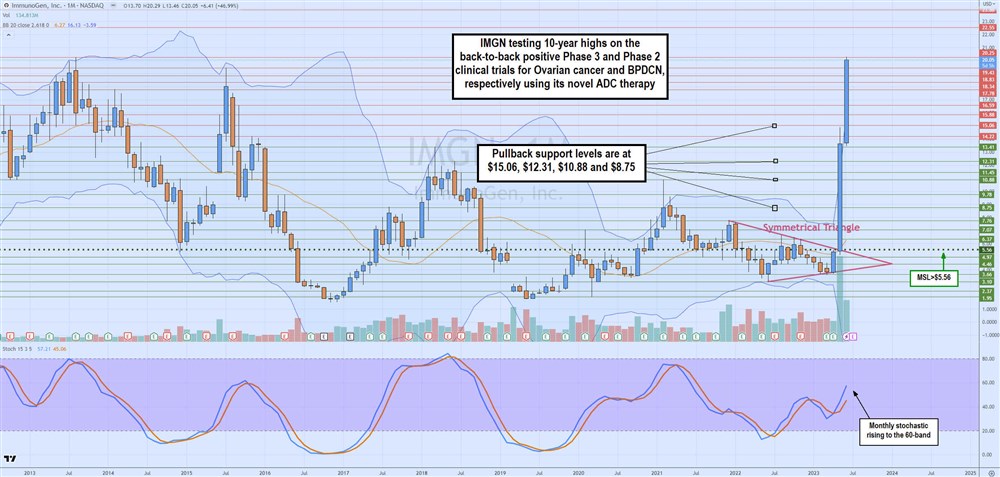 The definitive beginner's guide to reading stock charts can be found free on Marketbeat.   
Learn how to use the RSI indicator on MarketBeat.
 Monthly Symmetrical Triangle Breakout
The monthly candlestick chart on IMGN illustrates the $20.25 highs made in August 2013 and the tumultuous drop to lows of $1.76 in May 2019. Shares went into 2023 with a classic symmetrical triangle formation comprised of lower highs and higher lows heading toward the apex point for a breakout or breakdown.
The resolution was a breakout that surged shares to 10-year highs of $20.25, driven by two critical clinical trial studies. The monthly stochastic rises through the 60-band, but the weekly RSI is overbought at the 90-band. Suffice it to say that it's important not to chase prices when the RSI is overheating. Pullback support levels are $15.06, $12.31, $10.88 and $8.75.