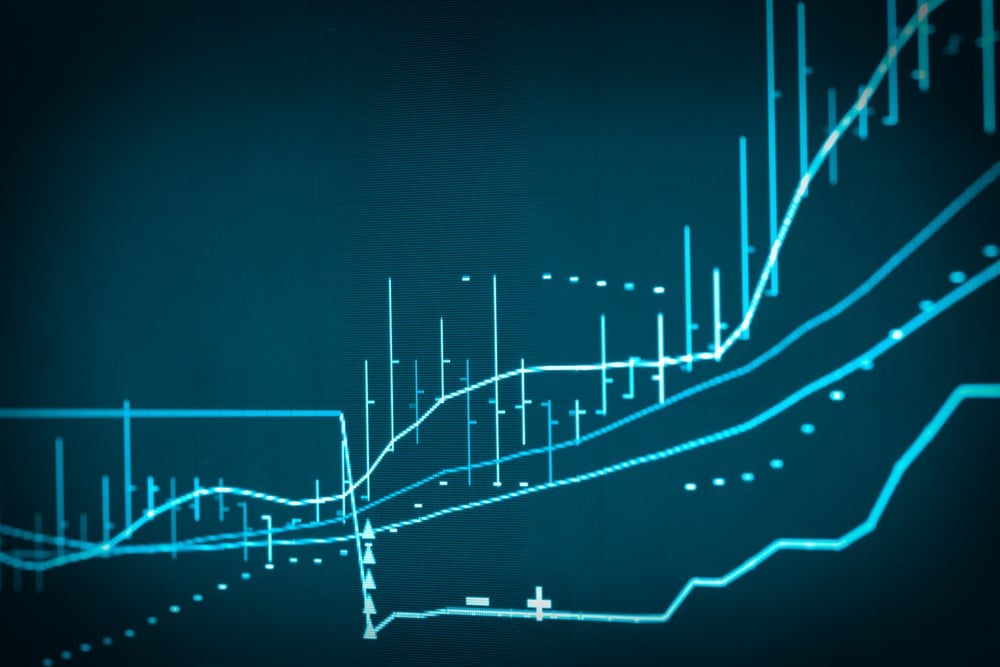 VirTra Inc. (NASDAQ: VTSI) provides force training and firearms training simulators for police and military markets worldwide. The company makes patented life-size police, defense and military force training simulators. These giant 300-degree wraparound screens range from $150K to $300K. They can simulate all training areas from de-escalation, use of force, mental illness, skills and low light. Some of their police training clients include U.S. Customs and Border Patrol, Dallas PD, Denver PD, Inglewood PD, Hillsborough County Sheriff's Office, and Australian Border Force.
Military simulation clients include the U.S. Department of Defense, various federal agencies, elite security forces, MOD, MOIL and contractors throughout 40 countries. The company serves a niche market but has competitors in the training and simulator segment, including L3Harris Technologies Inc. (NYSE: LHX) and CAE Inc. (NYSE: CAE).
Razor and Blades Revenue Model
VirTra implements a razor and blade business model, selling the primary product and secondary service at a high margin to generate recurring revenues. VirTra sells expensive simulators costing $150K to $300K and accessories, including recoil kits and weapons. It then generates recurring revenues through its Subscription Training Equipment Partnership (STEP) service, which provides a library of new and updated training simulations.
You need the simulations to use the simulator effectively. STEP also enables more accessible on-ramps for budget-restrained agencies. STEP and its warranty revenues account for 13% of total revenues and growth. Each installed system is a potential recurring revenue generator as the company constantly expands its training simulation program library.
Accelerating Growth Mode
On May 15, 2023,  VirTra released its first-quarter 2023 earnings report. The company reported a non-GAAP earnings-per-share (EPS) profit of $0.27, beating consensus analyst expectations of $0.03 by $0.24. Gross profits rose 88% to $6.9 million, or 69% of total revenue. Net income grew by $2.4 million to $2.9 million.
Adjusted EBITDA increased to $4 million. Revenues rose 48% year-over-year (YoY) to $10 million, beating estimates for $3.18 million. The company has $14.3 million in cash and cash equivalents. Government revenues rose 70% to $5.5 million, up from $3.2 million in the year-ago period. Its recurring revenue STEP program continues to generate growth.
Co-CEO Insights
VirTra Co-CEO Bob Ferris noted this was the best profitability quarter on record, credited to its earlier investments in infrastructure, technology and talent. This has ensured leading-edge training solutions providing realistic scenario simulations for highly effective preparations for individuals and teams.
They are further integrating V3 technology VirTra Volumetric Video. This combination of high-definition videos with 3D characters enables the company to continue building its comprehensive library of training simulations. The library is adaptable for screen-based and headset-based platforms. The company continues to work on new products. The company has centralized operations in its Arizona and Orlando facilities to accommodate more employees and production capacity to meet the increasing demand.
Raising the Bar
Blue Bird raised its fiscal full-year 2023 revenues of $1.1 billion versus $1.02 billion consensus analyst estimates. It expects adjusted EBITDA between $55 million and $65 million and adjusted free cash flow of $30 million to $40 million. Blue Bird reiterated its long-term outlook of profitable growth towards $2 billion in annual revenues with adjusted EBITDA margins of 12% or $250 million.
 VirTra financials, including balance sheet and income statement details, can be found at MarketBeat.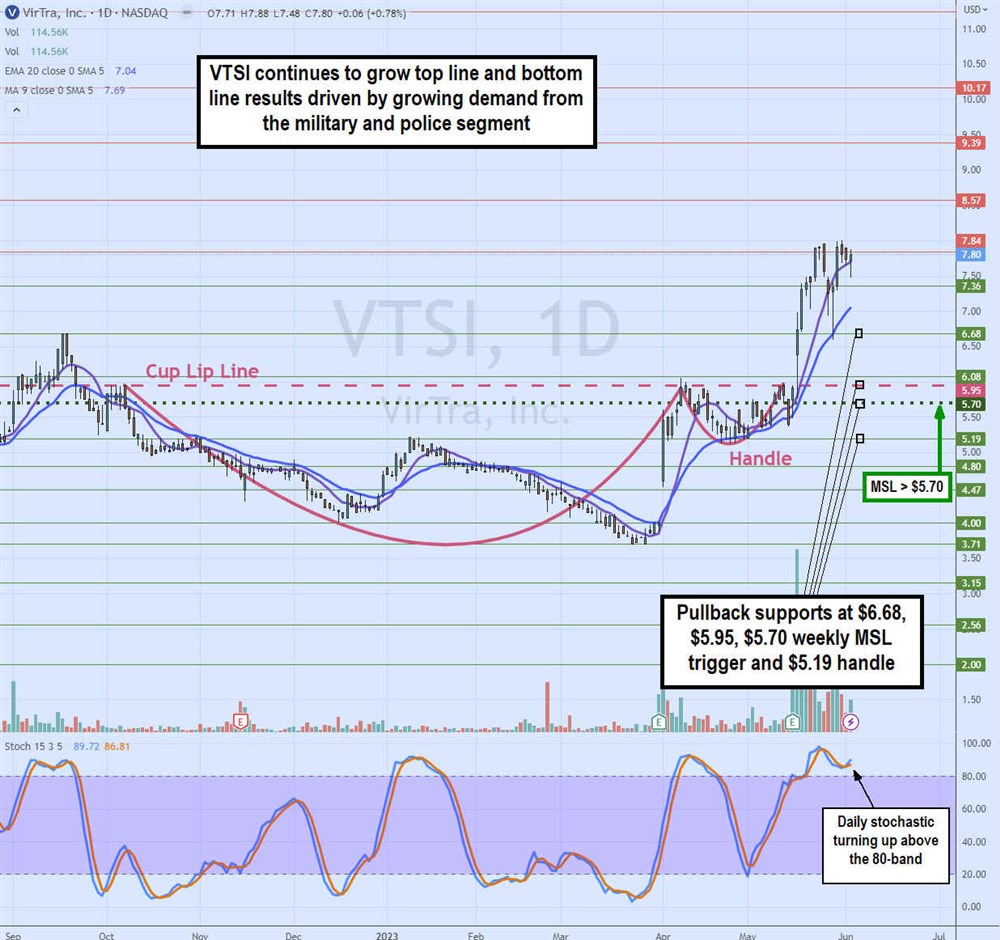 Daily Cup and Handle Breakout
The daily candlestick chart on VTSI displays a cup and handle breakout. The cup lip line commenced after peaking at $5.95 to form the lip on Oct. 7, 2022. VTSI shares fell to a low of $4.00 on Dec. 15, 2022, before staging a rally toward $5.19 in January 2023.
Shares peaked and steadily sold off again to new lows at $3.71 on March 23, 2023. The daily stochastic bounced through the 20-bands shares shot up to retest the daily cup lip line at $5.95 on April 10, 2023, before pulling back to form the daily handle near $5.19 as shares triggered a daily market structure low (MSL) buy trigger on the breakout through $5.70 and the cup lip line at $5.95 driving shares to a high of $7.83 on May 30, 2023.
Pullback supports are at $6.68, $5.95, $5.70 weekly MSL trigger and $5.19 handle low.