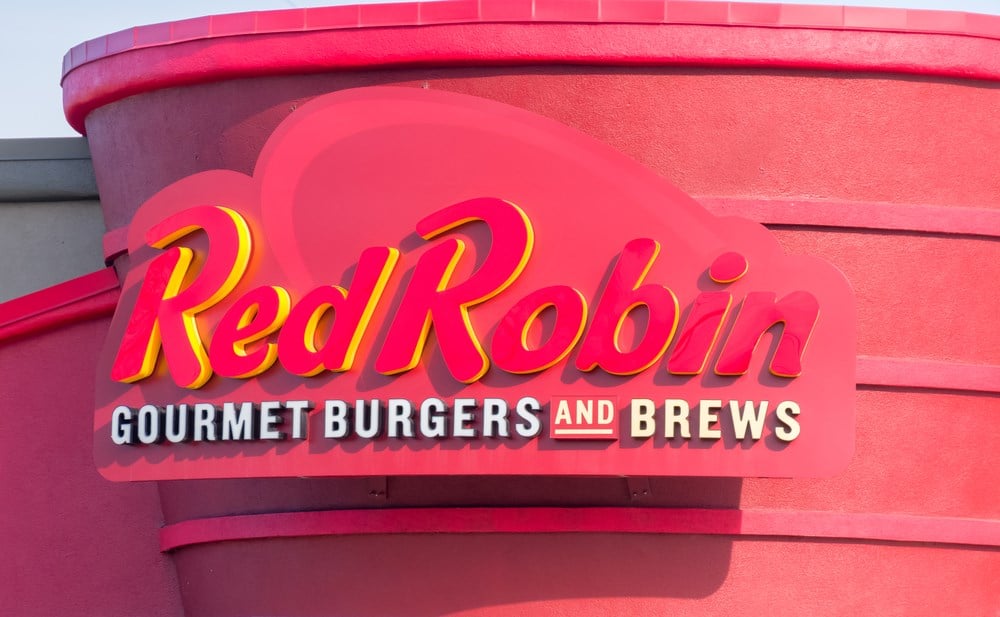 Fast casual burger restaurant chain Red Robin Gourmet Burgers Inc.  (NASDAQ: RRGB) stock surged over 120% in 2023. The company implemented its North Star turnaround strategy in January 2023. North Star's five-point plan is a comprehensive set of actions focused on optimizing operations, improving profits, food quality and customer experience for its restaurants. The plan is already reaping results as the company saw improvement across the board in revenue, adjusted EBITDA, and margins grew at 70 bps.
Price hikes accounted for 7.6% of the 8.6% comparable same-store sales revenue growth. Favorable menu mix attributed to 0.8%, and increased guest traffic added 0.6%. Red Robin competes with fast food and fast casual burger franchises, including Shake Shack Inc. (NYSE: SHAK), McDonald's Co. (NYSE: MCD) and Restaurant Brands International Inc.  (NYSE: QSR).
North Star Five-Point Plan
Red Robin has declined in terms of customer traffic, satisfaction, and food quality for years, accelerated by the pandemic. The once iconic franchise's reputation crumbled. The company took measures during the pandemic to stage a comeback by trimming its menu, bolstering its digital sales, and improving customer satisfaction and food quality. However, the real change started to reap the rewards with the appointment of a new CEO in September 2022.
Red Robin appointed a new CEO G.J. Hart in September 2022. He brings 35 years in the restaurant business as CEO of Torchy's Tacos, California Pizza Kitchen and Texas Roadhouse Inc. (NASDAQ: TXRH). Red Robin implemented its North Star plan in January 2023. The plan is designed to improve Red Robin's financial performance as growth returns to the business.  
More Improvements to Come
Rather than skimping on talent, Red Robin will reduce costs by growing efficiencies in its supply chain to eliminate overlapping contracts and negotiate better terms with its vendors. The company plans to expand the menu again while opening new locations and testing new concepts.
The company is converting to a flat-top cooking system from its conveyor belt system to improve food quality and increase burger sizes by 20%. A conveyer belt system is uses a conveyor belt to as it slowly moves through an oven, commonly found in pizza restaurants producing large volumes.
It expects to complete the conversion by the end of Q2 2023 after installing flat-top grills in 300 restaurants in Q1 2023. It's shifting its advertising to local rather than national and beefing up its 11.5 million member loyalty program. It's also bolstered its compensation structure to incentivize and reward multi-unit operators for delivering results.
Improving the Guest Experience
A top priority was to improve the guest experience. While every retail and consumer business mentions this, Red Robin puts its money where's mouth is beyond just lip service. Its previous CEO hollowed out the staff to two managers, no bussers or bartenders during the busy hours to cut costs.
This had a resoundingly negative impact on customer experience. CEO Hart took the opposite approach and beefed up managers to four to five, adding hosts, bussers, bartenders and hosts. This enables the servers to engage with customers more while bussers keep the dining room clean and tables uncluttered. This resulted in a 16% improvement in dine-in sales in Q1 2023.    
Gaining Traction
On May 24, 2023, Red Robin released its first-quarter fiscal 2023 results for the quarter ending April 16, 2023. The company reported a non-GAAP earnings-per-share (EPS) profit of $0.25 versus consensus analyst estimates for a loss of (-$0.57), an $0.82 per share beat. Revenues rose 5.7% year-over-year (YoY) to $418 million, beating consensus estimates of $405.6 million.
Comparable restaurant sales rose 8.6% YoY, representing the ninth consecutive quarter of positive comparable sales growth. Comparable restaurant traffic grew by 0.6%. Comparable restaurant dine-in sales rose 16.4%. Net loss was ($3.1 million). Adjusted EBITDA was $36.1 million, up $8.1 million from the year-ago period.
CEO Insights
CEO Hart commented,  "Our first quarter results are strong and demonstrate the power of the Red Robin brand. We are just getting started with the implementation of our 'North Star' plan, and we already see higher Guest satisfaction and significant gains in sales and profits. Due to the tremendous efforts of all of our Team Members, we are able to both accelerate investments in people and enhancements to the quality of our food offerings while also raising our financial guidance for 2023."
Raising the Bar
Red Robin raised full-year 2023 revenue guidance to "at least" $1.3 billion versus $1.29 billion consensus analyst estimates. It expects adjusted EBITDA of $70 million to $80 million, from earlier guidance of $62.5 million to $72.5 million.
Red Robin Gourmet Burgers analyst ratings and price targets can be found on MarketBeat.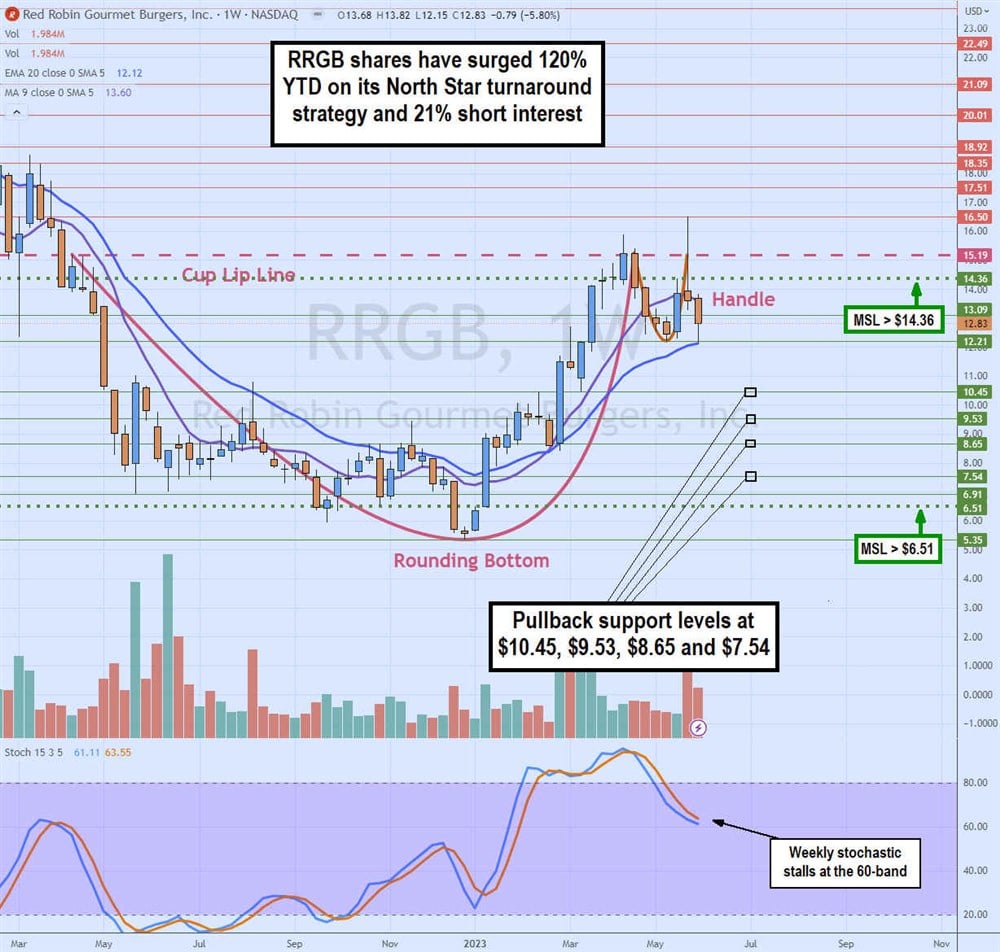 Weekly Cup and Handle
The weekly candlestick chart on RRGB commenced its cup and handled breakout with the cup lip line formation upon peaking at $15.49 in April 2022. Shares continued to drift lower until bottoming out at $5.35 in December 2022. RRGB formed a rounding bottom that staged a rally back to the lip line after triggering the weekly market structure low (MSL) breakout at $6.51.
RRGB tested the $15.19 lip line in April 2023, completing the cup formation. It started to form the handle on the pullback to $12.21, bouncing on another weekly MSL trigger breakout through $14.36.
 Shares spiked to a high of $16.50, but the cup and handle breakout attempt is losing steam as shares fell back under the cup lip line at $15.19 as the weekly stochastic continues to fall toward the 60-band. Pullback support levels are at $10.45, $9.53, $8.65 and $7.54.