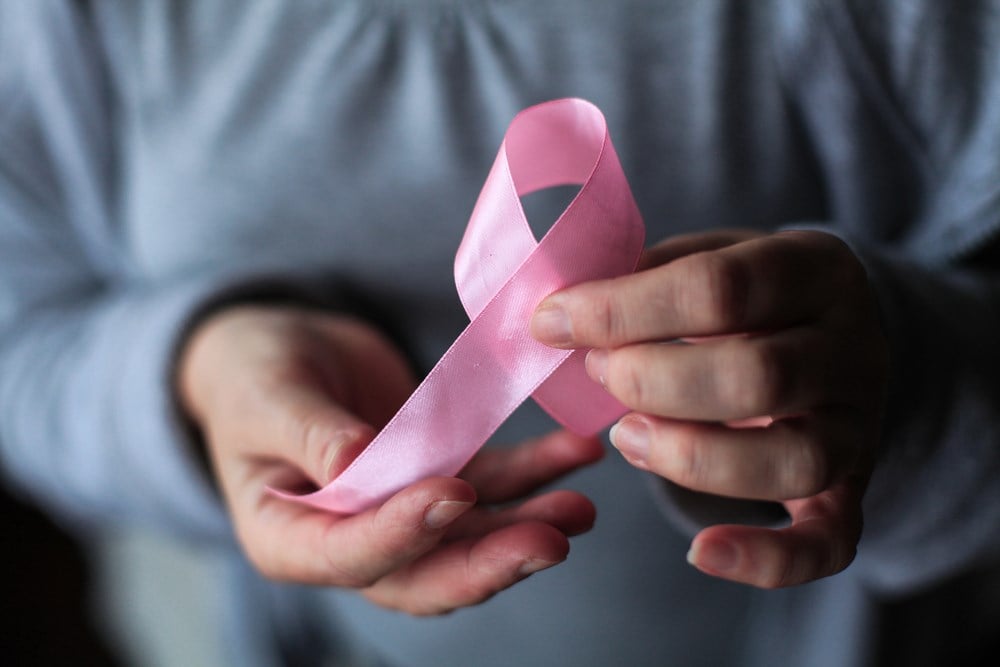 One of the most aggressive and difficult-to-treat ailments, cancer is a disease that involves the uncontrolled division and growth of malignant cells. There are many types of cancer, many of which have limited cure and treatment options. However, a cancer diagnosis is no longer a death sentence — many cancer drug stocks and companies are devoted to researching and treating the most dangerous types of cancers.
As medical professionals learn more about cancer, its causes and mechanisms of action, investors are turning their eyes toward healthcare companies specializing in oncology. 
Read on to learn more about the top oncology companies and some benefits of investing in cancer treatment stocks. 
Overview of Cancer Stocks
The term "cancer stocks" or "oncology stocks" refer to stocks of companies involved in developing, manufacturing and distributing products or services related to cancer treatment and research. These companies are usually in the healthcare sector and have large budgets for proprietary research and new drug developments. 
There are multiple types of oncology companies, and the best cancer stocks to invest in can vary depending on your investment goals and timeline. Some of the most common types of companies classified as cancer stocks include the following: 
Pharmaceutical companies:

Pharmaceutical companies develop and market cancer drugs and therapies based on in-house research. They conduct extensive research and clinical trials to bring new cancer treatments to market, presenting a significant risk to inventors due to the long process of clinical

trials required by the FDA

before release. Cancer drugs developed by pharmaceutical companies include chemotherapy agents, targeted therapies, immunotherapies and hormone therapies.

Biotechnology companies:

Biotechnology companies set themselves apart from pharmaceutical companies by working to treat cancer using biological processes. Some examples of biotech projects used for cancer therapies include gene therapies, CAR-T cell therapies and other advanced treatments. Biotech companies also work on innovative diagnostic technologies to detect cancer at early stages.

Research and development companies:

Some companies solely focus on cancer research and early-stage drug discovery. They may collaborate with larger pharmaceutical or biotech firms to advance their findings and work together through the regulatory processes. 
The success of cancer stocks can be highly dependent on clinical trial outcomes, regulatory approvals, market competition and the company's financial health. You may want to include multiple types of cancer stocks in your portfolio to enhance diversification and limit losses related to failed regulatory trials. 
Why Invest in Cancer Stocks?
Investing in cancer stocks can come with many benefits for investors, including the following: 
Growth potential:

The healthcare sector, especially cancer treatment and research, is known for its potential for significant growth. As the global population ages and the prevalence of cancer increases, a continuous demand for innovative and effective cancer treatments leads to potential revenue growth for companies in the sector.

Medical advancements:

The field of oncology continually evolves, with ongoing research leading to the development of groundbreaking therapies and technologies. Successful cancer drugs and treatments can significantly impact a company's stock value as they gain regulatory approvals and are adopted in the market.

Market demand:

Cancer is one of the leading causes of death globally, creating a substantial market demand for effective treatments and diagnostic tools. Companies that can address this demand with successful products have the potential for financial success, which can lead to sharp gains for investors. 
Remember that the performance of specific stocks can vary greatly, even when in the same category of cancer stocks. Consider a healthcare ETF if you're looking for a single purchase to diversify the sector, limiting individual risks. 
7 Best Cancer Stocks to Invest in Now
Let's dive into the best cancer stocks to consider.
1. Pfizer
While Pfizer Inc. (NYSE: PFE) made recent news with its COVID-19 vaccination, it has long been one of the top cancer research stocks. Pfizer has developed and commercialized several cancer drugs approved for treating various types of cancer. Among them is Ibrance, a targeted therapy used to treat hormone receptor-positive, HER2-negative advanced breast cancer. Ibrance is one of the company's most successful oncology drugs, solidifying Pfizer as one of the top oncology biotech companies. In July 2023, Pfizer had a total market capitalization of $210 billion, making it a top choice for blue-chip healthcare stocks.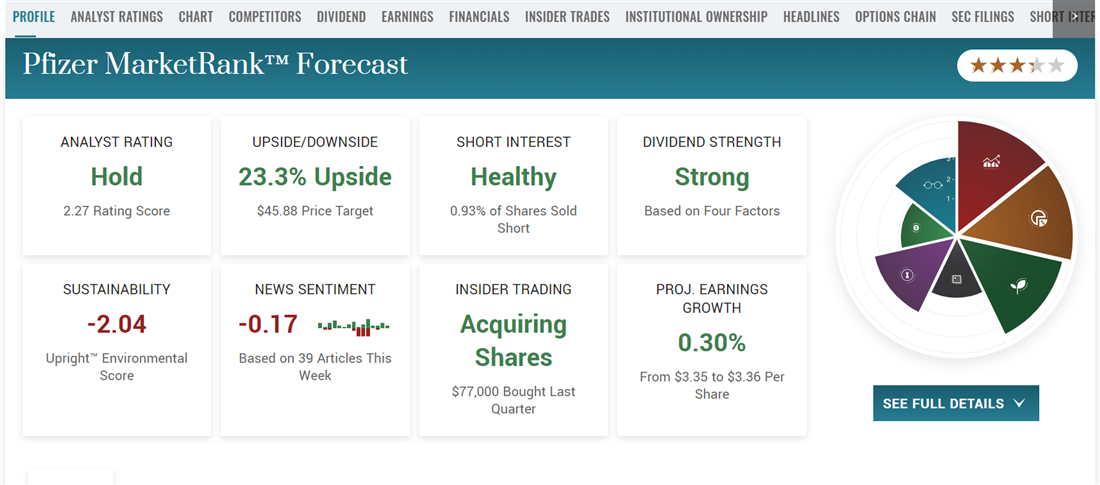 Image text: Pfizer is a top blue-chip healthcare stock with solid, consistent analyst ratings. 
2. Merck & Co. Inc.
Merck & Co. Inc. (NYSE: MRK) is another major name in oncology and cancer research. One of the top names in the healthcare industry, it has substantially contributed to cancer treatment by developing and commercializing innovative therapies. 
Merck's flagship cancer drug, Keytruda, has received approvals for treating various types of cancer, including melanoma, lung cancer, head and neck cancer, bladder cancer and more. It has been particularly successful in treating patients with advanced or metastatic cancers. The company currently has a total market capitalization of $271 billion, making it another mega-cap choice for long-term investors. 

Image text: Merck & Co. Inc. showcases a total market capitalization of over $270 billion, making it a top choice for investors.
3. Novartis AG
Novartis (NYSE: NVS) is a Swiss multinational pharmaceutical company that devotes a significant portion of its company budget to cancer-cure vaccines and therapies. One of its most notable cancer products is Gleevec, a groundbreaking targeted therapy used to treat certain forms of leukemia. Novartis continues to invest in oncology research, maintaining an active pipeline with ongoing clinical trials for potential new cancer treatments. It maintains a total market capitalization of about $200 billion, making it another of the top cancer research companies stocks. 
4. Exelixis Inc.
Exelixis Inc. (NASDAQ: EXEL) is a biopharmaceutical company based in the United States focusing on developing and commercializing cancer drugs. Unlike the other cancer stocks on our list, which have major research budgets and investigate multiple drug pipelines, Exelixis focuses most of its resources on oncology treatments. The company's primary product, Cabometyx, has been approved to treat several types of cancer, including renal and liver. In July 2023, Exelixis had a per-share value of less than $20, making it a stronger choice for investors looking for cheap cancer stocks. 

Image text: With a per-share price of less than $20, Exelixis is one of the most affordable cancer biotech stocks on our list. 
5. Kura Oncology 
Another of the most affordable cancer stocks to buy, Kura Oncology (NASDAQ: KURA) is a clinical-stage biopharmaceutical company focused entirely on cancer research. Kura Oncology focuses on developing precision medicines, therapies targeted at specific genetic alterations or molecular pathways that drive cancer growth and progression. 
This approach aims to tailor treatments to the genetic characteristics of each patient's tumor, which provides investors with an opportunity to get in on the growing trend of personalized medicine. 
Kura Oncology also has a share price below $10, making it another choice for investors looking for lower-priced options.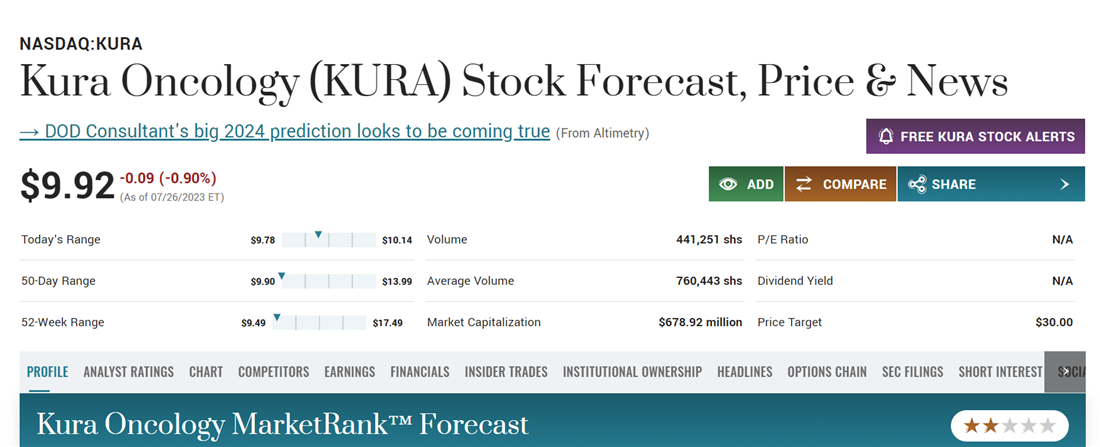 Image text: Kura Oncology is a cancer stock with a lower entry point, providing the opportunity to invest in the growing trend of personalized cancer treatments. 
6. AstraZeneca
AstraZeneca (LON: AZN) has a diverse portfolio of cancer drugs targeting various types of cancer and can be a strong option for investors looking to gain international exposure. Some of the company's current popular drugs used to treat cancer include Tagrisso (a targeted therapy for lung cancer) and Lynparza, a PARP inhibitor used to treat ovarian and breast cancers with specific mutations that make them resistant to other treatment methods. 
In July 2023, the company had a total market capitalization of more than $200 billion, making it a top international choice for healthcare investors.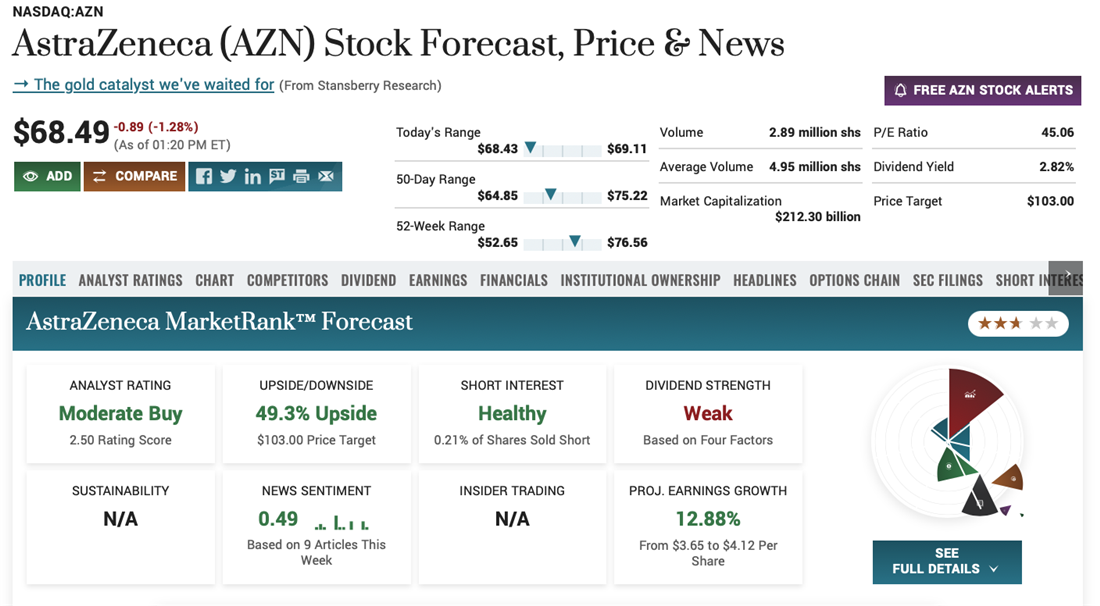 Image text: AstraZeneca can be a top choice for healthcare investors looking for international exposure.
7. BeiGene Ltd.
Another large biotech company, BeiGene Ltd. (NASDAQ: BGNE), is an innovative cancer research company with a diverse portfolio. BeiGene is based in China and has a growing global presence in oncology in the United States, making it another option for investors with an eye toward stocks with an international presence. 
BeiGene's most well-known oncology drug is Brukinsa, an oral Bruton's tyrosine kinase (BTK) inhibitor approved to treat certain blood cancers. In July 2023, BeiGene had a total market capitalization of $20 billion. 
Investing in Cancer Research and Beyond
As one of the most pressing health concerns of the 21st century, it makes sense that some investors look for companies developing novel therapies or a new vaccine for cancer when selecting healthcare investments. However, it's important to remember that investing in individual companies may come with a higher risk level, which isn't suitable for all investors. 
Exchange-traded funds (ETFs) are "bundles" of stocks centered around a certain industry or product. When you purchase one share of the ETF, you gain exposure to all the stocks in the fund's holdings. Investing in a research or healthcare ETF or other type of fund can offer access to multiple top cancer research companies without the risk of concentrating your capital on a single company. 
FAQs
Still have a few last-minute questions about cancer stocks? The following are some last-minute answers you might have about investing in healthcare with an eye toward cancer research and treatment.
What is the best oncology stock?
Labeling an individual stock as the best oncology stock is impossible because most major oncology research companies focus on a specific area of cancer or mechanism of action. When measured by total market capitalization, some of the top oncology stocks include Pfizer, Merck & Co. Inc. and Novartis AG.
What company leads in cancer research?
Several prominent pharmaceutical and biotechnology companies are considered leaders in cancer research and the development of innovative cancer treatments. Some companies considered the top cancer research leaders include Merck & Co. Inc., Pfizer, Novartis AG and AstraZeneca.
What are the biotech companies for cancer?
Many biotech companies take advantage of biological processes to target cancer. Gilead Sciences Inc., BeiGene Ltd. and the Blueprint Medicines Corporation are some of the largest companies involved primarily in biotech investigations to treat cancer.