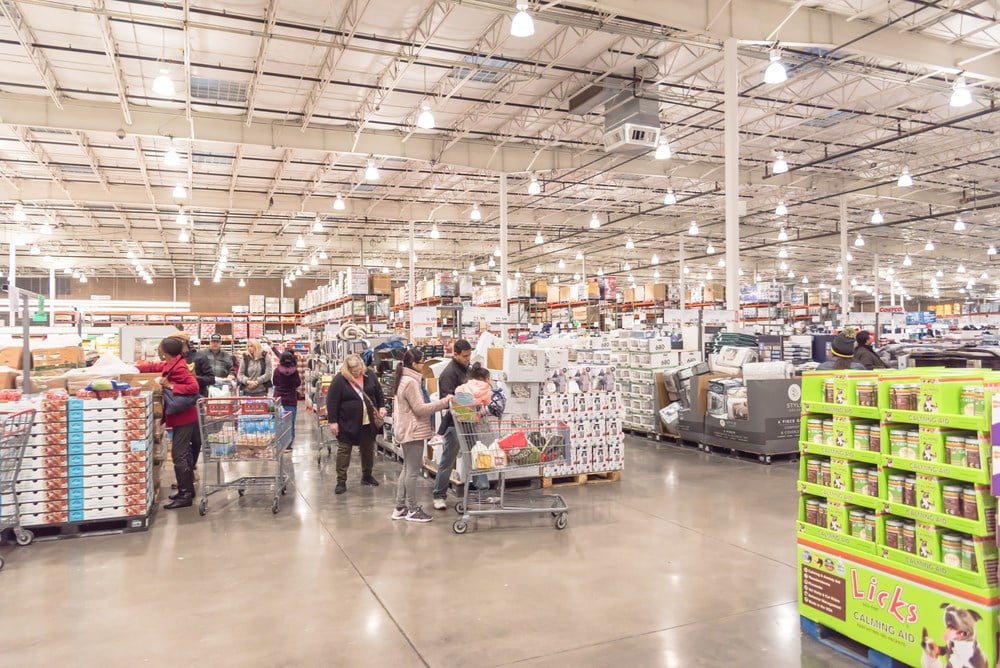 One thing is clear from the Q2 retail earnings and guidance. There are winners and losers in the space, and the membership clubs are an area of strength. Consumers are shifting their habits, looking for value, and buying everyday items and consumables rather than gadgets and discretionary items. 
Today's point is that It looks like a good time to nibble on shares of member clubs because the prices are retreating from their recent highs. Stocks like Costco (NYSE: COST), Walmart (NYSE: WMT), BJ's Wholesale Club (NYSE: BJ), and PriceSmart (NASDAQ: PSMT) are pulling back now, but they will trend higher because of gained market share, growth, and earnings strength. 
Costco Is The Market Leader 
Costco is by far the market leader. The company is expected to pull in more than $240 billion in 2023 and grow again in 2024. Regarding value, it is the highest-valued stock in the group and well above the S&P 500 average at 37X earnings. The caveat is that you get a stable, blue-chip dividend growth stock that repurchases shares, has a healthy balance sheet, and can still produce growth. 
Costco reported FQ3 earnings early in the season and delivered mixed results. However, the takeaway from the report is that core sales are growing despite the impact of lower fuel prices, margins are widening, and the company is expected to raise membership fees.
The fee hikes were expected earlier this year but were put off due to continued membership fee growth. Member fees increased by 6% in FQ2  and will underpin growth this year and next.
Analysts rate Costco a Moderate Buy, which has been firm and steady for the last year. Interestingly, the price target is trending after taking a dip earlier in the year and is about to surpass the YOY comp. More importantly, the price target is above the current action and should lead it higher.
The next catalyst is FQ4 results in mid-September; the stock should form a bottom before then and provide an entry point for investors. The best target is the 150-day moving average, near $525.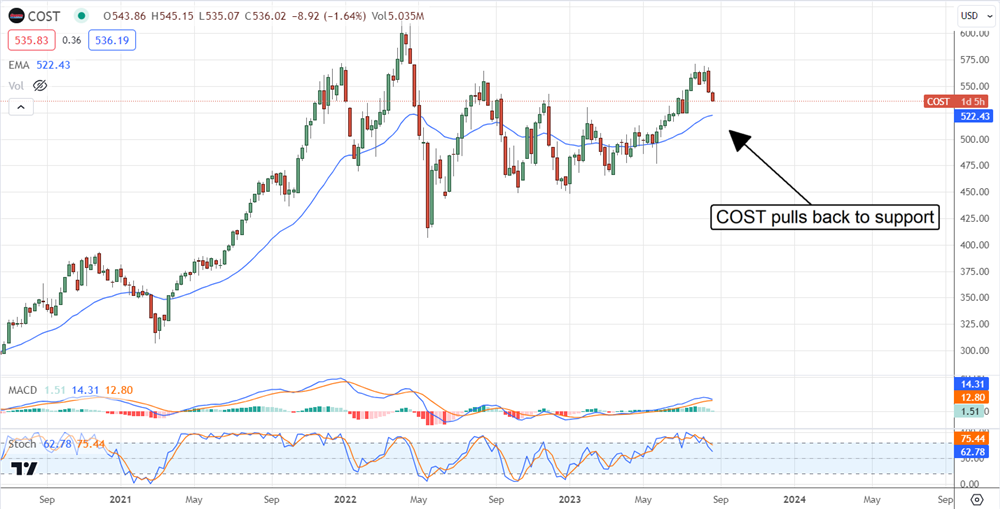 Walmart: The Diversified Leader In Retail 
Walmart is the parent of Sam's Club and not a pure play on member clubs. It is a pure play on blue-chip growth and dividends; it outperformed in Q2 and offers value relative to Costco. The company produced market-beating top and bottom-line growth and raised guidance where its competitor, Target (NYSE: TGT), did not.
Within the data, Sam's Club grew by 5.3% on an ex-fuel basis and is also supported by rising membership. Sam's Club's comps grew by 5.1% on an increase in transactions and tickets aided by a mid-single-digit increase in membership. 
The analysts are even more bullish on Walmart. They have the stock pegged at Moderate Buy, with a price target trending firmly higher than the YOY comp. The bullish trend continued following the Q2 release, with the freshest targets adding another mid-to-high-single-digit advance on top of the 11% predicted by the consensus.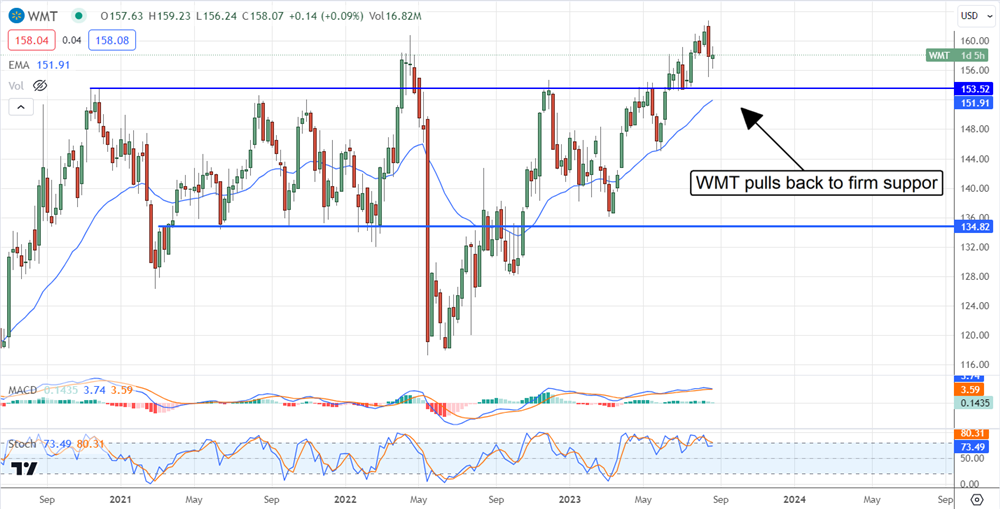 BJ's Wholesale Club is the Value Play 
BJ's Wholesale Club growth slowed in 2023 due in part to the tough comps of the prior year. That has the stock down and trading at an even deeper value to its competitors than usual. The stock is trading at about 17X earnings, about half the value of Costco, and is still expected to produce growth.
Regarding membership, its fees grew by 5% and aligned with the industry. BJ's is also gaining market share in its home territory. Once it gets past these growing pains, it should resume growth and possibly see a price-multiple expansion.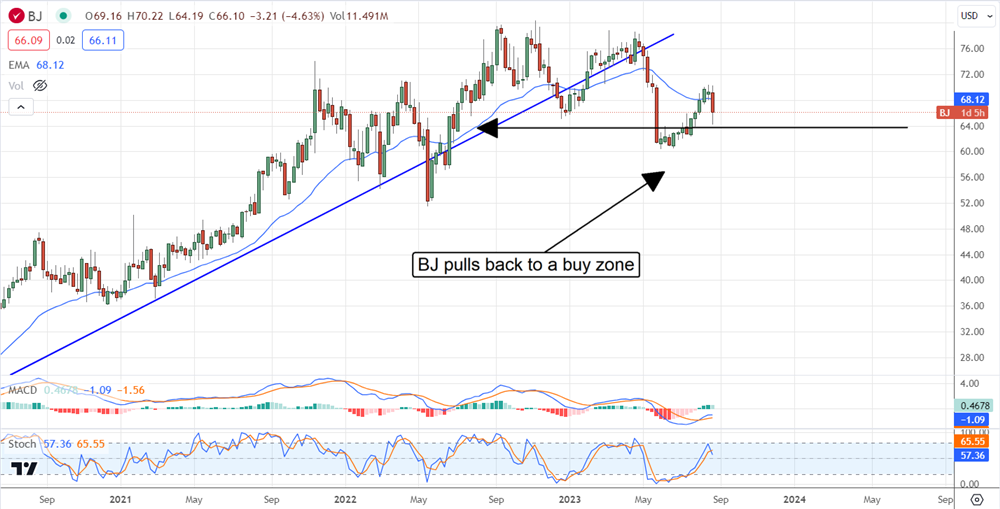 PriceSmart is a Dual Play On Emerging Markets 
PriceSmart had a more difficult time in early 2023 than its larger cousins but is set to shine in 2024. The company operates in Latin America, the leading emerging market today and 1 expected to outperform in 2024. The potential catalysts for the region are interest rate cuts and government spending, which should lead to increased consumption.
PriceSmart's FQ3 results aligned with analysts' estimates; it is expected to post industry-leading growth and margin expansion in FQ4.