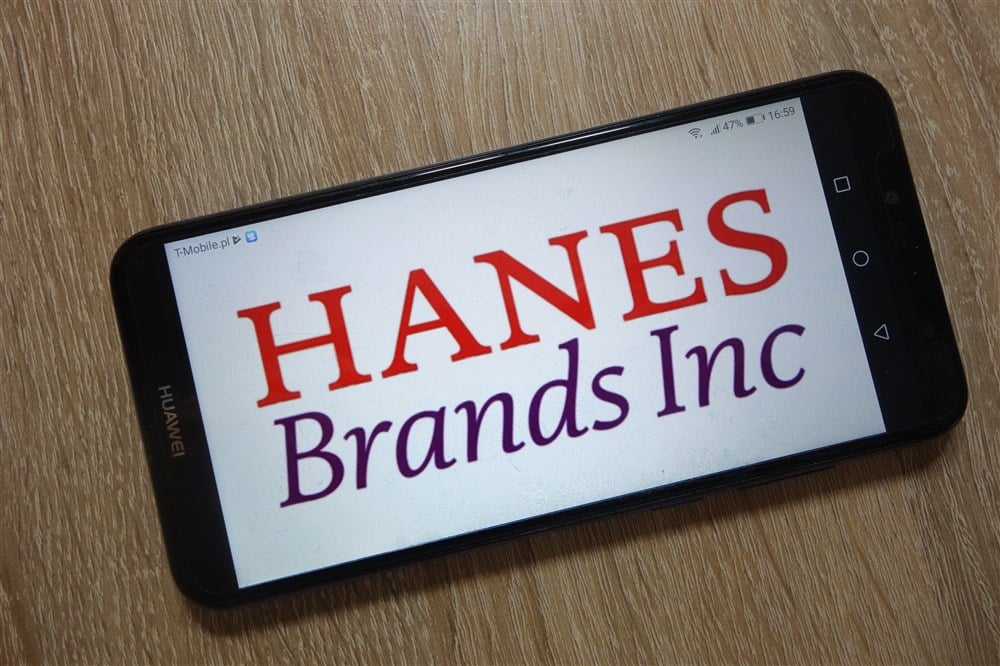 Global apparel maker Hanesbrands Inc. (NYSE: HBI) shares have been in a cascading fall, shedding 37.7% year-to-date (YTD). The company owns many innerwear and athleisure brands, including Hanes, Champion, Playtex, L'eggs, Wonderbra, Bonds, Bali, Maidenform, Berlei, Just My Size, Alternative and Comfortwash. The company has been behind the curve at every turn. During the pandemic reopening, Hanesbrands overproduced apparel, growing its inventory when cotton prices were at historic highs of $160 per pound. The vertically integrated company owns 60% of the factories that produce its wares and operates more than 200 physical stores.
Mountain of Inventory
Like many retail and apparel makers like Under Armour Inc. (NYSE: UAA), Hanesbrands overshot demand estimates, producing a mountain of inventory. Unfortunately, apparel demand fell with rising inflation, forcing the company to implement deep discounts and mark-offs to reduce its inventory, with sky-high freight costs wreaking havoc on margins for years. Activist investors like Barrington Capital Group have been trying to get management to turn the boat around. On September 20, 2023, Hanesbrands announced that it was considering selling off its Champion athleisure apparel business.
Barrington Capital Suggestions
Hanesbrands management has been meeting with activist investor Barrington Capital to review suggestions. Barrington suggests that Hanesbrands needs to generate cash, reduce debt and create sustainable shareholder value. They suggest the company reduce its SG&A expenses by $300 million annually and use the proceeds for debt reduction. Reduce inventories to less than 170 days outstanding. Accelerate gross margin recovery by consolidating facility and operations process improvements. Barrington sent and publicized a letter to the Board criticizing the poor execution under the current leadership, suggesting a new CEO and new directors are necessary.
Disappointment Grows
Hanesbrands reported its second-quarter 2023 earnings results on August 10, 2023. The company reported a loss of one cent, beating consensus analyst estimates for a loss of two cents by one cent. Revenues fell 4.7% YoY to $1.44 billion, missing $1.46 billion analyst estimates.
Lowering the Bar
Hanesbrands lowered its Q3 2023 EPS from seven cents to 13 cents versus 20 cents consensus analyst estimates. Q3 2023 revenues are expected between $1.52 to $1.57 billion, missing $1.69 billion analyst estimates. Full-year 2023 EPS is expected between 16 cents to 30 cents, down from previous estimates of 31 cents to 40 cents, versus 33 cents consensus analyst estimates. Full-year revenues are expected between $5.8 to $5.9 billion, down from $6.05 to $6.20 billion, versus $6.04 billion analyst estimates.
Champion Brand Sale?
On September 19, 2023, Hanesbrands announced it would evaluate "strategic options" for its Champion brand business. The Board will consider many options to enhance shareholder value, which could include a potential sale or other strategic transaction and continue operating it. Hanesbrands CEO Steve Bratspies commented, "As the Board pursues this review of strategic options with the support of our advisors, our team remains focused on executing across our operations, continuing to serve our customers and consumers globally and advancing our initiatives to drive revenue growth, margin improvement and greater cash flow."
Management's Credibility in Question
The press release also notes that there is no assurance that they will pursue any strategic alternative and has not set a timetable for completion of the evaluation. The company will use the Goldman Sachs Group Inc. (NYSE: GS) as advisors for the review. Incidentally, HBI stock fell from $4.50 to $4.19 in the proceeding days towards 52-week lows. This indicates that management has lost credibility with shareholders as they don't believe the company will sell Champion.
Hanesbrands analyst ratings and price targets can be found on MarketBeat. Hanesbrands peers and competitor stocks can be found with the MarketBeat stock screener.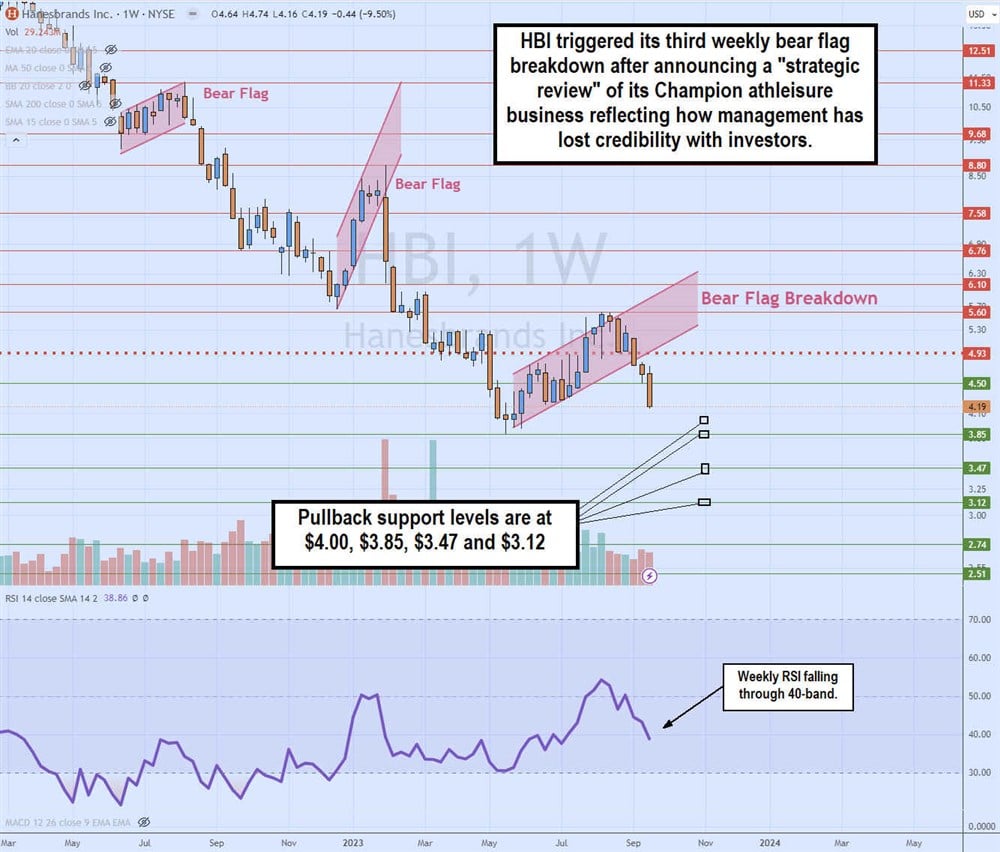 \
Weekly Bear Flags
The weekly candlestick chart has had three bear flag breakdowns since June 2022, causing shares to fall from $11.33 to a low of $3.85 in May 2023. Bear flags occur after a sharp sell-off followed by a bounce with parallel ascending trendlines. This sucks in buyers only to rug-pull them when the stock falls back under the lower ascending trendline. The breakdown through its recent lows frequently causes more panic and takes shares to new lows. The most recent bear flag triggered on the September 19, 2023, announcement of a strategic review of its Champion brand segment. The weekly market structure high (MSH) triggered the breakdown below $4.93, sending shares to $4.19 but not yet breaking its $3.85 low. The weekly relative strength index (RSI) oscillator returns to the 40-band.