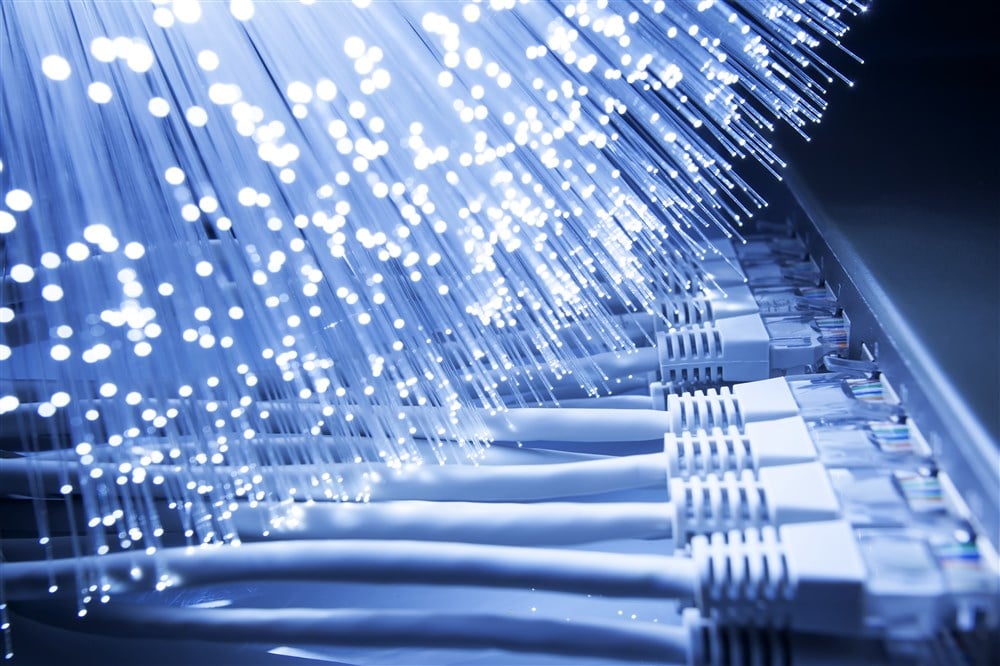 Telecom gear maker Ciena Corp. (NYSE: CIEN) gapped up after reporting third-quarter earnings on August 31. Shares reversed lower in the following session, but not nearly enough to fill the gap; Ciena stock closed 16.82% higher for the week. 
Does the gap-up, driven by strong institutional buying, indicate optimism about the broader networking industry, or is the upbeat news company-specific and limited to Ciena?
Ciena describes itself as a networking systems, services and software company. Its gear facilitates the delivery of video, data and voice traffic over networks. Customers for its fiber-optic cables and related equipment include various types of network operators across numerous industries.
5G, IoT, AI Driving Growth
Applications driving growth include 5G networks, the Internet of Things and machine learning and AI.  
Earnings came in at 59 cents a share, up 78% from the year-earlier quarter. MarketBeat's Ciena earnings data show the company beating analysts' views for both earnings and revenue, which totaled $1.07 billion, up 23%.
Ciena isn't really a familiar name anymore, but it was one of the red-hot IPOs when it went public in 1997, in the era when all things related to the Internet boom were trading at sky-high valuations. 
Its market capitalization was enough that it qualified for S&P 500 membership in 2001 but was booted from the index eight years later. Its market cap is currently $7.2 billion, and it's a component of the SPDR S&P MidCap 400 ETF Trust (NYSEARCA: MDY). 
The stock has been underperforming its index during the past year, but competitors in the fiber-optic cable industry have also been sluggish. 
Other Gear Makers Posting Big Rallies
These days, networking gear remains crucial in all the areas where Ciena's products are used. However, that industry isn't getting the same kind of love from investors that networking gear makers like Extreme Networks Inc. (NASDAQ: EXTR), Arista Networks Inc. (NYSE: ANET), and mega-cap stalwart Cisco Systems Inc. (NASDAQ: CSCO) have seen. 
Could that be changing? 
Given Ciena's line of business and the growing volumes of data being transmitted, wouldn't you think the fiber-optic cable industry, while not the most glamorous, would have been swept along with this year's AI wave?
The earnings conference call provided investors and analysts with some valuable nuggets of information. 
"We are very encouraged by the level of overall customer activity that we are seeing across all regions and segments," said CEO Gary Smith. "Most notably, we are seeing early signs of near-term requirements with our customers as they work to ensure their network readiness for machine learning and AI traffic coming out of the data center and into the WAN."
Smith added that major players in the cloud computing industry drove demand in the quarter. These customers are leading an uptick in new orders.
Significant Market Share Gains
Supply-chain disruptions had led to some business dislocations in prior quarters. But as that situation resolves itself, the company's backlog of orders "is translating into significant market share gains, which so far this year have been in approximately the mid-single digits," said Smith. 
"Fundamental demand drivers for our business are strong and improving. Customer activity is increasing and supply versus demand is gradually coming into alignment," he said.
After the earnings report, four analysts boosted their price targets on the stock, as MarketBeat's Ciena analyst ratings show. Analysts have a consensus view of "moderate buy" with a price target of $61.35, an upside of 26.58%.
Wider Industry Set to Rally?
So, getting back to the question of whether Ciena's big gap-up indicates potential for just the company or if there are broader industry ramifications. The answer is both.
In regulatory filings, Ciena says competitors include Cisco, Juniper Networks Inc. (NYSE: JNPR) and Nokia Oyj (NYSE: NOK), among others. While Cisco has been in rally mode, along with Arista and Extreme, Juniper and Nokia have lagged. 
Analysts are mixed when it comes to their views of those various stocks, but many fiber optics and networking specialists are benefiting from the increase in data transmission. For example, Nokia, which has been a laggard with shares trading around $4, is expected to see a rebound in earnings growth next year.  
It's generally a good sign when there's solid demand for related products and services from multiple companies. That means competition is healthy, and there's enough new business to go around. That's what we're currently seeing when it comes to companies providing networking gear, and it bodes well for not only Ciena but for many others in the industry.