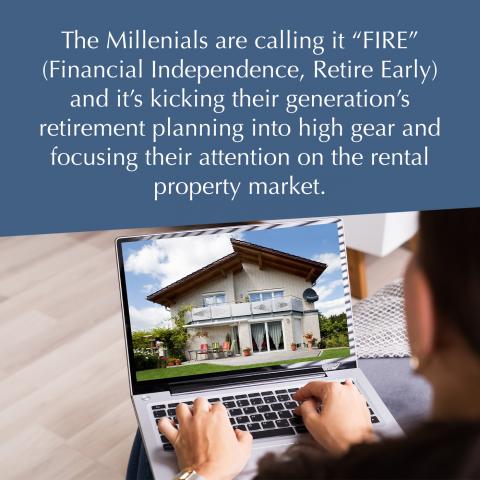 San Rafael,United States - May 30, 2022 /PressCable/ —
The Millenials are calling it "FIRE" Financial Independence, Retire Early and it's kicking their generation's retirement planning into high gear and focusing their attention on the rental property market. It's true rising real estate prices have investors at every age in a frenzy to find the right real estate properties to buy for their retirement planning. Morgan Stanley Investor Pulse Poll shows that many young adults are, in fact, anxious about having enough savings for retirement. Times have changed. Nearly 25% of millennials are concerned about having sufficient funds and 69% are in a frenzy about making that money last a lifetime and are looking to real estate investing as the solid wealth builder of choice.
"To face this economic change with gusto you must understand traditional retirement plans cost so much life to achieve. Millennials are very open to seeing this and seek out real estate as a long term retirement plan, particularly the single-family home rentals coupled with the 30-year fixed-rate loan." -Adiel Gorel, Owner of International Capital Group (ICG)
Feeding the FIRE: Financial Independence, Retire Early Movement the Transamerica Retirement Survey, reported that seventy percent of millennials are already saving for retirement and 81 percent of millennials are concerned that Social Security will not be there when retirement time comes. So, today's focus is on how many rental properties to retire even in this time of rising real estate prices.
Many Americans lost confidence in their pre-pandemic retirement plans, in the face of rising real estate prices they decided to become renters, not investors. This is a huge opportunity for anyone deciding to be an investor in rental properties.
Adiel Gorel of ICG is hosting a free virtual event to answer the questions and of course the most pressing question of 2022 which markets to invest in during this time. Don't miss out, click icgre.com. Adiel Gorel has helped thousands of investors understand how many rental properties to retire at any age or economic background.
A new American Dream taking shape before the world's eyes, and it has to do with financially providing for a whole lifetime as soon as possible, rather than the traditional 40 years and a gold watch retirement plan. That's why the millennials are calling it FIRE: the Financial Independence, Retire Early Movement. When asking this now pressing how many rental properties to retire the best part of the answer is that ultimately the investor is in control of how many rental properties to retire.
At ICG, hundreds of investors have capitalized on the best real estate investing strategies to take advantage of; including the FIRE Financial Independence, Retire Early Movement safely, soundly, and remotely. Single-family homes in the sunbelt states as long-term investments and scalable. These are homes truly within reach of first-time buyers. The United States is brimming with opportunity right now, and rising real estate prices are not a bubble and can be utilized in such a way that it makes now the right time to invest.
Looking at it more deeply the 30-year fixed-rate real estate investment mortgages turn rising prices and inflation into a best friend. In fact, investors don't have to wait for 30 years to reap the rewards. So, how many rental properties to retire? Consider this. After 10, 12, and/or 14 years, this 30-year fixed-rate loan looks, just like a fraction of the value of the home because inflation made everything else higher in price, except the fixed-rate loan.
Many new investors start with one rental property, and this is still a great time to do that despite rising real estate prices. The power of just one property can so quickly be realized, and more importantly, the power of each additional property to be wealth builders inspire many to buy up to ten or more homes. FIRE Financial Independence, Retire Early is achievable in this way. Often when investors are at eight homes with the mortgage shrinking in the face of inflation, it becomes apparent what to do next. Suddenly, that question of how many rental properties to retire becomes a distant worry, and all becomes very simplified and clear. Sell two of the houses, pay any capital gains, use the remainder of the profits to pay off the other six small remaining loans, and now you have six free and clear rental properties and the cash flow is very good. Financial independence can quickly come within reach.
Investing in real estate is a wealth builder and reducer of taxes through a variety of means. Moreover, depreciation allows for the recovery of costs related to income-producing rental property. So what is rental property depreciation in its simplest terms? Depreciation is the recovery of the costs associated with the upkeep of real estate investment properties through annual tax deductions. As time passes each year, the real estate will naturally begin to break down. The depreciation deduction is in essence a recompense for that natural wear and tear, it's a tax benefit of real estate investment properties.
Here's where it seems too good to be true but it is true. For tax purposes, depreciation is always considered a net loss on real estate investment properties, independent of any profits on the property.
The allowed deduction amount is determined by the property's market value, the property's recovery period, and the depreciation method used. The most commonly used rental property depreciation method is called the modified accelerated cost recovery system, which allows investors to deduct depreciation on a residential property for 27.5 years! Great news for millennials, great news for us all, and great news for our families who can inherit these homes. Those are some pretty spectacular tax benefits of real estate investing.
With the right real estate investment loans, an investor can now retire with six homes, all without a mortgage. Families all over the world follow Adiel Gorel's system some are happy with four, and some with twenty. These rental properties are building blocks to suit any lifestyle.
Contact Info:
Name: Adiel Gorel
Email: Send Email
Organization: ALLUSA INVESTMENTS, INC
Address: 165 North Redwood Drive, Suite #250, San Rafael, CA 94903, United States
Phone: +1-415-927-7504
Website: https://icgre.com

Source: PressCable
Release ID: 89075937
If you detect any issues, problems, or errors in this press release content, kindly contact error@releasecontact.com to notify us. We will respond and rectify the situation in the next 8 hours.