Lori Lane, President of the New Homes Division at Berkshire Hathaway HomeServices Georgia Properties, has garnered attention as an industry leader with her perspective on Georgia's housing market.
Atlanta, GA, United States - September 15, 2023 —
The recent feature in Economic Insider sheds light on Georgia's prominent position as one of CNBC's Top States for Business 2023 due to its robust economy and affordable housing options.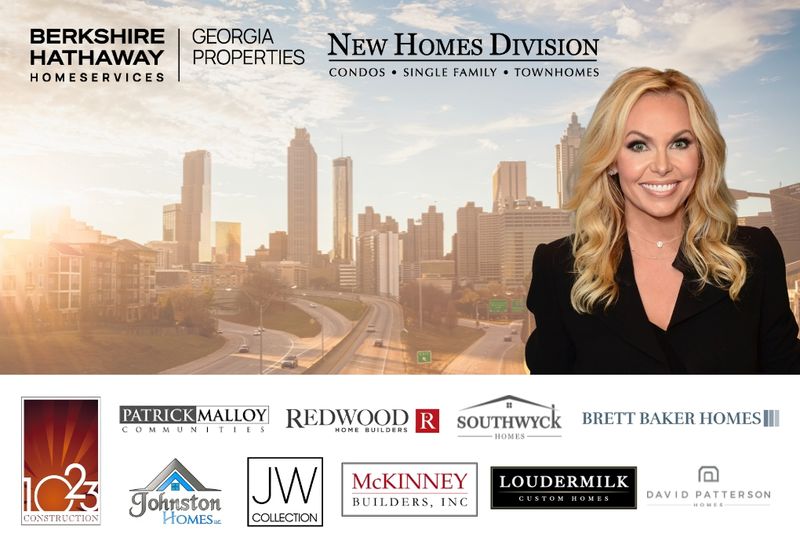 In a candid conversation with Economic Insider, President of New Homes Division of Berkshire Hathaway HomeServices Georgia Properties, Lori Lane, shared her valuable insights on the factors driving Georgia's housing market success. Georgia's standing as a top state for business, as recognized by CNBC, can be attributed to its strong economy, which has significantly contributed to the stability of the housing market. Lori Lane's perspective emphasizes the commitment to addressing housing challenges and fostering growth, making Georgia's housing market a beacon of resilience.
The article highlights the affordable housing options in Georgia, with a score of 0.65, which have been a driving force behind the market's appeal to buyers seeking value. This affordability factor, coupled with Georgia's consistent economic performance, has established a fertile ground for real estate opportunities that cater to a diverse range of buyers.
The Economic Insider feature also delves into the monitoring of rising foreclosures, which have affected 1 in 3,506 homes in the market. While challenges exist, Georgia's proactive approach to addressing these issues has set a benchmark for other markets to follow. The state's commitment to maintaining a balance between supply and demand through active construction is evident, with an impressive rate of 7.2 housing starts per 1,000 population. This dynamic construction scene effectively meets the ever-evolving demands of homebuyers.
Integral to the housing market's success are the visionary builders who have made their mark. Patrick Malloy Communities, renowned for their dedication to quality and innovation, have played a pivotal role in shaping the landscape of Georgia's real estate. The JW Collection, known for their exceptional design prowess, has contributed to the aesthetic transformation of neighborhoods. David Patterson Homes, on the other hand, brings a unique blend of trends and innovation to their projects, captivating the modern homebuyer. Additionally, Loudermilk Homes, specializing in luxury builds, has elevated the standard of living for many Georgians.
The Trilith Builder Guild, situated in Fayetteville, has emerged as a hub of creativity and innovation in the housing market. This European-inspired community offers a diverse range of homes, coupled with geothermal energy solutions that align with sustainable living practices. Trilith Builders Guild includes Brett Baker Homes, 10/23 Construction, McKinney Homes, Simply Southern, Redwood Home Builders, and Johnston Homes.  
These extraordinary builders have also played a significant role in shaping the trajectory of Georgia's housing market, fostering growth and contributing to the community's development.
Homestead at Milton, a gated community situated on a former golf course, presents an enticing opportunity for buyers seeking estate-size lots. The community promises an elevated living experience, combining luxury with serenity. Southwyck Homes, known for their emphasis on longevity and creative design, have carved a niche for themselves in the competitive housing market.
Georgia's housing market stands out amidst challenges, demonstrating remarkable price appreciation and affordability. The state's commitment to housing starts and proactive measures to address challenges has solidified its position as a leading housing market, aligning seamlessly with the findings of CNBC's study. Lori Lane's perspective serves as a testament to Georgia's resilience and unwavering commitment to offering a thriving housing market to residents.
As Georgia continues to thrive in the real estate sector, the collaborative efforts of visionaries like Lori Lane and esteemed builders such as Patrick Malloy Communities, JW Collection, David Patterson Homes, Loudermilk Homes, 10/23 Construction, McKinney Homes, and Southwyck Homes are integral to the state's ongoing success.
About New Homes Division of Berkshire Hathaway HomeServices Georgia Properties
The New Homes Division of Berkshire Hathaway HomeServices Georgia Properties represents esteemed builders and developers within the Greater Atlanta area. Led by Lori Lane, President of the New Homes Division, and supported by a globally respected brand, this division stands as a beacon of excellence. Lori Lane also serves as the Managing Broker, overseeing on-site sales and marketing efforts for each community. Throughout the years, Lane and her team have devised award-winning strategies for marketing and selling new constructions, earning numerous accolades that recognize their exceptional contributions to home building, marketing, and personal achievement.
Lori Lane - Powerhouse in New Home Construction
Lori Lane, at the helm of Georgia Properties New Homes Division, has earned acclaim for crafting a highly successful division that holds sway as a powerhouse in the new home construction industry. Lori's leadership spotlights her representation of distinguished builders and developers in the Greater Atlanta region. 
Contact Info:
Name: Berkshire Hathaway HomeServices GA Properties
Email: Send Email
Organization: New Homes Division - Lori Lane of Berkshire Hathaway HomeServices GA Properties
Address: 100 Mansell Court East Suite 115, Roswell, Georgia 30076
Phone: (678) 352-3314
Website: https://newhomesdivisionga.com

Release ID: 89107695
In case of detection of errors, concerns, or irregularities in the content provided in this press release, or if there is a need for a press release takedown, we strongly encourage you to reach out promptly by contacting error@releasecontact.com. Our efficient team will be at your disposal for immediate assistance within 8 hours – resolving identified issues diligently or guiding you through the removal process. We take great pride in delivering reliable and precise information to our valued readers.