--News Direct--
By David Willey, Benzinga
Read the latest report on NanoViricides here.
SARS-CoV-2 is not done yet — Although it is not grabbing as many headlines, the number of deaths are still greater than even a pandemic influenza year at last count. The virus is still lurking, causing COVID and long COVID. Former White House COVID czar Ashish Jha has said "There is a temptation to say it's all over and we don't have to think about COVID anymore. The way I look at it is the virus can still surprise us."
We have learnt just to live with it, thanks to the immunity from vaccines and from the viral infection itself. However, according to the World Health Organization (WHO), "Even in vaccinated individuals, uncertainties remain about the duration of protection, the effectiveness of current vaccines and the efficacy of existing treatments for COVID-19 against emerging SARS-CoV-2 variants and subvariants." Despite over 300 clinical trials, there are only three approved drugs that remain. Unfortunately, each of them has limitations.
Current Approved Therapies Have Significant Limitations
Remdesivir, from Gilead Sciences (NASDAQ: GILD) has only received a conditional recommendation from the WHO for patients with severe COVID-19. Also, Remdesivir can only be administered as an infusion in a hospital, limiting the patient populations who can get access to the drug.
Two other drugs, Molnupiravir by Merck & Co. (NYSE: MRK) and Paxlovid by Pfizer (NYSE: PFE) are both orally available. The WHO has issued a strong recommendation for Paxlovid, but only a conditional recommendation for Molnupivavir for patients with severe COVID-19 or non-severe COVID-19 at the highest risk of hospitalization.
However, the WHO notes limitations to both of these drugs in its guidelines, and it also doesn't advise certain populations to take these treatments on account of drug-to-drug interactions or other side effects.
This indicates a need for a safer and more comprehensive treatment. A unique and novel drug that looks to fulfill this unmet medical need is NV-CoV-2, developed by NanoViricides, Inc. (NYSE American: NNVC).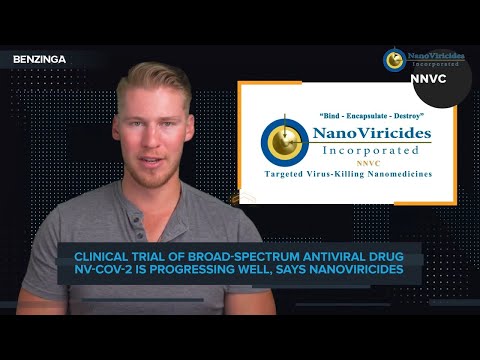 NanoViricides recently announced it has begun clinical trials for NV-CoV-2, an innovative treatment for patients with COVID-19. NanoViricides is developing a novel nanomedicine platform of antiviral therapies, and its leading drug candidate is NV-CoV-2, which contains API NV-387.
Dr. Anil Diwan, President and CEO of NanoViricides, described the drug as an exciting opportunity to fill an "as-yet-unmet medical need of a highly effective broad-spectrum, anti-coronavirus drug that can be used for all patient populations."
The drug has already demonstrated a robust safety profile in pre-clinical animal safety and tolerability evaluations, as well as showing itself to be non-immunogenic and non-mutagenic in standard tests.
These data suggest a potentially exciting feature of NV-CoV-2 in its ability to treat all patient populations.
Now with the trial beginning, its primary outcomes include: "To evaluate the safety and tolerability with the initial administration of NV-CoV-2 in healthy human subjects," and "To find the maximum tolerated dose for the support of phase-2 clinical trials."
It employs NV-387, a first-in-class chemical nanomedicine with a novel mechanism of action called the "Re-Infection Blocker" designed to entirely eliminate the virus from the patient's system.
The drug will be trialed on patients with mild to moderate COVID-19, in the Phase 1b part of the clinical trial, though the company believes this could also be efficacious for patients with severe coronavirus and even for hospitalized cases. Note that NV-CoV-2 has been shown to be significantly more effective than Remdesivir in lethal lung infection models of human coronavirus NL-63 in rodents. Remdesivir is the only drug currently approved for hospitalized cases.
There are multiple formulations of NV-CoV-2, including as an oral syrup and oral gummy, for outpatient use, which broadens the patient population that could take this treatment. An injectable formulation was also developed for hospitalized patients.
NanoViricides believes that the safety and efficacy of this drug could make it a popular choice, as some of the more popular alternative COVID-19 treatments available are either less safe or are contra-indicated for several classes of patients.
According to NanoViricides, this opens up a huge market for its drug, NV-CoV-2. As a broad-spectrum anti-coronavirus drug with multiple formulations, it can be given to any patient group. Plus, its novel nanomedicine technology potentially makes it a highly effective treatment for COVID-19 as well as other coronaviruses.
Learn more about how NanoViricides is tackling different viruses by visiting its website.
About NanoViricides
NanoViricides, Inc. (the "Company") (www.nanoviricides.com) is a development stage company that is creating special purpose nanomaterials for antiviral therapy. The Company's novel nanoviricide® class of drug candidates are designed to specifically attack enveloped virus particles and to dismantle them. Our lead drug candidate is NV-HHV-101 with its first indication as dermal topical cream for the treatment of shingles rash. In addition, we are developing a clinical candidate for the treatment of COVID-19 disease caused by SARS-CoV-2 coronavirus. The Company cannot project an exact date for filing an IND for this drug because of its dependence on a number of external collaborators and consultants.The Company is now working on tasks for completing an IND application. The Company is currently pursuing two separate drug candidates for the treatment of COVID-19 patients. NV-CoV-2 is our nanoviricide drug candidate that does not encapsulate Remdesivir. NV-CoV-2-R is our other drug candidate that is made up of NV-CoV-2 with Remdesivir encapsulated in it. The Company believes that since Remdesivir is already US FDA approved, our drug candidate encapsulating Remdesivir is likely to be an approvable drug, if safety is comparable. Remdesivir is developed by Gilead. The Company has developed both of its own drug candidates NV-CoV-2 and NV-CoV-2-R independently.The Company intends to re-engage into an IND application to the US FDA for NV-HHV-101 drug candidate for the treatment of shingles once its COVID-19 project moves into clinical trials, based on resources availability. The NV-HHV-101 program was slowed down because of the effects of recent COVID-19 restrictions, and re-prioritization for COVID-19 drug development work.The Company is also developing drugs against a number of viral diseases including oral and genital Herpes, viral diseases of the eye including EKC and herpes keratitis, H1N1 swine flu, H5N1 bird flu, seasonal Influenza, HIV, Hepatitis C, Rabies, Dengue fever, and Ebola virus, among others. NanoViricides' platform technology and programs are based on the TheraCour® nanomedicine technology of TheraCour, which TheraCour licenses from AllExcel. NanoViricides holds a worldwide exclusive perpetual license to this technology for several drugs with specific targeting mechanisms in perpetuity for the treatment of the following human viral diseases: Human Immunodeficiency Virus (HIV/AIDS), Hepatitis B Virus (HBV), Hepatitis C Virus (HCV), Rabies, Herpes Simplex Virus (HSV-1 and HSV-2), Varicella-Zoster Virus (VZV), Influenza and Asian Bird Flu Virus, Dengue viruses, Japanese Encephalitis virus, West Nile Virus, Ebola/Marburg viruses, and certain Coronaviruses. The Company intends to obtain a license for poxviruses if the initial research is successful. The Company's technology is based on broad, exclusive, sub-licensable, field licenses to drugs developed in these areas from TheraCour Pharma, Inc. The Company's business model is based on licensing technology from TheraCour Pharma Inc. for specific application verticals of specific viruses, as established at its foundation in 2005.
This post contains sponsored advertising content. This content is for informational purposes only and not intended to be investing advice.
Contact Details
NanoViricides, Inc.
+1 203-937-6137
Company Website
View source version on newsdirect.com: https://newsdirect.com/news/sars-cov-2-is-not-done-yet-could-this-new-drug-in-clinical-trials-be-the-safest-option-for-treating-covid-19-454686056